… Audi A7 Sportback BiTurbo …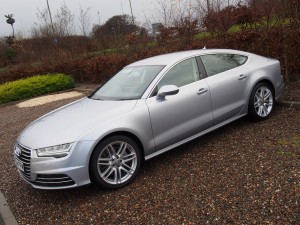 It's maybe hard for new, young drivers to believe, but once upon a time, driving a diesel powered vehicle was like sitting inside the test cell of a fireworks factory. Not only were they noisy, they were smelly too, and they were slow. Ponderously slow. My first experience of the black oil was a 1960s Perkins diesel Transit. For sure it could chug away for ever, but it was so slow, the seasons changed more quickly.
Fast forward 50 years and the latest generation of diesel powered cars are not only in a different century, they are different class. I was thinking of that on the M74 recently, whispering along in Audi's latest A7 Sportback. The only thing I could hear was the occasional squeak of leather trim and a wee (but annoying) rattle from the rear parcel shelf. There was no wind noise and no road noise, and nothing that a little pit of leather wax and chewing gum on the parcel shelf couldn't fix.
Not only was it quiet, it was pretty quick. The twin turbo V6 oil burner churns out 316 bhp and generates 650 Nm of torque. It's no sports car but it does justify the expression 'executive express'. It's effortless too with its comfy seats, fingertip steering and tiptronic 8 speed gearbox.
It's also pretty well equipped, and anyone seeking a well appointed comfortable cruiser would have nothing to complain about if specifiying the S-Line trim. And if the 56 grand price ticket still doesn't put you off, you can spend a few thousand more on a whole list of additional fripperies.
For instance, although the standard LED headlights are perfectly acceptable, they can be upgraded to Audi's Matrix LED system, which have 24 individual bulbs that automatically dim when their sensors detect oncoming traffic. This system also includes 'dynamic' indicators that 'sweep' light in the direction that the car is turning.
Want more? How about an upgraded MMI (Multi-Media Interface) system with touchpad and an in-car wi-fi hotspot, at a mere thousands pounds extra? In fact the array of electronic goodies built into the car and its dashboard is enough to have the majority of men reaching for the Handbook. Talk about information overload, the sheer number of options will confuse anyone but the most electronically literate.
For the more simple minded amongst us, the 300 quid ambient interior LED lighting option might provide a more soothing environment if the hi-tech is a bit overwhelming. And if you still need to calm down a bit more, try the massaging seats.
Other extras include Google Earth on the SatNav, optional rear-view camera and an auto-parking system. The auto-parking might not be a daft idea, the A7 is nearly as long as a Transit. And if you don't need five seats, buyers can choose to have the centre headrest and seatbelt removed at no extra cost.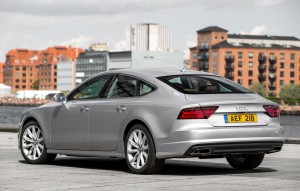 As I said, the options list is extensive but be careful you could spend half as much again, quite easily. A bit like an upmarket restaurant where the main course looks tempting, but expensive, before you realise the chips, onion rings and brown sauce are all extra!
Underneath the powered tailgate is a deep but shallow boot. I was only kidding about fixing the parcel shelf with chewing gum, but I couldn't find the source of the wee rattle mentioned earlier. Having said that I'm sure it would be an easy fix, and it was only noticeable because the car is so quiet. Either that or stick a bit of Status Quo on the audio system.
Given how good the Audi is to begin with, it's pretty hard to justify spending vast amounts on some of the more upmarket luxury branded executive saloons, but if you do feel short changed, then go for the full Options list. By the time you are finished you will have a car that is a match for any three pointed star, 'flying lady' or winged 'B' but which looks rather less ostentatious. A sort of undercover supercar for those who wish to travel anonymously.
In other words, I really liked it, but I just wonder if those 19 inch rims are entirely necessary. They look good, but a set of 18s might improve the ride quality just that little bit better.
Review Date:

December 7, 2014

Price

Engine

Performance

Economy

CO2 emissions

Insurance Group