Skoda Octavia 2.0 TDI DSG …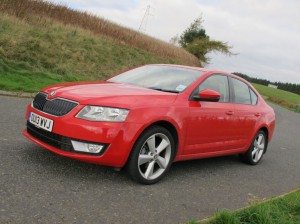 This latest Skoda Octavia is the third generation of the model, and it's better than the previous two. It's also longer and wider so like most of us of a certain generation it's getting bigger and not necessarily in all the right places.
The new Octavia is 90 mm longer, 45 mm wider and has stretched the wheelbase by an additional 108 mm. That doesn't sound a lot but when you try to park this mid sized executive/family saloon in shopping centre car parks you end up cursing the guy who painted the white lines, or the other shoppers who can't park their own vehicles properly, or more likely, both.
But once you climb inside, the cursing stops. This is a nice place to sit with leg room front and rear for sensibly sized people and slightly more headroom as well, although rear seat passengers may not find themselves so well served. Anyway, they can always put their hats on the rear parcel shelf. The boot is huge too, and easily accessible through the large high opening tailgate.
The finish is dark but there are a few bright trim highlights to soften the funereal presence and it's pretty well built. That will come as no surprise to the younger generation who expected this of Skoda these days, but to the old hands, it still takes a bit of getting used to. Remember the rear-engined Skoda Estelle? It was built like a John West sardine tin with an outboard motor slung out the back, and it sounded like it.
Mind you, John Haugland put the thing on the rallying map, eh? When his name appeared on the entry list of the world's international rallies, most rivals were left thinking that second place in the 1300 class would be a result.
If you've got 10 minutes to spare, there's a nice historical Skoda rally film on YouTube. It shows early stuff to present day and there's a link to the film at the end of this review.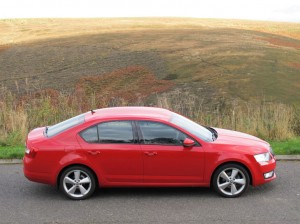 But that was yesterday and today's Skoda cars bear no relation to those early machines. And to be fair, when you see what British Leyland was turning out in those days, the Czech Republic built machines didn't look quite s bad!
I digress. The new Ocatavia is a desirable motor car in its own right, and if you feel it is too German, too Volkswagen, then there is a reason for that. It uses much of that engineering and styling, which is a good thing. Skoda now tops many of the word polls on reliability and value for money, but it still retains its own character, or maybe the parent company just doesn't want too close a rival!
Maybe that's why the six speed DSG gearbox is not as smooth as the latest 7 and 8 speed versions and maybe that's also why the 2 litre diesel engine is more noticeably audible. It's not bad, and it's not enough to put you off, but it's a tad noisier than the same engine in a VW.
When it comes to driving, the Octavia is a match for anything in this sector and with 320 Nm of torque from the 148 bhp engine, it is much more sprightly than its sedate looks might have you believe. Apart from an initial hesitancy about changing gears getting away from junctions and roundabouts, the twin clutch unit is relatively smooth and fuss-free, but it's the speed through the gears once on the move that is most impressive. Overtaking, even on country roads is a relatively safe manoeuvre, but for those who want to be in control, there is a manual clutch-less sequential gearshift action.
And here's the thing. Having spent the past two mornings scraping the first ice of winter off the windscreen, guess what the Skoda has tucked inside the fuel filler flap – an ice-scraper. How cool is that?
And here's the clincher. Would I have one? Absolutely. It's 2300 quid less expensive than a VW Passat and 7 grand cheaper than an Audi A4. What's not to like?
Link to historical Skoda rally film:
http://www.youtube.com/watch?v=hfu4GyAtu6c
Review Date:

November 5, 2013

Price

Engine

Performance

Economy

CO2 emissions

Insurance Group