… Kia Sportage 1.7 CRDi 2 …
It used to be that the price attracted potential punters to Kia before they looked at the cars, but now the cars are attracting interest in their own right. The trouble is, Kia are aware of that these days and whereas prices in the past were regarded as cheap, now they are regarded as 'competitive'!
On that basis the Kia Sportage is not a bargain, but they do include a lot of kit that makes the price not only competitive, but attractive, so with that in mind, what do you get for your money? One of the most likeable SUVs in its class. Period.
At first glance it's not a big car but it is deceiving. It may not be very tall, but it is quite long and wide. Anyone trying to park it between the lines in an average retail outlet or multi-story car park will find that out pretty quickly. For sure the reversing camera and overprinted guidelines will be big help for reverse parkers but when you try to open the doors to get out, you quickly realise that it must have eaten a few pies in its time!
That can be said of most modern cars these days and one wonders if the manufacturers are only responding to customer demand i.e. their customers are getting wider so the cars must get wider to accommodate them. Sadly the folk who design car parks have yet to realise this.
Until then tight squeezes and parking scars will provide regular hazards facing everyday motorists.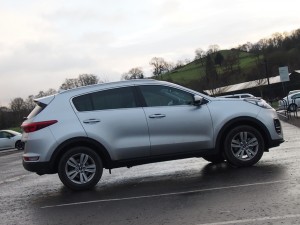 I digress, that is the only real criticism of the Sportage. It has bags of room inside for four or five and a decent sized boot to keep the weekly shoppers and weekend outdoorsy activists content.
Like most of its rivals, it's front wheel drive, although there is a four wheel drive variant for those who need it, but FWD will be sufficient for most admirers of its muscular looks. The 1.7 litre diesel feels a bit coarser and sounds bit noisier than many of its rivals, but it pulls well and goes well while giving the driver added reassurance that it will chunter on for ever. A feeling further bolstered by the 7 year Warranty.
But don't get the idea that this is a car that is thinking above its station in life. There is an attention to detail that marks the car out. For instance, the roof mounted spectacle case. This case is padded not just rubber lined so it keeps your specs safe and stops them rattling. Another neat touch concerns the boot blind mechanism. Both ends of the blind which slot into the bodywork are covered in felt. That makes them a neat and non-rattly fit. Then there is the practicality of two 12v sockets, plus a USB and an AUX in the central dash.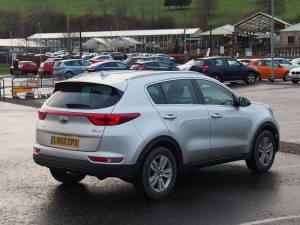 These may be very minor highlights, but it's thoughtful touches like these that demonstrate the attention to detail that is making Kia so attractive in its own right these days.
Not that things would rattle about too much anyway. The Kia is a wee bit on the soft side which is good for those who want a comfy ride but not so bad that you would need to carry sick bags in the back for the weans. The choice of wheels helped too with ride quality and bump absorption. Although they were 17 inch alloys they were clad in 225/60 Continental Conti Premiums – which meant they had decent sidewalls!
Other standard fits include dual-zone air-conditioning, cruise control, reversing sensors, Bluetooth connectivity, DAB digital radio, roof rails, automatic headlights and wipers and the now expected additional array of electronic safety aids, amongst which is Trailer Stability Assist. The Sportage has a towing limit of 1900 kgs which is not bad, but it's the same whether 4WD or 2WD.
Kia claims a 'combined' fuel consumption figure of 61.4 mpg, but I got nowhere near that in everyday use over a two week period, averaging 42.7 mpg. I didn't have a problem with that because the published figures are based on laboratory tests – whereas I don't have a laboratory. All manufacturer figures suffer from this same issue of 'official' versus real life consumption and as we all know, the Euro-ists are currently working on a new set of tests to try and replicate more realistic usage. Until then, read your favourite motoring journalist's (whoever he/she may be) road tests and see what they average in the real world.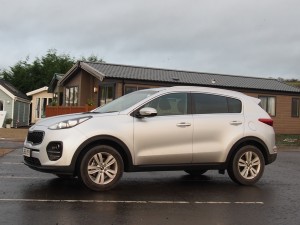 Would I have one? Undoubtedly. It's not quick, but it feels solid, and I really like it for its room and its comfort although I would probably fork out the extra four and half grand for the 4WD version. That sounds a bit steep for an extra two driven wheels, but you also get more luxury kit with it – and it's still cheaper than some of its more prestige badged rivals.
Review Date:

January 5, 2017

Price

£22,050

Engine

1685cc, 4 cylinder turbocharged diesel with 113bhp

Performance

0 - 62 mph in 11.5 seconds, flat out at 109 mph

Economy

61.4 mpg (combined)

CO2 emissions

119 g/km