… Ford Edge Vignale 2.0 TDCi AWD …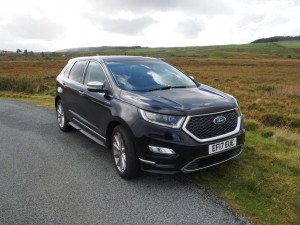 A few months back I drove the 'Sport' version of Ford's new Edge SUV, but the 'Sport' label was more of a trim spec than suggesting this was a souped-up, hunkered down 4×4. That was a nice car, but this one was the Vignale version.
In 'Ford-speak' Vignale means luxury so this one had all the extras on the Options list plus a few more like chrome highlights on the nose, flanks, tail and mirrors plus polished alloys. It also had the almost obligatory black glass around the rearmost windows. In fact, on first sight it looked almost sinister in its gangsterish gloss black paint. All it needed was some running boards, roof rails and a few gunmen with shotguns clinging to its sides.
It was pretty well furnished inside with quilted leather upholstery and a command-centre dash with electronic dials ahead of the driver, a touchscreen off to the left and a leather covered stick for the six speed PowerShift semi-automatic transmission.
There are also buttons aplenty on the console and the doors for all the ancillary functions, as befits a luxury 4×4. Additional buttons on the steering wheel control quite a few of these functions and also the Intelligent All Wheel Drive system when the going gets tough and/or slippery.
There's enough going on here to allow Ford to compete with the best of the rest and that is the aim. Every other manufacturer has a luxury brand or sub-brand these days and although Ford has tried to compete in the past, it needed a change of perception by the great British buying public to make it succeed. Way back in the past Ford had a reputation for building small, cheap cars and that reputation was hard to shift despite the array of product in the company's catalogue.
Perhaps now is the right time. The current generation have no memory of what the British car buying public had to choose from in the 60s and 70s, and even into the 80s. The whole of the British car manufacturing industry was a in a bit of mess with strikes and build quality issues, but come the revolution and only the fastest to adapt survived even though memories lingered. So Ford's earlier attempts to make luxury cars with names like Zodiac and trim levels like GT and Ghia were clouded by those earlier memories.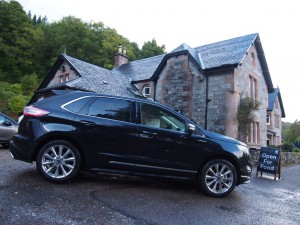 Now Ford is building excellent machines, but so is everyone else, although today's car buyers are no longer guided by distant memories of seaside family holidays, picnic hampers and tartan rugs. That makes the Edge Vignale very appealing to the Netflix generation.
And there is much to like. With 207 bhp, it's quick, but shifting that bulk takes quite a bit of effort by the 2 litre TDCi. Best just to sit back and relax and just let the world flow past at its own speed.
Enhancing that experience is, Ford's Active Noise Control system. This consists of three microphones within the cabin. They measure the sound while 'opposing sound waves' are played through the audio system in response. I have no idea whether this idea works as well as the boffins claim, but I'll tell you what, you'd be hard pushed to tell what was under the bonnet. Only the rev counter gives the game away.
This is a most accomplished highway cruiser and handles well too on 'B' roads, but it is bigger than it looks so be careful where you park in multi-storey car parks and retail shopping centres where the guys who paint out the parking spaces think everyone should be driving a Sinclair C5.
Comfort is sumptuous and there is room inside for up to five representatives of the non-gym, pie-fed generation, and even plenty of leg room.
It reminded me of a 1970s Ford Granada. Now there was a comfy cruiser. I remember a trip round the Highlands and never once did I tire or feel sore, and that's what the Edge Vignale will do for a harassed parent or stressed out business executive now. The suspension is quite firm and there's quite a bit of travel, but the bump absorption is superb offering a ride that doesn't wallow while soaking up the worst of ancient well-worn roads.
Even more surprising was the fact that it was running on 20 inch rims. I'm always apprehensive about the decision to fit large diameter wheels and skimpy rubber but in this case, I barely noticed. Perhaps the 255/45 Pirelli Scorpion Verde tyres had something to do with that too. I hadn't heard of the 'Verde' tyre before but the whole set-up did the job admirably.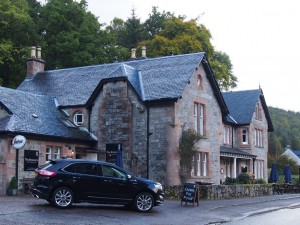 Over 540 miles to Skye and back I managed 37.5 mpg which wasn't bad considering the terrain and no doubt could be bettered quite easily when heading south on the M6.
Priced from £41,795, the test car had a few extras including a detachable tow-bar at £750, but I did think such a big car might have merited more than a 2 tonne towing capacity. The test car didn't have chrome roof rails, but that was only because the optional 800 quid Panorama roof had been fitted. Naturally it had cameras front and rear, parking aids and self parking, traffic sign recognition and tyre pressure monitoring plus pre-collision assist. It even had an inverter and three pin socket in the back. Now there's an essential for the busy lifestyle.
Driving such a well equipped and capable car may make you question the validity of spending twenty grand more to get the same driving experience – with a different badge on the grille.
There's a lot of car to like here, and I liked all of it.
Review Date:

October 4, 2017

Price

£45,280 (as tested)

Engine

1997cc, 4 cylinder turbo diesel with 207 bhp

Performance

0-62 mph in 9.4 secs, flat out at 131 mph

Economy

47.9 mpg (Combined)

CO2 emissions

152 k/gm