… Ford Fiesta ST-2 …
The Dunoon presents Argyll Rally is one of the very few events where travelling by ferry is an option, and perhaps that's why so many folk choose it. For those in the east and the south of Scotland it offers a genteel and picturesque shortcut with the chance to chill out for half an hour watching the world glide past from the Gourock ferry. Otherwise the drive through Glasgow and Dumbarton and up Loch Lomondside and through Arrochar, can quite often be offputting due to tour buses and logging lorries, caravans and motorhomes, furriners and rubberneckers, but oddly enough this was indeed the favoured option, as opposed to the more relaxed sea crossing.
The reason was simple, this week's Press Appraisal Vehicle was a Ford Fiesta. So what? It had an ST badge on the grille and on the boot. A 1.5 litre, 200hp, turbocharged little firecracker of a machine.
To make best use of it, the idea was to set off at early hours o'clock to beat the traffic and take the long way round the top of Loch Long then down through Strachur past Loch Eck to Dunoon.
Ever mindful of the profusion of speed cameras, which seem to be as plentiful as midges these days, this was a joyous wee machine. Of course top speed is limited on A and B roads, but if you don't slow down for the corners, you can still have barrowloads of fun.
The ride was pretty firm on its 17 inch Michelins, but it clung to the tarmac more ferociously than a Cowal midge to a peelly waally tourist and it shot out of corners like Edinburgh's 1 o'clock gun. Top speed is a theoretical 144 mph but it will hit 60 from rest in well under 7 seconds.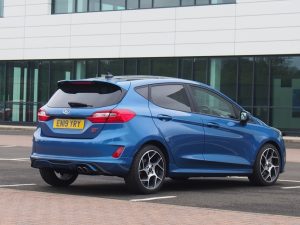 What made the car so enjoyable was the balance. 200hp is enough to provide a gentle tug on the arms out of the corners without overpowering the handling and agility. Any more might just ruin it. The ride was firm, very firm, but the car could still be driven on a daily basis although it might be advisable to avoid pot holes and sleeping policemen! This was the five door version and with a small, but decently sized, boot it could called a 'family' car for the two plus two family.
It could be chucked at corners at almost any speed secure in the knowledge that it would come out the other end shiny side up. Perhaps that's why most of my driving time was spent in the 'Sport' mode rather than 'Normal'. It just made the wee car sharper – and a bit noisier. There is also a 'Track' mode but there was no chance to try that out.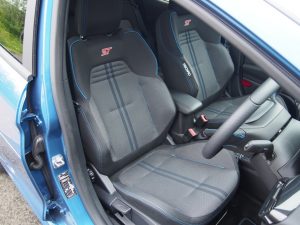 There was one ever so tiny wee drawback. The Recaro front seats. They were either designed by one of those infuriatingly fit, gym-generation, nuts and grain fed masochists with six packs and buns of steel or a disgruntled teenager denied treats at home and at school who wanted to get his/her own back on normal shaped adults.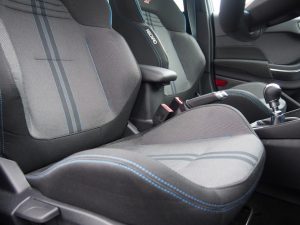 The side bolsters of the driving seat were never designed for those possessed of a passion for all things Scottish cuisine, especially if served up in batter in newspapers, or inside a hot water pastry crust reeking of minced mutton and gravy. Otherwise the creature comforts are pretty good. The driving position itself was excellent and there was plenty of head and knee room although two burly blokes in the front would be rubbing shoulders – especially on some of the tighter corners!
The base price of the car is just over £21,000 but the test car had over £5000 worth of extras which it made it quite expensive and which included the Ford Performance Blue paint job. Tasteful, very tasteful. It also had the openable panorama sun roof, ideal for enjoying the sweet Scottish fresh air in the early hours and the sun dappling through the trees. The B&Q sound system was extra and it had quite an assortment of electronic 'driver aids' to bring the final price up to £26,550.00. Compared to other performance cars on the road, that actually is still quite an attractive price.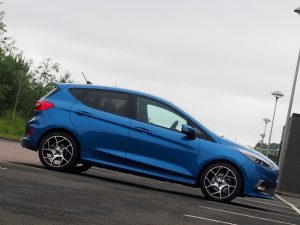 For sure, it's a car for the younger generation but that doesn't stop old gits from having a bit of fun. Such discomfort was a small price to pay because there was the prospect of the drive back hoe to look forward to – after having let the traffic die down! In life, it's not just food that needs to be savoured.
If I had one, I'd need to visit DA Autoparts to see if they had a used Transit seat to replace the bum nipper in the Fiesta. Mind you, if the replacement didn't fit I suppose I could live with it, just for the sheer joy of the car itself.
Review Date:

July 4, 2019

Price

Engine

Performance

Economy

CO2 emissions