… SEAT Ateca …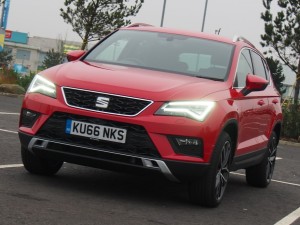 Everybody's at it these days. If a motor manufacturer doesn't have an SUV or two, or three, or even a whole model range of the rascals in its line-up these days, then it can't be classified as a major motor manufacturer. The public appetite is insatiable, although no-one is quite sure why. For sure there are many reasons for their popularity. Big, roomy, and providing better all round visibility, but there must be more to it than that. No doubt there will be a geeky swot with spots and specs and a spreadsheet out there somewhere pumping out multifarious reasons why and then giving the big Bosses a Powerpoint presentation to bolster his/her case.
Basically, it's like any fashion. Tell enough idiots that this is the new trend and they all slavishly follow, even folks with more sense. For instance, millions of people are buying jeans and tights with holes in them. Not just holes in the knees, but slashes across the thigh and elsewhere while ripped pockets on the bum are an added extra!
Why? Come on, give me one good reason why otherwise sensible folk will fork out exorbitant sums of money for faulty goods, albeit with some so-called, high-fashion label prominently displayed. I just don't get it. You wouldn't buy a sofa with holes in it let alone a brand new car with dents. In fact you can buy a hell of a car these days for the price of a handbag.
Having accepted that, then we can accept the rise of the SUV. At least there are some practical reasons for the choice, and it's not just fashiononsense.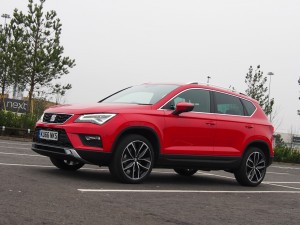 Take the new SEAT Ateca, for instance. If you think it looks familiar, screw your eyes up and think VW and Tiguan. No real surprise there, SEAT is part of the same family although the Spanish manufacturer has only just recently joined the ranks of SUV builder. The result is a really smart looking family car with a boot big enough for the 'active lifestyle'.
And there's another 'fashion term', the 'active lifestyle'. All that means is a boot big enough for a few training kit bags and equipment and a roof rack for bikes or canoes. Although whether many of these will ever smell a sweaty trainer or carry a bike is doubtful. Nope for most folk it is a means of carrying weans and toys and all the other paraphernalia such as prams and push chairs, trikes and footballs. Not to mention the weekly shop and the annual family holiday or staycation!
And that is where the Ateca excels. There's plenty of room for five folk and a decent amount of luggage. It's roomy without being ostentatious, smart without being glitzy.
Under the bonnet, the test car had the 2 litre turbo diesel with 148bhp being shared around all four wheels (Yes, there s a 2WD version) which was plenty for the compact size SUV that it is and the tasks it will be asked to do. More likely getting weans and their buckets off the sand, than sheep off the hills.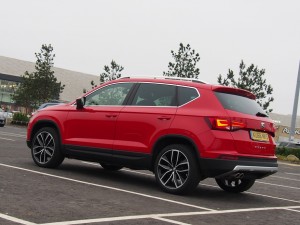 There were only two minor quibbles. The VW sourced engine is a tad noisier than some of its rivals and the 19 inch wheels do nothing for the ride quality. But then again, that's fashion for you. If you can put up with draughty knees and nether regions in your new 'holy' jeans then a bit of jiggle over the bumps and pot holes won't put you off.
On the other hand, fuel economy is quite impressive for this size of machine. SEAT claim up to 55mpg and although I didn't achieve that I was just shy of 50 mpg most of the time.
The test car was in 'Xcellence' top of the range trim which included leather upholstery, a reversing camera and a choice of 'Driver Profiles' including one for use in snow.
The boot divider net added a whopping £155 to the bill while the upgraded audio system was an extra £320. The combination of top-view camera, Park Assist, electrically operated tailgate and wireless phone charger added a further £1210.
The Ateca range starts from around £18,000 but this deluxe version was over half as much again. Was it worth it? Compared with similarly specced rivals, I reckon it is, but it's still a lot of money for a saloon car.
Mind you, I could live with it quite happily. I liked it.
Review Date:

February 4, 2017

Price

£27,960 (as tested)

Engine

1968cc, 4 cylinder turbo diesel with 148bhp

Performance

0 - 62 mph in 9.0 seconds, flat out at 122 mph

Economy

55.4 mpg (combined)

CO2 emissions

129 g/km

Insurance Group

16E