… Peugeot 5008 GT Line …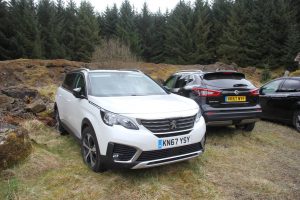 I have a motoring journalist colleague whom I have known for over 20 years and he doesn't like the Peugeot 5008 for one reason. In fact he dislikes all current Peugeots for one reason – the small oddly shaped steering wheel.
Regardless of the fact that this is one of the most stylish SUVs on the market, with excellent road manners and is extremely comfortable to drive, he still doesn't like it.
You would think that a professional motoring journalist could rise above such a minor objection, but nope, he's as stubborn as a 2 year old who doesn't want to leave the sweetie shop.
When pressed he will admit that it looks good, that it drives well and is a comfortable place in which to sit when travelling short and long distances. He even likes Peugeot's so-called 'i-Cockpit' space-age styled dashboard and console. And that's saying something for an otherwise grumpy auld git.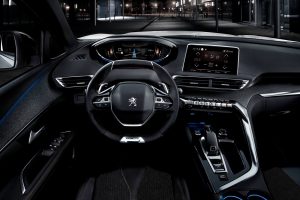 Admittedly, the smaller than average steering wheel does take some getting used to, but it's like anything else, a little bit of practice and familiarity can overcome most objections. The average steering wheel diameter is 370/380mm whereas the newer Peugeot design is 350mm wide by 329mm tall. Not quite Allegro (ask your Dad) shaped but it is slightly flatter at the bottom and top.
Completing the i-Cockpit lay-out are the main information dials in a grouped cluster high on the dashboard (within the driver's sightline) beside a touchscreen panel mounted in the centre dash and angled towards the driver. A sculptured console directly underneath and alongside the driver's left hand (in RHD vehicles of course) features additional controls and the gearshift/automatic joystick.
In fact it does seem a bit like sitting in a space-pod with all controls within easy reach and grouped around a comfortable driving position.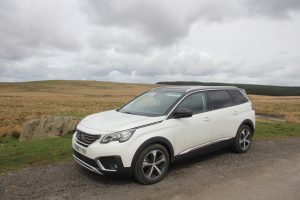 When Peugeot introduced the smaller steering wheel six years ago, I must admit that initially I wasn't sure if I liked it. The main reason for that was surely down to the fact that it was just about the only car-maker in the world who produced mainstream cars with such a small wheel.
But then who needs a big steering wheels these days? Every mass produced vehicle comes with power steering. You don't need both hands on one side of the wheel tugging at the reluctant cross-plies. Nowadays, parking is a finger-tip operation. On that basis it makes sense to produce a smaller steering wheel and open up the control access around it. Perhaps the real surprise is that others haven't followed!
Anyway, my dear friend and colleague remains unconvinced and almost oblivious to the benefits, which is his loss. This is a remarkably good and well thought out 7 seater.
A trip to Carlisle and Kielder for the Pirelli Rally ably demonstrated its pace and manners on the Motorway and its comfort and capability on gravel roads. Carrying the practical theme a bit further, it has a decent deep boot. Big enough for a rally team management 'chase' vehicle surreptitiously carrying a couple of spare wheels, trolley jack and fuel can – just don't tell anyone. On the other hand it is a bit too well fitted and carpeted, best get yourself a decent boot-liner before engaging in such nefarious practices.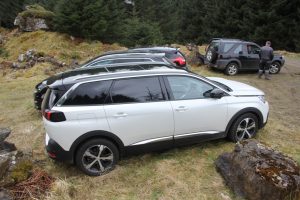 Back to the age-old question. Would I have one? Unlike my pal, yes I would, and perfectly happy to live with it. Family car, hold-all and comfy cruiser. What's not to like?
Review Date:

May 3, 2018

Price

Engine

Performance

Economy

CO2 emissions