… Ford Focus Titanium X …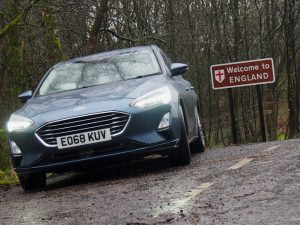 In the great scheme of things, the Ford Focus is not a big car although it is a full size, four door hatchback five seater. It's not particularly heavy, comparing well with others in its class at just over 1300kgs, but to those of us who equate capacity with power, like Carroll Shelby who once said there "ain't no substitute for cubic inches", there is a surprise under the bonnet. This Focus has the diminutive 1 litre, 3 cylinder EcoBoost engine providing the automotivation.
It's a case of lift the bonnet and search for the engine, it's hidden under the plastic somewhere but this engine without its ancillaries could just about fit inside a 5-ream A4 box of computer paper. Surely this wouldn't be up to the task, would it?
But this is Ford, maker of wonderful handling small cars over the years and they wouldn't do such a thing to their fans. Would they? Nope.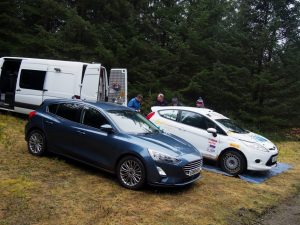 In this instance, this turbocharged wee gem, pokes out some 125PS. More than enough to give this family saloon sufficient oomph for workday weeks and fun filled weekends.
When this diminutive engine was first launched some 7 years ago now, some fanciful claims were made about fuel consumption. Ford were not alone in this as every other manufacturer who started producing small engines were making similar claims. That was only partly true. If driven modestly with fuel conservation in mind then the claims could be justified, but in real life and everyday motoring the savings were not quite so noticeable.
On the other hand, these new generation small engines were much more efficient producing less harmful emissions and not only that, their compact nature and dimension meant they could be manufactured using much less natural resources such as iron, steel and alloys. They also weighed a lot less so there was much less mass to lug around. Equally, improvement in car design and manufacture meant that cars were lighter in weight and more aerodynamic requiring less effort to push them through the air.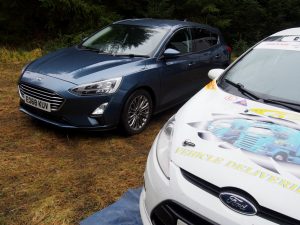 All told, that added up to a considerable saving in weight/mass and fuel efficiency, so in fact the 1 litre engine really is more efficient, just not the wonder motor that was first envisaged. To put it into perspective, the new 1 litre engine will produce similar power outputs and better fuel consumption figures compared to a standard 1.6 litre petrol engine. In fact, fuel consumption over a 375 mile drive equated to 46.7mpg which is not bad at all.
And if you want another reason to prefer this wee engine over others, the engineering design team was headed up by a Scot, Andrew Fraser, a graduate of Edinburgh University and now Manager of Ford's Gasoline Powertrain Development in Europe – not that I'm biased of course.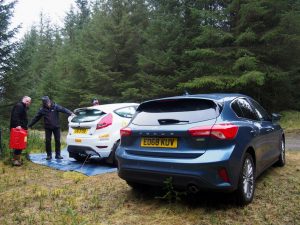 But back to the main point, whatever your suspicions, a 1 litre engine in a five seater saloon, not only works, but works very well. At no time did this car feel underpowered or struggling to cope with 5 adults, three handbags, one rucksack, one photographer's camera bag and a coolbag with sandwiches and Irn Bru. I'll leave you to guess which ones were heavier.
For the majority of everyday motorists what lies under the bonnet will be of little or no interest. Other than checking the oil and filling the windscreen washers, very few folk will even know what's under the bonnet. As long as it starts, goes and doesn't require too many visits to the filling station, most of these people will be more than content.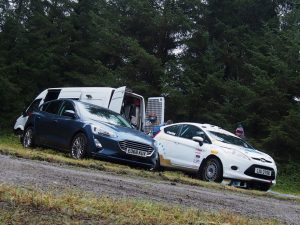 However, there's more. This being the Titanium X top of the range model, it had all the modern acoutrements that one expects in these technologically advanced times. The car has Ford's SYNC media system which not only features a DAB radio and SatNav but will accept and recognise two USB devices while connecting to your mobile phone. This 'intelligent' animal also has a Lane-Keeping Aid, Speed Assist and Hill Start Assist as well as Pre-collision Assist and pedestrian/cyclist detection. Of more interest to me it had heated seats and steering wheel, and that most vital of essentials these days a 'Quickclear' heated windscreen.
All this added up to a hefty price tag of around £23,000, but this press appraisal car also had another 4 grandsworth of extras including the deep 'Chrome Blue' external paint job, Head-Up Display, LED headlights, driver assistance and convenience packs and an upgraded B&O sound system.
It all added up to one highly desirable and eminently drivable motor car.
Review Date:

April 3, 2019

Price

Engine

Performance

Economy

CO2 emissions

Insurance Group