… On stage with the Toyota GR Yaris H2 …
Almost overlooked by the WRC 'heavyweights' doing battle in Belgium last week was the debut of a rather unique rally car, although not in competition – yet!
Toyota President Akio Toyoda drove the GR Yaris H2 in a demonstration run during Rally Belgium. This was the first time Toyota had shown an under-development hydrogen-engine vehicle on public roads outside Japan.
Joining President Toyoda as co-driver was Finnish rallying legend Juha Kankkunen, who won his fourth WRC title with Toyota in 1993. The GR Yaris H2 served as a test car on Special Stage 11 running ahead of the safety car along the nine mile stage.
After the run he said: "I am grateful to Juha for his courtesy in allowing me to drive. He guided me in sync with my driving, making me feel comfortable. The roads were tough – not only slippery but also narrow, and their surfaces seemed to change from moment to moment. They were like the roads used in Rally Japan, and it was a good chance to think about races with spectators in mind. We also had a (Toyota) Mirai (fuel cell electric vehicle) at the venue demonstrating external power supply, and I believe that, together with driving using a hydrogen engine, we were able to highlight in Europe the potential of hydrogen as an option for achieving carbon neutrality."
His co-pilot Kankkunen added: "Akio's driving was great. And the hydrogen engine put out solid torque, making it no different from a gasoline engine. Because they emit zero CO2, I believe hydrogen engines will become one of the options for achieving carbon neutrality not only in the world of motorsports but also in the world of everyday cars."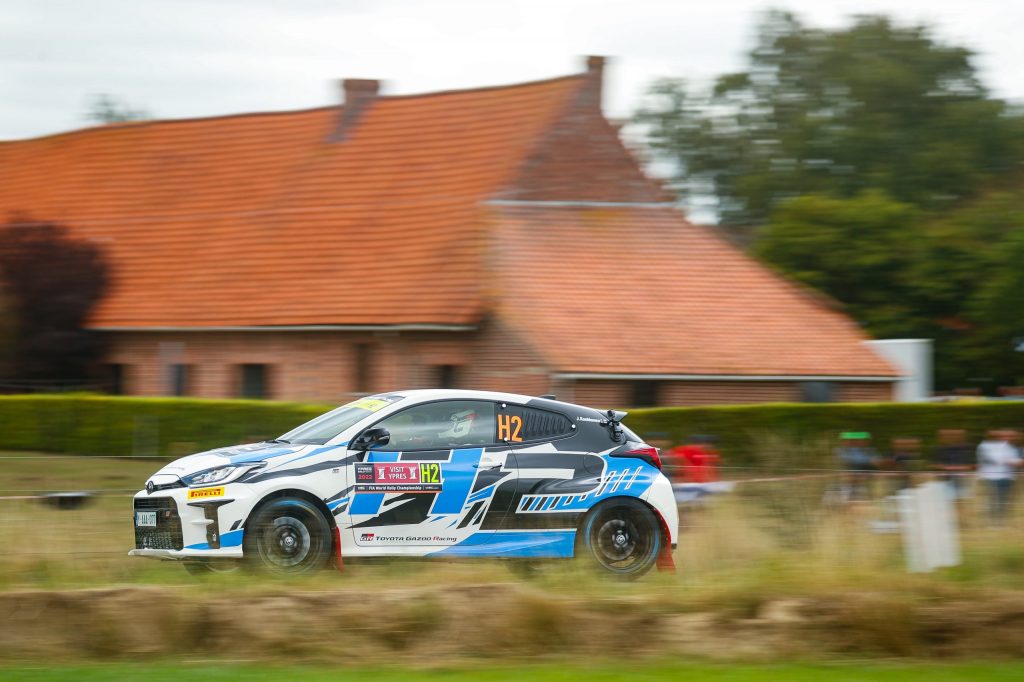 This debut marked another yet another step forward in Toyota's motor sport alternative fuels development programme which is working towards wider applications in general everyday motoring.
Currently in Japan, Toyota has entered cars using three different fuel types in the 2022 ENEOS Super Taikyu motor racing series.
The ORC Rookie team is running the Toyota Corolla H2 Concept, which uses a hydrogen combustion engine, and a new Toyota GR86 CNF (carbon neutral fuel) concept in all seven championship rounds. From the next round in the series, a 24-hour race at Fuji Speedway in June, TOM'S SPIRIT will join the grid with a GR86 using a racing petrol engine for further CNF development purposes.
The Corolla H2 Concept, powered by a hydrogen engine, made its racing debut in 2021, competing four rounds of the Super Taikyu series. In the six months from May's opening round to the final meeting in November, engine performance was improved to levels comparable with petrol engines. Power was increased by 24 per cent and torque by 33 per cent, and successful control of abnormal combustion was achieved.
Starting this year, Toyota is entering a new vehicle based on the GR86 coupe that uses carbon-neutral fuel, with a view to expanding internal combustion engine fuel options. The race car is powered by a 1.4-litre turbocharged engine developed from the unit featured in GR Yaris and the hydrogen engine used by the Corolla H2.
Although carbon dioxide is emitted during combustion, the fuel itself uses CO2 present in the atmosphere, resulting in plus/minus zero emissions. It can also be used with existing fuel infrastructure and powertrain technology.
Toyota will enter a vehicle based on GR86 from the second round of the 2022 series, the Fuji Super Tec 24-hour race, under the TOM'S SPIRIT banner. Closer in specification to a production model than the GR86 CNF Concept, it will be refined throughout the racing season, with relevant findings applied to the development of road-going models and parts.
For the five-hour race at Suzuka, the Toyota Corolla H2 Concept used solar power-derived hydrogen.
On a personal note, it is somewhat reassuring to know that somebody is looking out for the future of rallying in spite of the deafening silence from Paris and Bicester!