William Dickson Taylor, 1938 – 2021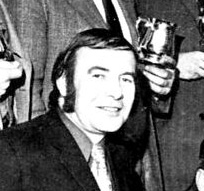 Scottish rallying will be saddened to learn of the passing of William Dickson Taylor, better known as Bill to a certain 'older' generation of fans and followers. The current generation won't recognise the name as he wasn't a flamboyant, outspoken or controversial character. Bill Taylor was instead a very sociable gent who simply enjoyed the 'craic'. Party animal he wasn't – but quiet and quick he was.
Like most folk at that time, his competition career commenced in Minis, contesting local car club events in the early and mid 1960s before achieving more notable success in 1967 when he finished 7th overall in the 'new-look' Scottish Rally Championship.
This was the first year that the national series was run on a 'Special Stage' format with no Selective rallies in the competition. Competitors counted their best 5 scores from the 6 round series run over private and forestry stages. His best result in that debut 'national' season was 5th overall on the Border Rally driving a Mini Cooper S.
The Mini was retained for 1968, but the writing was on the wall for the diminutive machine. He scored a 10th on the Snowman that year and 7th on EACC's Carnival Stages finishing 10th overall in the Championship.
Then came 1969 and a Ford Escort Mk1 Twin Cam. With Ian McIver navigating he opened the scoring with 5th on the Valentine and 7th on the Granite City, following that with 8th on the Scottish and a superb 4th overall on the Border Rally behind Donald Heggie, Russell Close and James Rae. He just missed out on his first national title, finishing runner-up to Donald Heggie.
He lost out again, this time to James Rae in 1970 who took the first of his two Scottish National titles that year although Bill did score his major rally win with victory on the Saltire. Bob Watson denied him another close run shot at the title in 1971. That resulted in another decision, the TC was swapped for a BDA!
Three wins on the Saltire, Border and Hackle in 1972 were not enough that year either. He finished one single solitary point behind a certain James Rae taking the Scottish crown for the second time.
He was 4th in 1973 behind Drew Gallacher, Willie Crawford and Ian Wilson with wins on the Snowman and Jim Clark Memorial. He almost bettered that the following year in 1974 but for a backwards roll on the Border Rally which he had been leading at the halfway point from Donald Heggie and Andrew Cowan.
With bodywork repairs to be done Bill took the opportunity to install a 2 litre BDA for the 1975 season and entered the 1974 RAC Rally. Unfortunately, the electrics let him down but not before he had enjoyed the new power and torque.
Surely, this time? It wasn't to be. He failed to finish the Valentine when a halfshaft pulled out in Kirk o'Moor. Nor could he repeat his '74 Hackle victory when he clipped a rock in Glendevon and bent a TCA, then had a worrying off in Drummond Hill.
That was bad enough but it was the Saltire that really scuppered his hopes when the wiring loom came into contact with the exhaust manifold and stopped the car dead in its tracks in Montreathmont Forest. Any remaining hopes of the title were put beyond doubt when he went off on the Border Rally, which incidentally was won by Timo Makinen from Drew Gallacher.
Although a Mk2 was acquired in 1977, Bill started to wind down his rallying participation apart from a few forays on chosen events up here, down south and in Ireland into the 1980s. On his day he was a match for anyone, competing directly against the likes of Gallacher, Heggie and Cowan as well as Alan Arneil, Murray Grierson, Alistair Brearley and even a newcomer called Jim McRae. A modest man, but once you got to know him, he was extremely good company just to sit down and have a chat.
Meanwhile he was becoming much more heavily involved at home and at work where he was the manager of Tayside Potato Producers in Fife and also owned an automotive body repair business in Perth. He was also a father, grandfather and great grandfather and that came first.
Our thoughts and sincere condolences to his wife Grace, immediate and wider family, and his wide circle of friends.