… Johnstone Syer, 1933 – 2021 …
One of rallying's more colourful characters has sadly passed away. Originally a miner and later a photographer with his own studio in Dunfermline, Johnstone Syer was better known as one of the world's top rally navigators.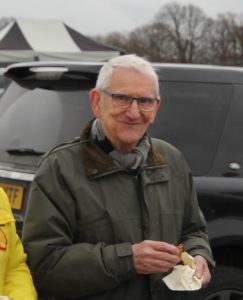 Note the use of the term 'navigator' as opposed to the more currently popular description 'co-driver'. Long before Pace Notes, GPS and smartphones, the tools of the trade were maps and pencils, stopwatches and clipboards.
He left school at the age of 16 and worked initially as a photographer's assistant before undertaking his two year national service commitment. He then switched 'careers' turning to mining which was better paid than many other jobs back then and worked at pits in Yorkshire and later at Valleyfield in Fife. One of the reasons for seeking better pay was that he had discovered motor sport.
He competed initially with his brother Bill on local Dunfermline Car Club events before expanding his horizons further with Bobby Crawford, but it was in 1959 that life changed dramatically. When Bobby asked him to join him for that year's 2,000 mile RAC International Rally he approached his Boss to ask for a week off work. By that time he was working in the insurance industry, but when his Boss said 'No', Johnstone handed in his notice and set himself up as a photographer.
Rallying in 1959 was rather different. The Roadbook, as it was, consisted of a list of place names and a time schedule which included numerous observed and timed tests along the route. On leaving Blackpool on Tuesday, the route took competitors through the Yorkshire Dales and into Lake District before heading north into Scotland. At Poolewe they turned back and drove south through Wales before arriving at Crystal Palace in London on Friday evening – after 4 days and 3 nights out of bed! Apparently there was only one map reference given out in the 'route details' as the rendezvous they were heading to didn't have a name!
That was it. Johnstone turned professional and the rest, as they say, is history. Now working for himself, he had the luxury of being able to combine his growing professional photography business with regular trips around the country, across Europe and even further afield, much further. His new career commenced with local car dealer Logan Morrison who drove a Rover 2000 semi-professionally on behalf of the manufacturer. That was the real start of Johnstone's adventures, rallying with Logan in Belgium, France, Greece and Monte Carlo and he even navigated for one Roger Clark Esq in a works Rover!
This was the golden era of rallying, throughout the 60s and 70s. Manufacturers had discovered the benefits of going rallying to enhance their marketing campaigns and whilst their drivers were regarded by most as the heroes, the real grafters were the navigators. Even before the arrival of 'tulip diagrams', rally routes to and from stages consisted of a list of place names and/or map references with additional directions to and from tests and special stages. Maps had to be prepared for both competition crews and the service crews who followed the actual rally route.
Being bumped, shoogled and rattled around while trying to follow maps in cramped cockpits, shouting directions and keeping to a strict timetable required a different breed of competitor. Johnstone was a natural, in and out of the car. His relaxed charm and ability to turn any crisis into a plan worked wonders with not just his drivers, but marshals along the route and officials in HQ!
Whether standing on the top step of the podium after winning the Rallye Bandama on the Ivory Coast in west Africa with Andrew Cowan in a Colt Lancer in 1977 or standing beside the crumpled remains of a Mini in Falstone Forest, the easygoing charm was always evident. I don't think I ever saw him really angry. A valuable asset for any rally navigator/co-driver.
At a time when drivers were considered to be the real stars of the sport and navigators played a supporting role, Johnstone was less well known than many of those he crewed with and yet even when he arrived at a new event and location as an unknown he left as a friend. His ready smile and relaxed wit winning over all around, even when he didn't speak the language.
During his 40 year career which spanned the American continent as well as Africa and eastern Europe, Johnstone navigated for not just Andrew Cowan in Hillman Imps but struck up a strong partnership with BMC works driver Brian Culcheth first in Minis, Morris Marinas, then Triumph 2000s, Dolomites and TR7s, and latterly for GM in Opels. In between times he continued his association with Andrew Cowan as he moved up the driver rankings with a series of Ford Escorts and of course, Mitsubishi. He also navigated for many others including Tony Pond and also, in the early days, a lady called Valerie Carlaw.
Valerie was part of the Glasgow based Carlaw Cars dynasty. Despite being regarded by many as 'posh' she was well versed in Gorbals-speak and was both fearless and quick when it came to rallying. It was on the 1972 Jim Clark Rally that this duo impressed a very impressionable young rally reporter.
On the 7th stage Valerie was caught out by a yumpy straight in Falstone Forest and rolled her Cooper S four times. As the car left the road, dug its nose into the turf and started rolling, Valerie was heard to utter: "Oh, f*ck me!"
To which came the considered and laidback retort from the left hand seat: "Can ye no wait till the car stops rolling?"
That memory is always the first that comes to mind when the name Johnstone Syer is mentioned. There is another memory too, when Andrew Cowan and Johnstone came calling on White Horse Distillers in Borron Street in Glasgow. White Horse were pretty active in motor sport in those enlightened days when fans were urged to celebrate with a dram AFTER driving and most certainly NOT during. Anyway, Andrew had struck up a friendship with Publicity Manager Gordon McIntosh and when they retired to Gordon's inner sanctum to finalise the sponsorship intricacies, a certain young Publicity Assistant was tasked with entertaining Mr Syer in the hospitality suite. Johnstone was a wonderful and witty guest and left a lasting impression on that young man.
The last time I saw him was at Ingliston for the DCC Stages nearly two years ago. This was a rather different style of rallying to what he was used to, but the interest was still there – and the impish smile.
Our heartfelt condolences to Marion, his daughters Lorna and Katie, and all family and friends.