Obituary … Farquhar Finlay MacRae, 1937 – 2021
The new year started badly again with news that rally driver and retired garage proprietor Farquhar MacRae passed away in early January in Raigmore Hospital after a short illness.
A very quiet, intelligent, practical and resourceful engineer, Farquhar was a rally driver who went rallying for fun. His name very rarely appeared in the top ten results on Scottish national events but he was a regular class winner in the early days when he drove a 1 litre Hillman Imp.
Like most of his generation he was reared on navigational road rallies but unlike the many who opted for a Mini, he chose the Hillman Imp. Following a gradual progression towards special stage rallies in 1961, so too did Farquhar, although it wasn't until 1967 that the Scottish Rally Championship decided to become an 'all-stage' affair.
Even so, contesting a full championship season wasn't for Farquhar, he simply picked and chose events which were either near his home base at Inverinate near Kyle of Lochalsh or just appealed to him. Perhaps that's why he wasn't better known. It wasn't for lack of talent. On the 1967 Hackle Rally there was only one Imp in the top ten results behind a flock of Cortinas and Coopers – and one VW Porsche. Farquhar finished 10th. He was 15th on the Border Rally later that year, again in the Imp.
With just four scores to his name in 1968 from the 7 round series, he finished 8th overall in the Scottish Championship but this was the time that the ubiquitous Ford Escort started to appear in private hands. He also finished 4th overall on St Andrews & DMC's Tour de Stages in his Imp behind one Mike Hibbert Esq! In 1970 he won Highland Car Club's Autumn Rally which was held in treacherous wintry conditions.
Concentrating on his garage business meant little time for rallies, but the urge was a still there and he appeared sporadically at events where his lack of regular mileage was marked by unfortunate, and often undeserved lowly, seeding positions. I never heard him complain. That's not why he went rallying.
1978 marked the final appearance of the Imp. It bowed out with 54th overall and 18th in class on the Granite City which prompted a trial with an Avenger on the same event the following year and scored 50th overall and 2nd in class. This change of cars may have been prompted by the appearance of a new co-driver, and partner, Fiona Kennedy who matched Farquhar's competitive nature but with the same limited enthusiasm for championships.
A Davrian with an Imp engine appeared for a few events but Farquhar quickly appreciated that although fast, it was just a bit on the fragile side, but not before he scored class wins on the 1981 Heron Rossleigh and John Wilson Bedroom Stages rallies and non finishes on the Snowman and Granite.
Time for a change, and the duo opted for a Toyota Corolla for the rest of the season, the car that was to bring them most success and a higher national profile was the well sorted ex-Dave MacDonald machine. Running under the 'Team Castrol' banner they scored 19th overall and 5th in class on the Blane Stages. That was followed with a 24th on the Arbroath Stages, 15th on the Tom Dickson Cameras and 17th on the end of season Trossachs.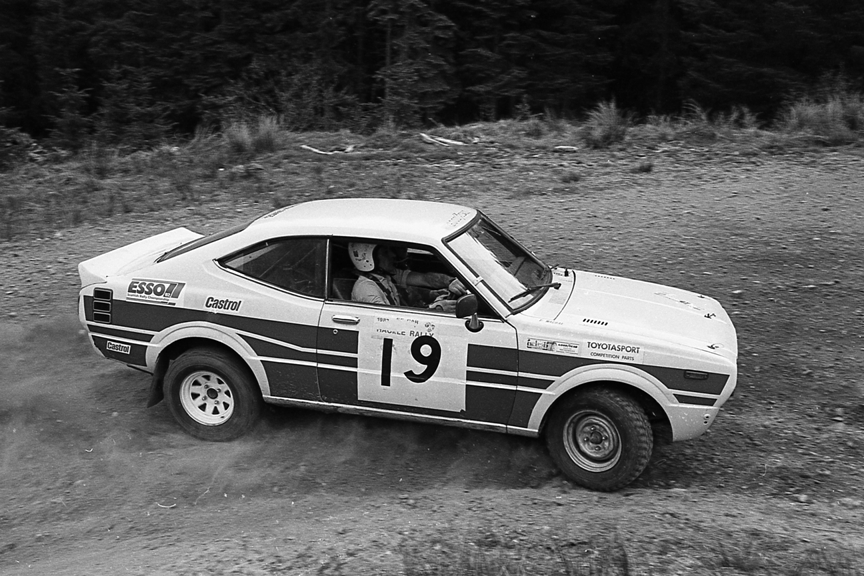 1982 opened with 16th on the Snowman and three 14ths overall on the trot on the Hackle, JW Bedroom Stages and the Forth Electrical. A puncture on the penultimate stage of the Border Counties dropped them to 42nd overall and they bounced back on the Arbroath with a superb 10th place overall before rounding off the season at the Trossachs with 18th. That resulted in a very satisfying 10th overall in the 1982 Esso Scottish Rally Championship.
The duo's rallying tailed off after that but the Corolla was still delivering top 20 finishes when Farquhar hung up his driving gloves.
He wasn't a regular at after rally prizegivings despite his class winning performances and often winning 'marque' awards and 'mixed crew' awards, but that wasn't because he was averse to drink and parties. Yes, he was on the shy side, but he was really good company when you had time for a sit down and chat. No, the real reason for missing out on trophy presentations was as he once said: "Kyle is an awful long way from everywhere" and there was always the need to get back to the business.
Our sincere condolences to his wife Fiona, son Finlay and daughter Janice. All those who knew him will miss him too, and for those of you who didn't know him – you missed out.