… The Virtual Marshal …
Rallying is going to look pretty different when it finally gets the green light. Some concern is already being expressed regarding the continued use of Forest Scotland roads which would leave little alternative but closed venue and closed public road events.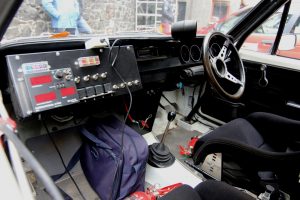 It's not just the lack of venues that worry some clubs but the lack of manpower, in organising teams and on the stage. Will folk still be willing to leave the relative safety of their comfortable and warm homes to venture out into the countryside to marshal? Standing there in all weathers while fending off hordes of bluidy midges in Argyll and Galloway just to give others a bit of motor sport?
With that in mind some of the brighter elements within motorsport are coming up with alternatives to Marshals – the Virtual Marshal!
Nope, it's not quite R2D2 or C-3PO standing by the roadside with digital clocks receiving timecards and handing out times. It's even cleverer than that. At the recent M-Sport 'Return to Rally' event, new electronic stage timing was being trialled with direct links from stage clocks to Results HQ which wasn't even in the same county!
Of course Marshals were in attendance but apart from a few hiccups the system worked well. There was a back up system too whereby co-drivers took a photo of their time card on their smartphone and uploaded it directly to Rally HQ. This worked well too – when they got a strong enough signal.
Taking that a 'stage' further is the 'Virtual Marshal' system. This scheme was used with great success in late September on the 'Highland 1000 Rally', a 1000 mile tour of Scotland organised by Bespoke Rallies for historic and classic cars. The route included a number of driving tests and regularity sections which, although nothing like special stages, still require some form of timing at the start and finish of each Test as well as noting arrival and departure times from Controls. And this was all handled remotely.
Using an App on a smartphone, the location of the car is identified by GPS and actual time of day recorded. Co-drivers can take a note of this for their own time cards and roadbooks or just leave the whole thing to the orgs. It's weird turning up at an 'un-marshalled' Control in the middle of nowhere but the App tells the crew if they have arrived at the correct location and notes the time. If a crew is in the wrong place, then the App tells them that too. There's no hiding place from the electronics!
Although Bespoke have their own system, third party Apps are now appearing in the App Stores including one called 'Virtual Marshal'. Originally developed for other pursuits like Orienteering and Cross Country events, they have been adapted for motor sport.
There is a growing number of these rally orientated tools which can be downloaded. No more need for mechanically fitting Tripmeters to the car and using calculators to manage average speeds and reading Notes or Directions from a Roadbook. It can all be done by these fiendishly clever little software programmes with their friendly smartphone interface. There's even one which can help you make Pace Notes and help you read them back. Just don't lose it, and make sure you carry an on-board charger!
However, they can't replace the friendly frozen or drookit welcome from the lone anoraked
figure standing in the middle of nowhere with a hearty greeting or a curmudgeonly acknowledgement depending on his or her experience with argumentative co-drivers or abuse from puzzled locals.
The recent annual 'Mudmaster' event at the end of October organised by the British Army Motoring Association was a case in point. This two day (and some night work!) event comprised a series of navigational and driving tests spread over three separate 1:50,000 scale OS map areas.
All the pre-event signing-on, scrutineeering, checks and instructions were carried out on-line and even included some classes on basic navigation training for the newcomers. On the event itself, there was no shortage of Marshals who were needed to observe the Driving Tests and penalty markers while some of the navigational tests included un-mapped off-road sections!
Run under a Motorsport UK permit, the BAMA team operated within the Covid19 restriction rules at the time because this event was also classified as a training exercise for the military, so there was no need for crews to be family members. However, there was a 'civilian class' for those crews who were related. Nice one folks!
If you ever get the chance this is a fabulous event and open to first timers in standard 4×4 vehicles, so it's non-damaging and the navigation is pretty straight forward – apart from the tricky bits! Ever tried navigating just using an aerial photograph of the terrain? Not as easy as it sounds, but great fun.
In fact this event almost marked the return of one Jaggy Bunnet Esq to motor sport competition. He had been invited by the organisers to participate if he could source a suitable vehicle. Having just attended a Press event for the new Land Rover Defender, the bold lad made the call. At first LR were up for it, keen on the idea of the new Defender's competition debut, but sadly ongoing Covid19 restrictions scuppered the plan.
So for all you auld gits out there still hanging on to your chipped and scraped Nokia 6310 with its unfashionable and outdated, two week battery life (!) before it needs charged up again and playing Snake on the tiny screen, perhaps now is the time to trade up to one of these new fangled things where the battery barely lasts a day and you can take selfies when you're stuck. It's called progress.
The sport is evolving and organisers are adapting. That means crews will need to learn new skills, but I for one will be sorry to see the Marshal go. Which raises another thought. If certain authorities think we can manage without Marshals completely, then who will oversee the Spectators to ensure their safety and the safety of crews?
Of course this whole on-line system will only work if we get nationwide phone coverage, and that includes the remote highlands and the sheltered lowlands, and everyone has a broadband connection at home. And then what happens if the phone signal drops out? What if a tartan terrorist hellbent on bringing down the government decides to take out some phone masts? We'll all be snookered then, eh?
And if you think this is progress, wait till the arrival of fully autonomous cars – you won't even need to leave your armchair to take part. Happy days, eh?