M-Sport Return to Rally Stages, 22 Aug.2020 …
Forget the puddles and the mud, ignore the grey skies and lashing rain, just turning into the Service Area for the M-Sport Return to Rally event yesterday was like a six year old visiting Legoland for the first time. Never has the sight of shiny metal and knobbly tyres sheltering under a bemusing array of multi coloured shelters been so welcome and mesmerising. Forest rallying was back – at least temporarily.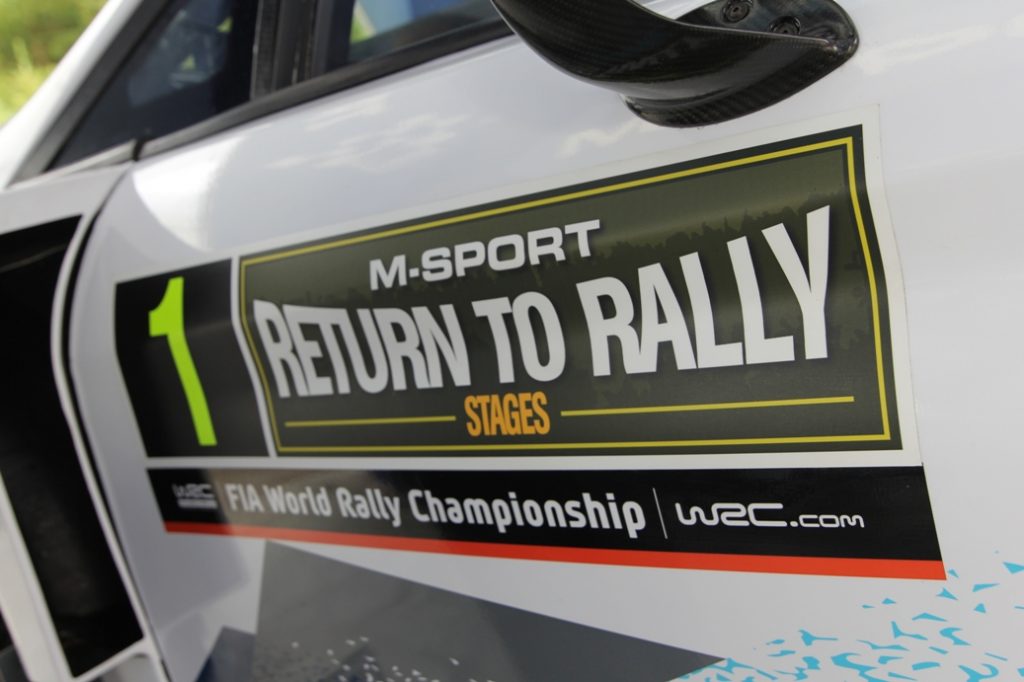 It's been three years since Matthew Wilson last contested a rally (2017 Wales GB) but in all fairness, and he's the first to admit it, he's in and out of cars on a regular basis at the M-Sport testing facilities. However, Greystoke was not in a very playful mood. The surface was wet and muddy, skittery some would call it. For the first two runs through the stage, it was all about judging grip levels. Oddly enough, there was grip to be had – for the confident.
In the current World car, Matthew with Stuart Loudon on the Notes was untouchable with 5 fastest stage times out of six. But why not six out of six you might ask. That was because he stopped mid-SS4 causing Rhys Yates and Adrien Fourmax running behind him to stop as well and they were all given equal fastest Notional Times. So why did Matthew stop? Again you might ask. That was because he came across the Course Car parked up in the trees. Unintentionally.
The Boss himself had been on Course Car duty with his Mk2 but on a right hander, the tail slid out and as Malcolm caught it and brought it back, it caught the power ruts created earlier by the 4WD power brigade. The Escort just turned into the trees, crested the banking and cowped. Both Malcolm and Richard Christenson were OK although the front o/s corner of the Escort's roof had taken a hit.
Once the three crews had ensured they were OK they set off again with Malcolm happily giving the thumbs up to all the other passing crews until the stage was completed. Then it was back to Service and the team slapped Course Car decals on an old recce car and Malcolm was off to finish the job!
Despite his dominant performance, it wasn't quite plain sailing for Matthew: "We had a wee problem with the engine dying when we switched it into 'stage mode' at the Stage Starts. That caused us a few seconds by the end of the day but it wasn't a major problem, just a minor niggle."
As for the two behind him, the finished the day 7 seconds apart with Rhys Yates and James Morgan getting the runner-up place in the current spec works R5 while Adrien Fourmax and Renaud Jamoul were trying out new engine and gearbox parts in their Mk2 version.
Rhys was happy: "It's just good to be back out, and the car ran perfectly," while Adrien was trying the new spec parts: "We were trying lots of things today. It was all good and we're really enjoying it," as he cast his eyes quizzically at the Cumbrian rain clouds overhead!
Frank Bird and Jack Morton were 4th in the Focus. Frank's 'normal' competition mount is a Bentley Continental GT3 in the GT World Challenge Europe Endurance Cup series, but he still enjoys his rallying, plus in these straitened times it gives him more opportunity for 'seat time'. It also gives him a distinct advantage racing in the wet with the Bentley: "I really like rallying, just about as much as racing," he said, "the first stage was good today but we had a 'stall' at the start of Stage 3. No real problem though, just dropped a few seconds."
In fifth place were Hugh Hunter and Dale Bowen with Hugh echoing many of the day's competitors: "The first problem this morning was remembering where all the buttons were and what they did!"
Rounding off the top half dozen were Sam Moffett and James Fulton, just 2 seconds behind Hunter at the finish, and despite a front o/s puncture at the end of SS3. Wee brother Josh was expected to go well, but on the second stage last year's Jim Clark Rally winner got a maximum having to be towed out of the stage. A spark plug had blown clean out of the cylinder head taking the thread with it. However, the guys set to and got it repaired and he completed the remaining four stages, but again not quite without incident: "We had a big straight-on in SS3," laughed Josh, "but I calmed down after that, it was good seat time on gravel."
Top Scottish crew were Rory Young and Allan Cathers in 12th place after a troublefree run with Bruce McCombie and Michael Coutts pleased enough with 17th in the Focus: "We had a few niggles to sort out after the Snowman in February," said Bruce, "so the car spent Lockdown at Paul Benn's place. It's definitely better today but it's kind of narrow around here and the bankings make sure you keep it tidy."
Similarly Bob Adamson had completely refettled his Fiesta after the Snowman and he and Jane Nicol were 22nd just a scant few seconds ahead of young Finlay Retson and Rhys Stoneman in the Fiesta R2T. They scored a convincing Class 3 win on their way to 23rd o/a with Finlay looking pretty impressive on stage and seeing off quite a few R5s.
Just one second behind Finlay were John Rintoul and Ross Hynd. A problem on the first stage of the day cost them dear when the car started losing boost as it progressed through the first stage. "It was a different car in SS2," said John, "it was just so slow without the turbo." His times thereafter were a lot better but a decent result was now long gone.
One of the happiest and most delighted crews to be there were Ernie and Trish Lee. Having hired a Fiesta R5 as a one-off, Ernie had a ball. "I won't be quick and I don't care if the R2 cars beat me, I just wanted to try one of these." He was really cautious over the first two: "I don't want to be the old fart who bins it first!" said Ernie, but he came up with the best description of his one-off: "This isn't just a different car, this makes it a different rally." That's how impressed he was with the trick machine.
Johnnie Mackay and Emily (aka Esmeralda) Easton-Page finished 5th in their class and 35th o/a in the ST. Johnnie's main target of the day was to beat the other ST which he managed, leading home the similar car of Jonny Sproat by 9 seconds. He was only 16 seconds behind the tying R2s of Richard Millener and Andy Turner and who knows what he might have achieved had he not: "I messed up SS3. I don't know why, but I started SS4 better, then just lost it and was all over the place by the finish." Oddly enough, Richard Millener echoed those very same sentiments. Perhaps it had something to do with the conditions as SS1 and 2 were run in an anti-clockwise direction while 3 and 4 were the start of the final runs clockwise. Steven Brown was the only other Scot there co-driving for young Welshman Jonathan Jones and they finished 6th in class and 37th o/a in their R2.
And so concluded a dreich, drenching but entirely happy day out in the Cumbrian countryside.
Final Results:
1 Matthew Wilson/Stuart Loudon (Ford Fiesta WRC) 35:46
2 Rhys Yates/James Morgan (Ford Fiesta R5) 36:22
3 Adrien Fourmaux/Renaud Jamoul (Ford Fiesta Mk2) 36:29
4 Frank Bird/Jack Morton (Ford Focus WRC07) 36:59
5 Hugh Hunter/Dale Bowen (Ford Fiesta R5) 37:23
6 Sam Moffett/James Fulton (Ford Fiesta R5) 37:25
7 Cathan McCourt/Barry Mc Nulty (Ford Fiesta R5 Mk2) 37:26
8 Charles Payne/Patrick Walsh (Ford Fiesta WRC) 37:34
9 Joseph McGonigle/Ciaran Geaney (Ford Fiesta R5 Mk2) 37:36
10 Tom Williams/Jamie Edwards (Ford Fiesta R5) 37:52
Note: There are quite a few 'Tales from Greystoke' to follow shortly in a separate article.