MSport Return to Rally Stages 2020
Matthew Wilson and M-Sport works driver Adrien Fourmaux head the entry list for next weekend's 'MSport Return to Rally Stages 2020' which will be the most significant event this year since the sport's closedown way back in March.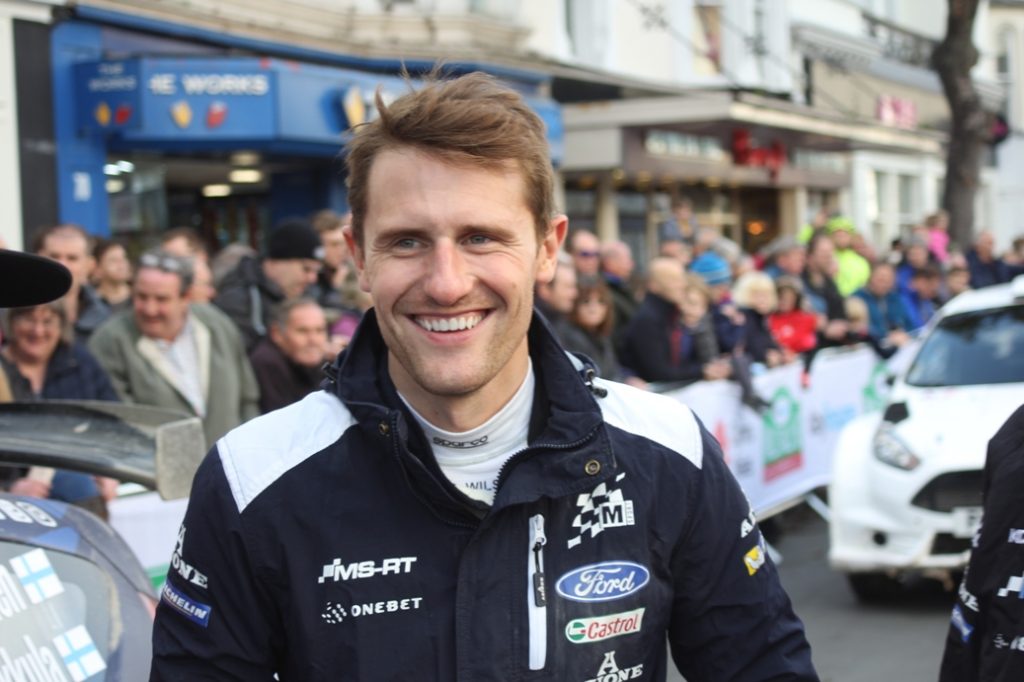 It will also be the first forest stage rally to run under the latest lockdown restriction rules so from that point of view it will be interesting to see just how it operates and runs on the day. That also means NO SPECTATORS. No doubt one of the prime reasons for using the M-Sport private forest test facility. On that basis we can all just hope that none of the eedjit brigade screws it up for the majority by trying to circumvent the rules and restrictions.
Media personnel are also being restricted to a limited number of invitees, so coverage of the event may well be limited. Having said that, it has been proposed that the event will be filmed and will feature on various social media channels throughout the day.
However, there will be a full report from the event here on 'jaggybunnet.co.uk' after it's all over. There will be also be short reports on the Blog and Facebook page immediately afterwards with a more detailed report in the on-line mag the following day.
There's a good few crews (and half crews!) from this end of the country including Rory Young, Bruce McCombie, Bob Adamson, John Rintoul, Ernie Lee(!!), Finlay Retson and Johnnie Mackay with your own 'roving reporter' in attendance to bring you the inside gossip.
There will be six Special Stages during the day at just over 6 miles in length with a total mileage just short of 40. Restricted to M-Sport cars and a maximum of 50 cars and crews, the organisers are pleased enough with a 43 cars turn-out. That'll be enough to test the Marshals and 'contactless' timing and time card system!
If it all works, and works well, then that will be a big help for the sport if it is to get back in the forests any time soon.
MSport Return to Rally Stages 2020
Entry List:
1, Matthew Wilson/TBA (Ford Fiesta WRC) 1600, 1
2, Adrien Fourmaux/Renaud Jamoul (Ford Fiesta R5) 1600, 2
3, Rhys Yates /TBA (Ford Fiesta Mk2) 1600, 2
4, Josh Moffett/Andy Hayes (Ford Fiesta WRC) 1600, 1 – Combilift
5, Sam Moffett/James Fulton (Ford Fiesta R5) 2000, 2
6, Joseph McGonigle/Ciaran Geaney (Ford Fiesta R5 Mk2) 1643, 2 – Maxol
7, Cathan McCourt/Barry Mc Nulty (Ford Fiesta R5 Mk2) 1600, 2
8, Stephen Petch/Michael Wilkinson (Ford Fiesta WRC) 1600, 1 – SG Petch 4X4, SGP Motorsport, Pirelli
9, Rory Young/Allan Cathers (Ford Fiesta R5) 1600, 2 – Scottish Christmas Trees
10, Hugh Hunter/Calvin Cooledge (Ford Fiesta R5) 1600, 2
11, Frank Bird/Jack Morton (Ford Focus WRC07) 1997, 1 – Frank Bird Poultry, VisionTrack, Yuasa Batteries, Fuchs Titan Oils
12, Charles Payne/Patrick Walsh (Ford Fiesta WRC) 1600, 1
13, Tom Williams/Jamie Edwards (Ford Fiesta R5) 1600, 2 – Genesis
14, Conor McCourt/Caolan McKenna (Ford Fiesta R5 Mk2) 1600, 2
15, Thomas Preston/Carl Williamson (Ford Fiesta WRC) 1600, 1 – Hippo Motor Group/ Sterling Automotive Design Ltd
16, Alan Carmichael/Ivor Lamont (Ford Fiesta R5) 1600, 2 – Hireco NI
17, Bruce McCombie/Michael Coutts (Ford Focus WRC01) 1998, 1 – McCombie Builders Ltd , MAC Plumbing Ltd
18, Michael O'Brien/James O'Brien (Ford Fiesta WRC) 1600, 1 – M O'Brien Group
19, Kenny Mckinstry/Kenny Hull (Ford Fiesta R5) 1600, 2 – Mckinstry Motorsport – Rally Hire
20, Martin Cairns/Peter Ward (Ford Fiesta WRC) 1600, 1
21, Robert Adamson/Jane Nicol (Ford Fiesta R5) 1600, 2
22, John Rintoul/Ross Hynd (Ford Fiesta R5) 1600, 2 – FCE Group of Leven, DC Motorsports
23, Gareth Sayers/Liam McIntyre (Ford Fiesta R5) 1600, 2
24, Hugh Brunton/Ian Parker (Ford Fiesta R5) 1600, 2 – DC Motorsport
25, Jason Mitchell/Kenny Bustard (Ford Fiesta) 1600, 2 – Greg Mitchell Motors
26, Richard Ceen/Aled Edwards (Ford Focus WRC05) 1995, 1 – MSL Motorsport Rally4Wales
27, Trevor Gamble/Ronnie Roughead (Ford Fiesta R5) 1600, 2 – Ford Parts
28, Ernest Lee/Patricia Lee (Ford Fiesta R5) 1600, 2 – Haddo Energy Ltd
29, John Stone/Alex Stone (Ford Fiesta WRC) 1600, 1 – Legend Fires
30, Finlay Retson/Rhys Stoneman (Ford Fiesta R2T 19) 1000, 3 – Vending JSR / DJR Services/ Plas Y Rhosyn/Pirelli/Watermans Solicitors/ Castrol
31, Elliot Payne/Michael Gilbey (Ford Fiesta R2T 19) 998, 3
32, Eddie Lewis/Dom Adams (Ford Fiesta Rally4) 998, 3 – Mechanical Solutions LTD
33, Ewan Tindall/Andrew Roughead (Ford Fiesta R2) 1600, 4 – 2300 Club John Easson Award
34, Rob Wilson/Martin Haggett (Ford Fiesta R2) 1596, 4 – Ravenol, ASNU, Spal, RPro
35, Andy Turner/Steve Davey (Ford Fiesta R2) 1600, 4
36, Fraser Anderson/Sinclair Young (Ford Fiesta R2) 1596, 4 – Baxter & Gillespie Ltd; Artex; Akzo Nobel
37, Jonathan Jones/Steven Brown (Ford Fiesta R2) 1600, 4 – Ingospec Aluminium Ltd
38, Richard Millener/Kirsten Dallas (Ford Fiesta R2) 1600, 4
39, Callum Hughes/Ryan Griffiths (Ford Fiesta) 2000, 4 – Pickstocks, Ztech Motorsport
40, Jonny Sproat/Peter Johnson (Ford Fiesta ST) 2000, 4 – Eden Valley Tyres And Autoservices
41, Steven Featherstone/Dan Robinson (Ford Fiesta ST) 2000, 4 – Team Coordin8 Discount Ferries
42, Johnnie Mackay/Emily Easton-Page (Ford Fiesta ST) 1999, 4 – ISS (Aberdeen) Ltd
43, Jeremy Packer/Chris Gilbert (Ford Fiesta R2) 996, 3 – EDSL Sport
Classes
1 = World Rally versions of the Focus & Fiesta
2 = Fiesta S2000, S2400, RRC, R5, R5 variants
3 = Turbo 2 wheel drive M-Sport Fiestas
4 = Non turbo 2 wheel drive M-Sport Fiestas