Punditry In Motion (from a 2005 Interview) …
You just can't keep ex-rally drivers away from rally cars. Show them a six point harness and a big bore exhaust and they can't keep their backside out of a bucket seat.
Robbie Head is one such sad case – his soul permanently lost to the appeal of a needle flickering against a red line. You can see his nostrils twitch when he scents pine and his fingers twitch when he smells leather – even if it's still breathing and munching grass. But give him a hand stitched leather steering wheel to grip and a stick shift to change and the man becomes a boy all over again.
It's some time since Robbie last pedalled a motor in anger. In fact it was just a few short years ago on this very event, the 2001 Speyside Stages Rally, when Robbie and Campbell Roy drove the Group N Station Garage Mitsubishi Lancer.
To say he was a mite rusty round the oxters is to put it mildly. He hadn't contested more than one or two rallies per year since he almost won the British Championship title in 1997. It didn't show. He finished the 45 stage mile event just 62 seconds behind the Subaru Impreza WRC of Brian Lyall, but he was 1 minute 11 seconds clear of the third placed finisher.
When he was surprisingly dropped by Renault at the end of '97 he displayed no rancour then, and still doesn't, even to this day. Even when he sees former rivals (and many he beat!) on the world stage there is no bitterness: "You have to be realistic about these things," said Robbie, "sometimes you get chances and sometimes you don't. I've competed against them and had good results against them, but you have to be in the right place at the right time to get drives like that."
Since 1998 when he had his last run out in the SEAT, Robbie has put his knowledge, experience and talent to good use. Ever one to spot an opperchancity, he noticed that the BBC world rally reporting camera crews were struggling to navigate their way round events and find the right bits to film. Step forward R Head Esq, high speed chauffeur and knowledgeable good guy. Next thing you know, Robbie is taking the guys round the stages an d filling the reporter's head full of facts figures and valuable insight.
And then another opportunity beckoned: "I was doing some work for the BBC," said Robbie, "when Richard Burns asked if I could do his gravel notes. He was with Mitsubishi at the time and I helped out in New Zealand, Australia and Argentina. When he moved to Subaru I was asked to join him there."
"It worked out really well. I did a lot of testing for the team and it was almost a full time job. It wasn't the same as competing, but there was a lot of satisfaction in working for one of the best motor sport teams in the world. And then when someone hands you the keys of a £400,000 rally car and tells you to go and drive it up and down a gravel road flat out, it still puts a big smile on your face!"
The star was born (as they say in high-falutin' circles) way back in 1986 at the Kingdom Stages Rally. Seeded at number 85 (in a field of 87) was a gangly youth who hardly looked out of primary school let alone was supposed to be 17 years of age. He had a Mk2 1600 Escort and was working on it out the back of a Bedford CF van. He finished 25th overall first time out, no bad, eh?!
In 1988 he won the overall Group A title in Scotland in his 1300cc Nova and finished second Junior and then went on to win the 1300 class on the Scottish, Kayel and Ulster rallies the following year. He also won his class and finished 3rd overall in the Autoglass Tour that year in a 1600 Honda Civic.
In 1990 he scored six class wins out of seven in the British series. From there he was offered a drive on the South African Castrol Rally in 1991 driving a Honda Conquest and won his class on the Scottish, Ulster and RAC rallies including 11th overall on the British world series counter in his Ford Sierra Cosworth – right behind World Lady Champion Louise Aitken-Walker
He won the South African Castrol Rally outright the following year in a Sierra earning himself a FISA 'B' seed. It was surely only a matter of time before he followed in the wheeltracks of McRae and Burns who already had their first feet on the World series ladder by this time.
More class wins and impressive overall results followed, and then the breakthrough, a works drive with Renault in '95 driving the Clio. Just three years later they dumped him – and those are my words, not his.
Robbie hasn't a bad word to say about anyone and perhaps that's where the problem lies. The popular press love extroverts and big mouths, and Robbie is neither. He's a nice guy with a prodigious talent, a talent that has now been diverted into other pursuits. For instance, punditry.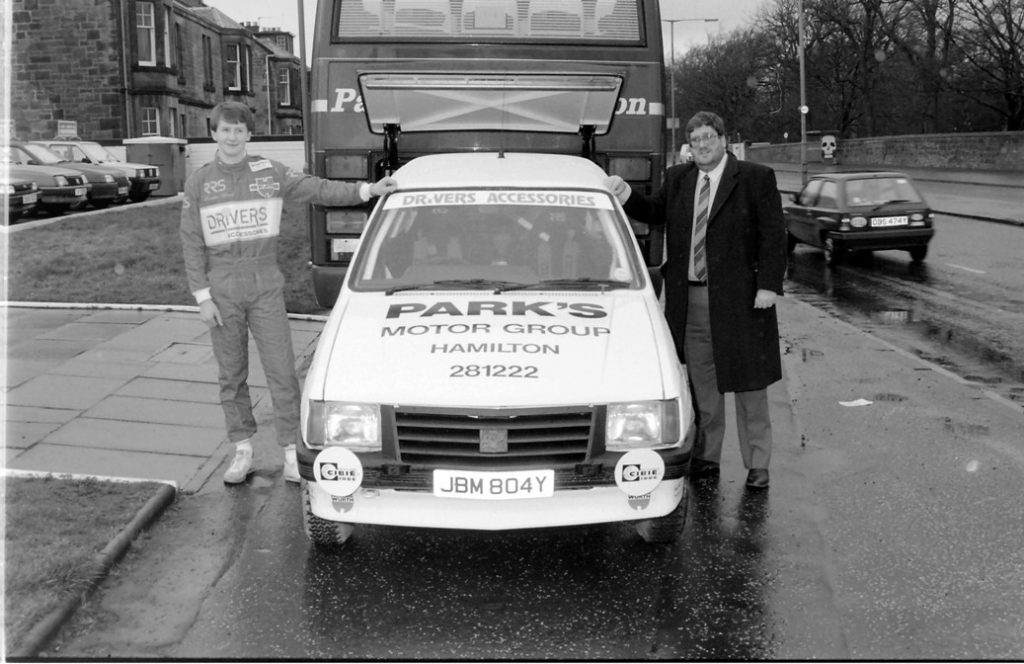 In a past life, Robbie sold cars for Park's of Hamilton – till his rallying interfered with his work. That forced a quick change of working environment, thereafter he worked for himself selling cars till he was able to earn enough going rallying to concentrate full time on his career, but those car selling skills have come full circle. Now he's selling the sport to the TV viewers. Who would have thought it? Robbie, the motor sporting pundit!
And thank goodness for that, otherwise we'd be stuck with Penny Mallory – and a set of ear plugs!
Like Martin Brundle constantly digging STV's James Allen out of trouble in F1, Robbie keeps the WRC reporters and commentators informed of what is happening inside the cars and on the stages. It's Robbie's knowledge and personal insight that helps to keep us informed in the complex and fast moving world rally championship.
But as I said, show him a set of ignition keys for a rally car and it's like Clark Kent looking for a phone box. Since the Station Garage debut 4 years back, Robbie has driven a couple of cars for Bob Shepherd on the Speyside and Granite City Rallies and here he is again, driving another one this year and it will good to see Robbie back at the wheel.
Mind you it hasn't always been successful. I well remember a certain occasion when the cool, calm and collected Robbie was driving and the colourful, voluble Jon Desborough was supposed to be navigating. Perhaps unsurprisingly, both of them have different recollections of the same event, but the result was never in doubt, the Lancer went off and got stuck between the trees.
But ever the professional, Robbie made sure he got maximum exposure for his sponsor – when he put it off through a Station Garage trackside banner, for the benefit of the in-car camera!
Nice one Robbie, better luck this time!