… Len Freshwater, 1956 – 2019 …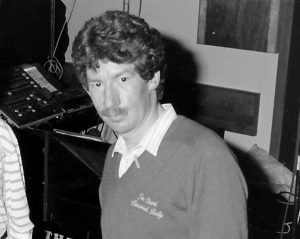 The sport of rallying in Scotland has lost "one of the good guys". Len Freshwater passed away on Monday evening (8th April) in hospital after a short illness. He had just turned 63 last month.
One of the founder members of Border Ecosse Car Club way back in the early 1970s, Len was introduced to the noble art through navigational road rallies with like-minded friends including John Murray, Sandy Baxter and David Robson. The bug bit and stayed with him as he turned his hand to everything in the club from marshalling and event organisation as well as serving as Clerk of the Course on a few Jim Clark Rallies before the event first ran on closed roads. At the present time he was still involved as BECC Treasurer with wife Jill acting as Membership Secretary.
A very private man, he kept his health concerns to himself. He retired from his job at Floors Castle two years ago, where he was a member of the Gardening Team for 23 years, and started taking things easy. Last year after a heart operation he bought a Vauxhall Vivaro camper van so that he could continue to volunteer as a Marshal. With wife Jill sitting inside the van in the dry, keeping the paperwork in order, Len would be outside at Passage Controls on events around the country manning his post from first to final car.
He navigated and co-drove for a number of drivers over the years and he even turned his hand to driving in the early days with a Ford Escort Mk1. Those episodes proved one thing. His future career would prove more fruitful and rewarding in the left hand seat with a map than the right hand seat with a steering wheel.
He did achieve some success and notoriety at national level during his competition career. A run out with Monty Pearson on the Trossachs Rally in the late 1980s gave him a taste for the forests. As Monty recalled it was very much a late entry and Len stepped in at the last moment after the seeding had been done, which meant they would be running very late on the road. After their first stage run was frustrated by catching cars the duo contrived to stall the Nova's engine at each stage start while Len engaged the Marshals in "meaningful dialogue" to try and gain a 2 minute (or 3!) gap between cars. Cheating? Nope. That was gamesmanship.
He enjoyed, or should that be endured, a season in the 1992 Esso Scottish Rally Championship with Ian 'Ginge' Logan in his rather lary Peugeot 205 RWD. On the Scotphone Stages that year they scored their best result of the season with 27th o/a and 10th in class. That 'success' was followed by something completely different on the Granite City Rally.
Regarded as something of an 'energetic' driver, Ginge contrived to get the Peugeot stuck in an Aberdeenshire forest ditch and shouted at Len to "get oot and push" as he struggled with steering, gearbox and throttle – only to be greeted with the calm and measured response from an unflustered co-driver: "You put it in here, YOU get oot and push."
They did get out. On the Border Rally they scored another finish with 46th o/a and 19th in class and on the final round of the series were 30th o/a and 9th in class on the Fleming Toyota Stages.
The 1996 forest rallying season was perhaps his best season, but this time with long time pal James Thomson in a Vauxhall Nova. Their first event that year was to be the Snowman Rally, but that was the year of the heavy snow. With the A68 blocked they set off through the Tweed Valley via Peebles on the Friday morning, but as they approached the A9 north of Perth they got a call from Rab MacDonald saying the snow gates were shut. They turned around and headed for Aberdeen but as they approached the city they received another message that the A96 was shut between Aberdeen and Inverness. Undaunted they ploughed on but as they got into Aberdeen they heard that the Inverness road was now clear, so on they went finally reaching Inverness on Friday evening.
Unfortunately, there was no dream start for the new team on Saturday morning. The car spluttered to a halt in the first stage at the first bend. They got it fired up again, then when James handbraked it for a hairpin the engine spluttered and died again. This time stubbornly refusing all attempts to fire up again. They were out almost before they had started. When the service crew turned up on recovery duty they pushed it out to the road to put it on the trailer. Unthinking, one of the lads jumped in to drive the car on to the trailer – and it started first turn of the key.
Turned out it was road salt from the drive northwards the day before which had shorted out an electrical connection on the coil. Where others might have been left tearing their hair out in frustration, Len Saw the positive side, thinking: "Jill won't have been out shopping yet, I've got time to phone her and tell her to get the tea in." A man of habit and tradition, Saturday night was always 'fish night', so he phoned Jill to say he would be home for his fish tea. Every cloud has a silver lining!
Next time out they scored a highlight 29th o/a and 2nd in class on the Valentine Rally and followed that with a remarkable run of three consecutive 45th o/a places on the Weldex, Jim Clark and McRae Motorsport Stages although the class finishes weren't quite so well matched with 13th, 11th and 6th. They also contested the Pirelli Cumbria Rally which resulted in a 5th in class.
1997 was a busy year although he only did three events with James who was contesting the Colway Tyres Formula 1300 Championship, but took time out to be Chief Marshal on the first closed road Jim Clark Rally.
They both hung up their helmets at the end of the 90s, but just a few years later at a party in Len's house one night the consumption of too much wine was later blamed for the decision to "go halfers" on a Citroen Saxo. After retiring the car on the 2007 Autumn Stages with a broken gearbox they bounced back on the 2008 Border Reivers Rally where they finished 58th o/a and 6th in class in the Citroen out of an entry of 116 cars.
Oddly enough, I actually found out myself what Len did for a living ten years ago. Land Rover was launching the new Discovery to the European Press in southern Scotland and part of the driving route included a coffee and shortbread stop at Floors Castle. An off-road driving course had also been laid out within the estate which included a river crossing and a 'Black Swamp' traverse. At the top of an arduous climb through the rhododendrons there was a sharp hairpin left with a member of the Floors staff at the hairpin. With the driver's window down I stopped to get directions and a familiar figure stepped forward and inquired: "Whit are you doing here? I responded: "More the point, whit are you doing here?" At which point I was greeted with: "I work here – these are my floo'ers you're driving through!"
Turned out, Len wasn't just a gardener, who was incidentally renowned for his grapes and peaches cultivation, he would turn his hand to any job that needed done including tour guide, driver/chauffeur and off-road consultant!
Whilst still keeping his club and marshalling duties to the fore, Len took more of a back seat when it came to competition and although he would help out as and when needed in the garage at nights or servicing at weekends, it wasn't till 2014 that he again donned the helmet. Having watched a rally at Ingliston he fancied having a shot, so signed up for the co-drivers' seat with James for the DCC Stages.
What he didn't quite realise was that crews were allowed to walk or cycle the stages before the rally and despite James' urging, he point blank refused to walk or cycle round, leaving James to wobble off on his own, map in one hand and handlebars in the other. As James said: "He was the brother I never had."
He remained very active in club affairs and earlier this year was Entries Secretary for the club's rally at Knockhill in February. He was there the day before the rally to help with set-up and officiated with Jill on the day of the event itself. But there will be one 'event' he will miss, and the whole family will miss him. His daughter Vicki is due to get married in July and given his experience and knowledge at Floors, Len was to be in charge of the flowers amongst other duties, and was already well advanced on 'event' planning ahead of the big day.
Len made a lasting impression on the sport in Scotland particularly at club level, and made many good friends throughout his career, and we will all miss the sly look and the dry wit which preceded many a thoughtful and pithy comment. The sport's loss is nothing compared to what his family are going through and our thoughts and condolences must go out to them at this time.