… Grampian News & Blethers …
Taking dropped scores into account, only two drivers can determine the outcome of the 2018 ARR Craib Scottish Championship driver's title, Andrew Gallacher (131 Pts) and Donnie MacDonald (128). Although 3 points currently separate them, Gallacher holds a slightly stronger position as he has a 22 point score to drop compared to MacDonald's lowest of 23. Gallacher's regular co-driver, Jane Nicol has clinched the Co-driver's title with one round remaining.
John McIlwraith almost tipped his Subaru on to its roof at a Left4 in SS2 but survived to score top points in the 'usedcarparts.co.uk Subaru Cup' ahead of Matthew Thomson who could do nothing about his rival on the day: "I had him on the Speyside, but I couldn't catch him today," said Matthew.
Ally Currie was indeed fortunate to finish top Junior. Leaving service to tackle the final two stages, his Fiesta ST lost all drive on the road section. He managed to jam it into third gear and get through to reach the Banchory finish by just 3 seconds from Grant MacRae who no doubt was regretting his spin on the first stage of the day. Junior 14-17 year old Challenge graduate Johnnie MacKay was 3rd, second time out in his Fiesta ST.
After their trial run out at Machrihanish in Donald Carslaw's Subaru Impreza, Alan and Greg Stark didn't buy it, they bought the ex-Ross MacDonald Mitsubishi Lancer instead. The car is currently in forest spec but the 'boys' plan to make a tarmac car out of it.
Also buying a new car is Donald Brooker. Each time he announces to his long suffering Missus and daughter that "this will be my last car before giving up" they roll their eyes skyward looking for the flying pig formation. When he bought his first 'Historic' car, the lovely little BMW 2002 Tii 20 years back, he said this would be his last rally car. Then he bought an M3, then a Talbot Sunbeam Lotus. These were followed by his final 'last' car, the BMW 130i. Then he had his late-life-crisis: "I just wanted to try a current 4WD car," he said and bought the Subaru Impreza which he has used for the past couple of years. "This will definitely be my last car," he told the girls, who gazed knowingly skywards looking for the airborne bacon brigade. They were right of course, Donald revealed at the Grampian that he has purchased a car which is now in a container on its way from the far east, a genuine Historic 1989 Subaru Legacy. This will definitely be his last rally car – he claimed. Oink, oink, oink – was that migratory ducks flying overhead I wonder?
Scott and David Sloan returned to the stages at the Grampian Forest Rally in their newly acquired Peugeot 208 R2. They were almost forced out of the sport two years ago when their Vauxhall Corsa broke down and caught fire on the DMACK Stages. The car was completely burned out with nothing salvageable from the blackened wreckage. A crowdfunding campaign generated some much need cash and former rally driver Malcolm Proudlock presented them with a new Vauxhall Corsa bodyshell. They debuted the 'new' Corsa on the Snowman Rally earlier this year but have suffered a series of misfortunes since then. With help from Donald Carslaw of Complete Cleaning Services, the brothers managed to purchase the Peugeot 208 R2 with which Gareth Whyte won the 2017 Scottish Tarmack Championship. "We just got the car ten days ago," said Scott, "and I've only managed to put a few miles on it on the public road. This is my first car with LHD and a sequential shift so I'll just be going for a finish today." They actually finished 47th o/a and 3rd in class, minus the front bumper: "That was brilliant," said Scott after the rally, "I'm just buzzing, the car's amazing. I just need to get used to it now. I struggled at times with the sequential 'shift and once I pulled the gearshift instead of the handbrake and got 2nd gear at a hairpin which was embarrassing." The Sloans are now considering what to do next: "I'd like to do the Pendragon and our local event, the Galloway Hills, but we'll see," said Scott, "before making up our minds for next year."
Speaking of new cars, Reay MacKay doesn't have one, but I asked him about his recent Rally Finland adventure: "It wasn't cheap, but that was the way to do it," he said. Reay actually hired a BMW 325i: "It was a road car with Bilsteins," is how he described it, "it was the slowest thing I've ever driven. It even had the standard exhaust on it!" He added: "It wasn't quick but I really enjoyed it. If I had taken my own car I would have wrecked it. The roads are fabulous and so-o fast." Reay and Keir Beaton didn't do the full Rally Finland they did the National event within it and finished 17th. Is he going back? The eyes glistened and he had a quick look over his shoulder at his Grampian mount for the day, the Focus WRC, sitting there in the service park. "I'd like to, but I don't know," said.
Angus Lawrie was quick to point out to me that it wasn't his rear suspension which failed on the Grampian it was the more usual bent 'stubaxlitis' which afflicts Novas and Corsas. "I changed the whole rear suspension," said Angus, "I bought a complete turret and coil-over kit – then I changed it!" Not content with just fitting the bluidy thing, Angus had a good look at it, and thought he could improve on it. So he set about cutting and strengthening the 'shell and welding in the new modified kit. It looks terrific, but what was the result? "I had a test at Jock's (Armstrong) quarry and Jock sat in with me, which was terrific. The car was all over the place as we footered about with settings. Jock was brilliant spending so much time with me and the car." The big problem was that because Angus had modified the kit: "We had no base settings to start from, but I'll get there."
The weather was quite warm at the Grampian so no doubt it got a bit warmer inside the cars, especially the Citroen Kettle (as it is officially called) of Drew Barker and Shona Hale. They had their troubles during the day having to weld up a broken engine mount which then needed a ratchet strap to support the re-weld (!) as they survived to finish 8th in class. However, the secret of keeping cool in such conditions is an ice pack. They both had one of those cold blue freezer blocks stuffed down the inside of their overalls!
One tends to expect a certain standard of moral behaviour and verbal decorum from the more senior members of Scottish rallying, those gentlemen of the forests who have seen and done it all and therefore qualified to set an example to those aspiring to reach their heights of success and endeavour. On that basis one would expect no less from Ian Milne Esq. However, he had a new clutch fitted to the Mk2 for the Grampian and it's progress was marred with fits, stalls, and starts: "It's a bit sharp," he said, with some exasperation, "I've spent the whole day just trying to get it moving without stalling." Sad to report, this explanation was accompanied by a colourful array of adjectives and couthy descriptions which have no part in a family publication. By gawd, he can curse like a wrong'un.
Finishing 29th o/a at the Grampian were Steven and Mary Wood in the Fiesta. Apparently Steven had whisked the Missus away for a 'dirty weekend'! Or as he explained: "It's the wife's 25th wedding anniversary today," before noticing my querulous expression, and quickly added, "oh, and it's mine too!" Well, I'm glad he cleared that up. Congratulations you two.
If you are feeling old and jaded, expressing opinions that rallying is not what it was, nor as much fun, then be careful, you might just be turning into a GAG – grumpy auld git! More reviving than a can of Red Biddy or Irn Bru Extra is a chat with Johnnie Mackay and Rhys Stoneman, the pair of them finished 46th o/a and 4th in class, second time out in Johnnie's Fiesta ST. Nothing too remarkable in that, is there? Yup, they're both just 17 years of age, and just so full of enthusiasm for the sport it makes the auld gits sick with envy. A graduate of the 14-17 year old Ecosse Junior initiative, Johnnie was full to bursting at the finish of the rally: "That was great. We caught a car at the Split between SS3 and 4," said Johnnie, "and I was just so fired up I wanted to make up the lost time once we got past, but Rhys told me 'to calm down' as we came into a Square Right, hit a huge compression and I thought we were over! We had another off on a really loose Square Left, on the co-driver's side, of course, and just slid off but we got a log jammed in the rear wheel and bent the sill. By the end of the rally the starter motor wasn't working." Aye, the boys were buzzing, but well earned and well deserved.
And finally …
From personal experience, old age is not a singular visitor, it brings its own baggage with it which infects and afflicts 'auld gits' in multifarious ways, which is why I'm worried about the ever youthful, Jonathan Lord Esq. He was spotted deep in conversation at the Grampian with Catherine Nicol (Jane's Mum) poring over pictures on their mobile phones and looking quite excited. What could be so engrossing? Naughty pics? Rude jokes? Nope. They were sharing pictures of decorated cakes and extolling the virtues of Muffy the Rabbit versus Peter Rabbit themed ornamentation with coloured icing and moulded figurines. I suspect the ever sensible Catherine was just humouring our Jonathan, eh?
And finally, finally …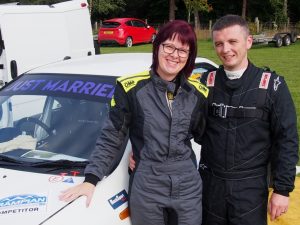 Congratulations! On the Thursday after the Solway Coast Rally, where Laura Marshall co-drove Joe McKeand to 16th place, she married Derek Connell, and she ended up injured. Nope, not what you're thinking, but she stepped on a broken glass on the dance floor and cut her foot. Taking the doctor's advice about resting and putting her foot up, she duly followed instructions by co-driving new hubby Derek to 42nd place on the Grampian Forest Rally on the Saturday after the wedding. After which the two of them disappeared off to Mauritius for their honeymoon. All the best you twa. By the way, it is alleged that there was no Visitor's Book at the wedding ceremony. Instead a Subaru bonnet and marker pen was supplied following which the bonnet will be mounted on the wall in the newlyweds hoose. Wonder whose idea that was, eh? Derek's far too sensible that's for sure.