… News Roundup from Argyll and Beyond …
Saturday's Dunoon Presents Argyll Rally was one of the first events to formally adopt the split 2WD/4WD format under the new MSA legislation. Almost all drivers reckoned the second run through each of the four tests was better, providing more grip, and the surfaces stood up well to the double runs. Clerk of the course Chris Woodcock was pleased with the feedback: "The Forestry Commission allowed us a better choice of roads this year and we are able to re-introduce some classic tests which hadn't seen rally cars for over 20 years."
Most folk commented on how 'busy' the first three stages were in Argyll. So just how tight and technical were they? Fraser MacNicol explained it thus: "We drifted wide into a ditch and hit a big stone which bent the steering slightly, but the real problem was, Andy (Brown) couldn't get the Notes out fast enough." At least that was Fraser's excuse for the 'off'! Another indicator was Lucky Sturrock's Notes. Normally he averages a page per mile. In Argyll it was 3 pages per mile.
It pays to listen, especially at the Driver's Briefing. Grant MacRae survived an 'off' in the third stage (before losing a wheel in the fifth) when the Fiesta took over a hump back bridge at the end of SS3 and landed in a ditch. "I did hear about it at the Briefing, but I didn't actually take a note of it," said Grant.
Speaking of paying attention, Spanish Dougie (Watt) nearly came a cropper exiting SS4: "We passed a car that had stopped to change a puncture," said Dougie, "and the Marshals actually gave us his time which was 46 seconds slower! Luckily, Mark (Grierson) spotted this before we got on to the main road and he legged it back up the hill to get the Time Card corrected." Anyway, the breathless and sweaty Mark returned to the car: "Job done." Mind you he was well puffed and red-faced after it, so perhaps it's worth ensuring that all co-drivers should maintain an acceptable state of fitness during the season – it's not all sitting down and reading Notes.
Niall Cowan Jnr won his class, but he reckons he'll live to rue the day. The MG picked up 2 punctures in SS3 and Niall thought that was him out. Step forward Donald Peacock Snr who was stuck with a broken driveshaft. Niall said: "Donald loaned me a wheel so that I could keep going, but the downside is, that's me in debt for the rest of my life!" And there was me thinking that Donald was a kindly auld soul.
One of the nicest chaps to chat to at a rally these days is Bellaghy's (Northern Ireland) Paul McErlean. He's always cheery, regardless of what the car, terrain or weather throws at him, but his days of visiting the Scottish forests may well be numbered. Co-driver Niall McKenna is getting married in two weeks time and Niall reckons his 'extra-curricular' activities will henceforth be severely curtailed.
I remember a time when Keith Robathan used to moan about the price of tyres for his Mk2, but then again with 300 brake what did he expect. Anyway, he's a much happier chap these days. Last year he purchased an old nail of a BMW just to do the Targa Rally on Mull to support the event and so enjoyed himself he bought a rally prepped car for forest stages. It's rear wheel drive just like his Escort, although it doesn't quite have the same oodles of power, and has a less sophisticated rear end so it's much kinder to his tyres. And you know what, he's (almost) stopped moaning about the cost of tyres, but he has a found a way round this – he's got a second job. After the Argyll Rally he slapped the old girl (the car that is) on the roof and said: "I'll just put the TAXI sign back on the roof and go and get some fares." If that's true, then no wonder Uber is getting a bit of stick from the Mayor of London for not doing background checks on the drivers it uses!
Alistair and David Dalgliesh should qualify easily for membership of the 'Lucky White Heather Club' following their latest misfortune. The Subaru was duly hauled from southern Lanarkshire to Dunoon on the Friday and sailed through Scrutineering. The lads parked the car up and went for buns, beer and bed. On Saturday morning they fired up the car, or at least they tried to. The engine turned over but spark of life came there none. Pulling out the spark plugs, water dripped out of the cylinder heads, both of them. The head gaskets had gone. Faither David was in good form: "We blew the other engine at Ingliston and now this. That's me got two engines to strip and rebuild." Needless to say he used rather more colourful words and emphatic phrases to describe this state of affairs and his state of mind, but these have been edited out – there might be weans reading this.
You'd think that one of the country's top co-drivers and navigators, map readers and route planners wouldn't get lost, certainly not within the township of Dunoon, wouldn't you? Well, it can happen, even to the best of them. Now that she's a Mum, Mhairi Riddick has a new daily routine, going for a walk every morning with Chloe in the pram. Anyway, off she sets for a walk along the seafront: "I thought it would be a short walk round the bay," she said, "I didn't realise that the seafront curved outwards INTO the sea. I must have walked for miles, then when I turned to come back the shortest route I came across the steepest hill in Dunoon!" Moral of this story, check the map before you set out on any marathon adventure, especially if pushing a pram and carrying bottles and spare nappies.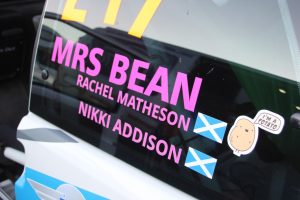 And finally …
Rumours that 'Mrs Bean' was rallying in Scotland have been circulating for a few months now. Fans of the popular TV character will no doubt be interested to learn that there is, apparently, an actual Mrs Bean. Turns out she is the regular co-driver for Nikki Addison under the 'nom de plume' of Rachel Matheson.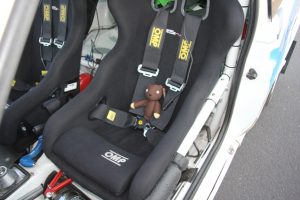 This fact was ascertained by reading the name on the co-driver's window and spotting Mr Bean's very own little Ted in the car. It is alleged that Rachel, or Mrs Bean, shares some of the same characteristics of her more famous namesake – forgetfulness and silliness. Naturally, being such a chivalrous character, I would tend to disagree, but you can't argue with the facts, can you? So if you do see Rachel, sorry, Mrs Bean, at the next event, just bear that in mind, eh?