… Michael Craig Dymock, 1952 – 2018 …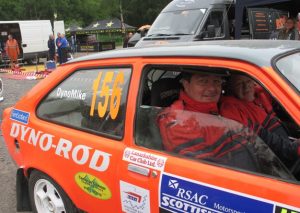 Scottish rallying has lost another good pal. Michael 'DynoMike' Dymock passed away peacefully at home last week in Newton Mearns after a long illness.
He was originally a member of 'the Bothwell crowd' a bunch of motor sports fans who met up regularly in the old Silvertrees Hotel in Bothwell in Lanarkshire in the 1970s. Most of them were members of Lanarkshire Car Club although a few interlopers from Coltness CC inveigled their way in. He lived in Bothwell at the time and got his leg pulled mercilessly for being a bit posh, no doubt a legacy of his education at Kelvinside Academy. Mind you, he gave as good as he got.
His own competition career started in Autocross and throughout the mid 1970s he campaigned a series of Minis in the Players No6 Scottish Autocross Championship before inevitably turning to rallying. The cars were built, prepped, rebuilt and repaired in his Dad's garage behind the house at the top of Old Bothwell Road, a veritable hive of activity in those early days.
Business beckoned as the 1980s dawned and his attention was diverted elsewhere, as far afield as Saudi Arabia, Manila and finally to Egypt before returning to Scotland full time just after the Millenium. In between times he would invariably show up at occasional events for a look-see and a chat. He never lost his interest in the sport nor his desire to compete and in 2006 acquired a Vauxhall Chevette HS.
The car was unmistakably liveried out in the fluorescent red of Dynorod, for whom he managed his own company franchise in Glasgow. He had a fleet of glowing red vans at the time and I well recall being badgered about the fragility of Transit gearboxes – until he told me how much weight the vehicles had to carry. No wonder!
His return to rallying for the next three years was never intended to be anything more than having fun, and that's just what he did, although he did manage a few Historic class wins along the way. Along with long time pal and regular co-driver Jim Crichton the duo epitomised the 'countrified gentleman' approach to rallying in which the enthusiasm and quality of participation was more important than the outcome. A night spent in their company could also be dangerous to one's sobriety. Such conviviality would start innocently enough with a gin and tonic – or two – and then go downhill quite rapidly thereafter.
As a measure of his serious motor sporting intent I was reminded recently of a sticker which graced the flanks of the Chevette and which boldly proclaimed the motto: 'Too fat to win, Too old to care.'
Mike was a lovely bloke, great company, full of stories (often about what he found in sewers!) and an absolute charmer. He'll be missed by his many friends in the sport, but not nearly as much as his family. Our thoughts and condolences must therefore go out to his wife Susan, and daughters Lesley and Victoria, and his grandchildren Nicholas and Callum and to his wider family and friends.
A funeral service will take place on Wednesday, 23rd May at Linn Crematorium, St Mungo Chapel, 413 Lainshaw Dr, Glasgow G45 9SP, at 11am.