… Speyside Bletherings, April 2018 …
Rhys Yates was full of praise for the Speyside Stages afterwards as he sought 'seat time' ahead of the following weekend's Pirelli Rally Prestone British Championship round. "I've never been north of Dumfries before," he admitted, "it was a good day and I enjoyed it. The stages were good but it was hard to judge where the grip was. I was trying hard not to take risks, but Jock drove well today. I lost the front bumper on the second last stage and then wiped off a rear wheel arch on a log pile in the final stage, but this should be a big help for next week." At the finish ceremony he added: "Here I am opening a bottle of champagne, so that can't be wrong!"
Speaking of our visitor from the deep South, Rhys went for a jog ahead of the rally. Fortunately for him there was a nice quiet Park in the centre of Elgin which had been closed to vehicular traffic for the day! Another early morning jogger was one J Armstrong Esq who did two laps of the Park just after 6.30am. Maybe he should have picked another location: "When I was running around I noticed a pothole with a sharp edge on the inside of the bend just after the bridge," said Jock, "so on my second lap jog I had a look at the 'racing line' and decided I would put two wheels on the grass and straddle the pothole. I misjudged it later on, took too big a cut, missed both inner wheels and caught the inside edge of the tyres on the outer wheels and punctured!" Nice plan, shame about the execution, eh?
After his Snowman Rally troubles, Mark McCulloch had a run out in the Fiesta at the test day. "It's an awesome bit of kit, fair puts a wee grin on your face, and it's running better than it did at Inverness." Unfortunately that didn't last too long on Saturday morning (see main report) and that was despite the best wishes of Chloe. She was six weeks old on the Speyside weekend so Mum and daughter had been left at home. That means her first rally will be the RSAC Scottish Rally later this month. "Mhairi's first rally was the Scottish ten years ago," said Mark, "so it's only right that this should be Chloe's first rally." Mind you, she must be an awfy talented, and very busy, wee thing though, because Keith Riddick's (Mhairi's brother) MG had been signwritten by Chloe herself with the messages 'Good Luck Uncle Keith' on the driver's door and 'Good luck Auntie Kirsty' on the co-driver's door. And it was lovely writing.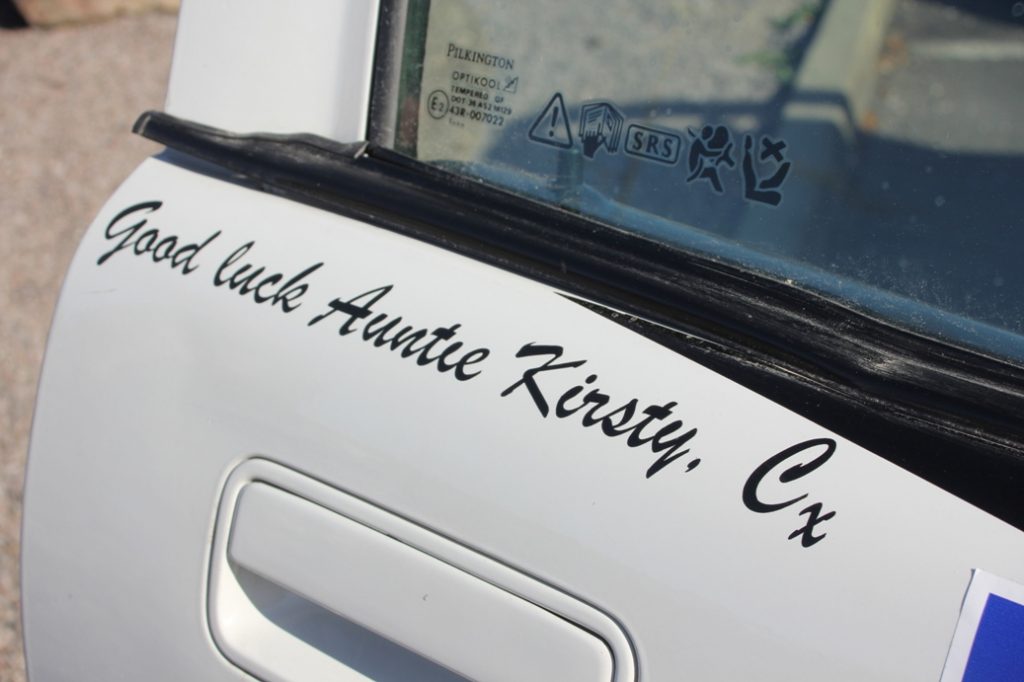 "The Focus wasn't ready yet," said Reay MacKay, "so I've hired a McKinstry Subaru and got a shot at the test day. This car is so good. It has better handling, better brakes and more power and torque. In fact it's so good I immediately phoned Shaun Sinclair to ask why he didn't win the Scottish Championship last year with it." Sadly, Sinclair's response cannot be printed in this family friendly on-line publication. Anyway, back to the car: "You don't even need to change gear off the line, it does it all by itself. You sit with the foot on the brake, give it full revs and it goes. It selects second gear itself when it's ready and you can then go for third when you need it. When you get to my age you need all the driver aids you can get," he added.
Apparently, the further north and west you go, the cannier folks become. Take Metro 6R4 driver David Ross for instance. He had an electrical problem at Wales Rally GB last year and then again at the Snowman, but it was fixed for Speyside. The fault was eventually traced to the main plug from the engine bay into the bulkhead. That means it took them eight months to find and fix it. "Aye, we like to think about things and do them right up here," drawled the bold lad.
There is an old proverb that goes – 'Engineers like to solve problems, if there are no problems handily available, they will create their own problems'. Whoever said that must have known Jon Burn, who is in fact a professional engineer – it says so on the outside wall of his foundry. Renowned for running late there was no surprise amongst friends that there was still no sign of the yellow Subaru as cars lined up for Scrutineering on the Friday afternoon before the Speyside. That prompted long time sparring partner Alan Dickson to send him a message. Apparently they have a private WhatsApp group where they share pictures amongst their tight knit group. This message consisted of a photo of the 'Elgin' city sign on the outskirts of the town and the question "Where are you?" Back came the response from long time, long suffering and currently exasperated co-driver Alan Stark – It was a photo of Jon Burn's driveway – in Lanarkshire! Still, they made it. Just.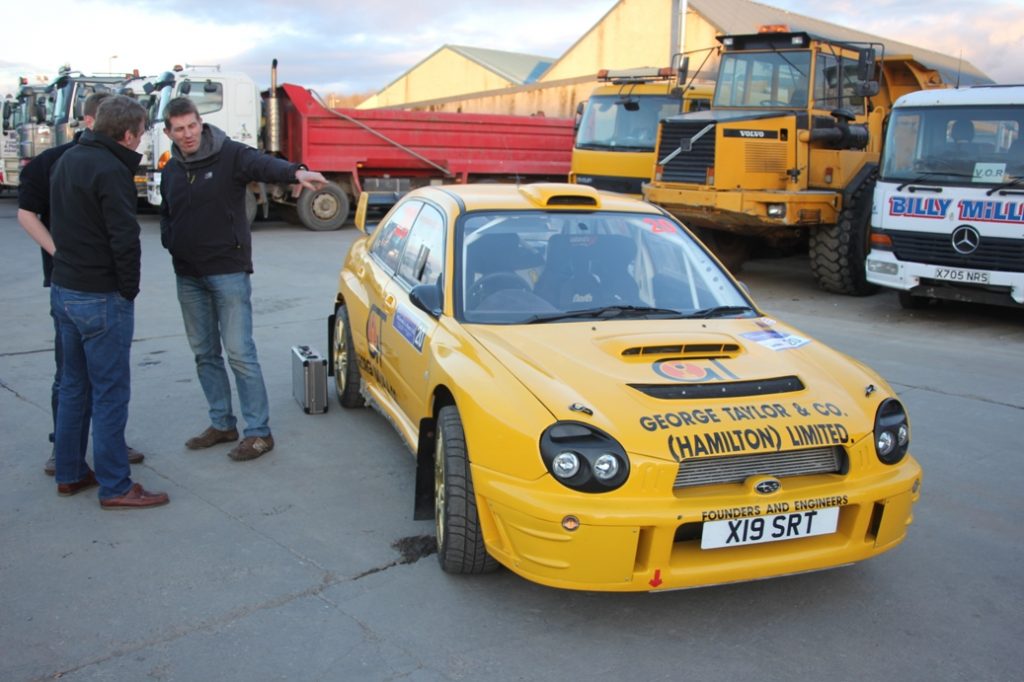 Speaking of the 1999 Scottish Champion, Jon Burn commented: "You have to remember, it's five years since I was last out and 15 years since I was competing regularly. Things have moved on a lot. It was slower to come back than I thought, not just adjusting to the feel of the car and conditions, but Notes are new to me too." We kind of take Notes for granted nowadays, eh?
Having sold his white Subaru Impreza, Brian Watson appeared at the Speyside with an ex-McKinstry S11. "I've only had two runs with it, and I haven't worked out where reverse is yet," he said when asked if he had driven it. However, of more concern to him was the positioning of the crutch strap. He had caught himself quite viciously in the zip ('down below', if you see what I mean) 3 weeks ago and it was so bad he had to go to hospital for treatment so he was still quite tender.
The ever enterprising Ally Currie appeared at the Speyside with the Fiesta ST looking quite smart after its wee bump on the Snowman. "All it needed was a new roof and pillars," said Ally, "and we found a blue car – so we didn't even need to paint it!"
Geoff Goudie explained his pre-Speyside prep thus: "This is the first time that car has seen daylight since Wales last October. I even had to put petrol in it – what was left in it had evaporated."
The Escort Mk2 of Douglas Watt appeared at Scrutineering with a new sun-strip across which was emblazoned the words, 'Spanish Dougie'. Apparently, this was a present from one Keith Robathan and which was a comment on Dougie's unique choice of personal bright floral attire when a crowd of them went to Rally Finland to spectate. It was a subtle comment derived from the Billy Connolly rainwear joke, along the lines of 'The weather's not bad, it's just the wrong clothes."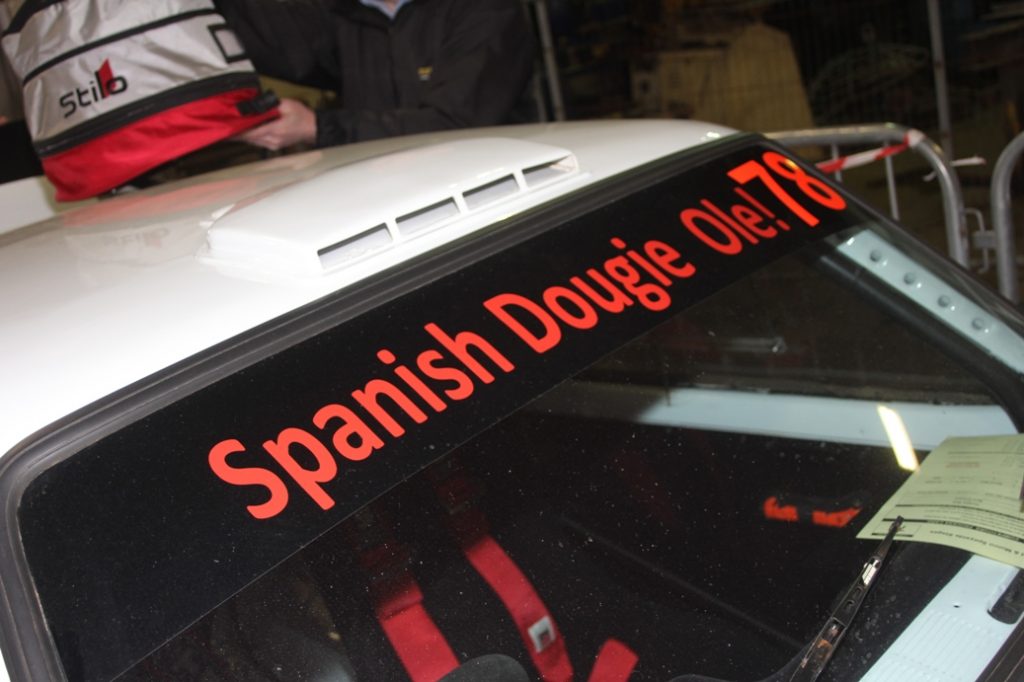 Birthday boy Drew Barker was celebrating his 'coming of age' at Elgin. In this rather special year, top of his bucket list was the full Scottish Rally Championship forest season. In the past he has concentrated on the Scottish Tarmack series, but just fancies a year in the woods to mark this auspicious life landmark. To that end his 'friends' had produced cards, stickers and badges to decorate the driver and car including a huge roof sized decal on top of the Citroen and were asking all and sundry to sign it. Trouble is, if the sticker won't come off, the C2 will end up like a convertible once they saw the roof off to put it on his bedroom wall.

Running car number 99 on the Speyside was Graham Kelman, long time co-driver to Mike Grant. However, this time Graham was in the driver's seat and Mike on the other side. "That means I'll have two jobs tomorrow," said Graham, "navigate and drive!" It was something of a 50th birthday treat for Graham who had driving on the Speyside on his bucket list. Step forward Mike (and I now take back some of the unkind things I've said about him in the past) with a generous offer to let him drive his Subaru. The only trouble now is, Graham fair enjoyed himself.
Rally virgins Aileen Forrest and Pauline Patterson took to the woods for the first time at the Speyside. Normally, Aileen is on service support duty with Ken Wood looking after hubby John Forrest who sits beside John Wink but this time, Aileen was competing. Matt Edwards gave her some tuition ahead of the rally and she had a few runs at the pre-event test day. So there she was on the start line of the Cooper Park stage on her first ever event at the wheel of an Evo5. "I slept fine last night," she said, "better than usual in fact. Normally I worry about the boys (John and John) but I was looking forward to this." Ten stages later the unmarked and undamaged Lancer drove across the finish line back at Elgin, and her first words were: "I'm shattered. I was driving past cars on their roof, and bashed front and rear – and I'm going past them! We had a few shaky moments, but we're here." And there to greet her at the finish, along with the two Johns, was Steven Clark with a bottle of champagne for the girls. Nice one.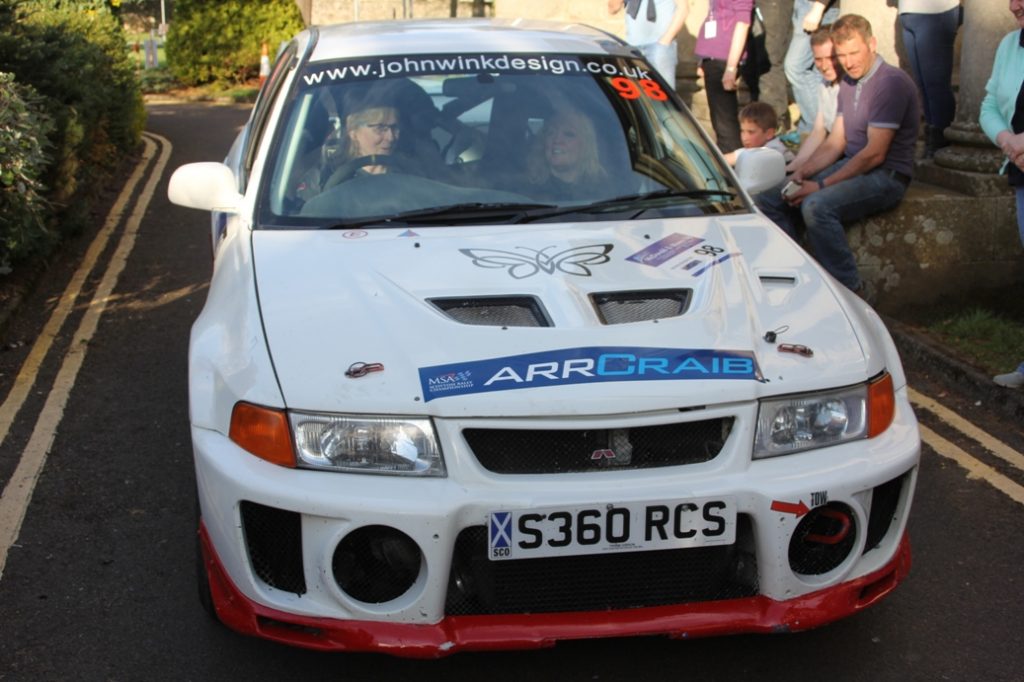 Also testing earlier in the week was Nikki Addison in the wee Peugeot. But there was no 'superstar' Matt Edwards for her, instead, the tutor of choice was Angus Lawrie who sat in to give her some advice. Phew, brave girl.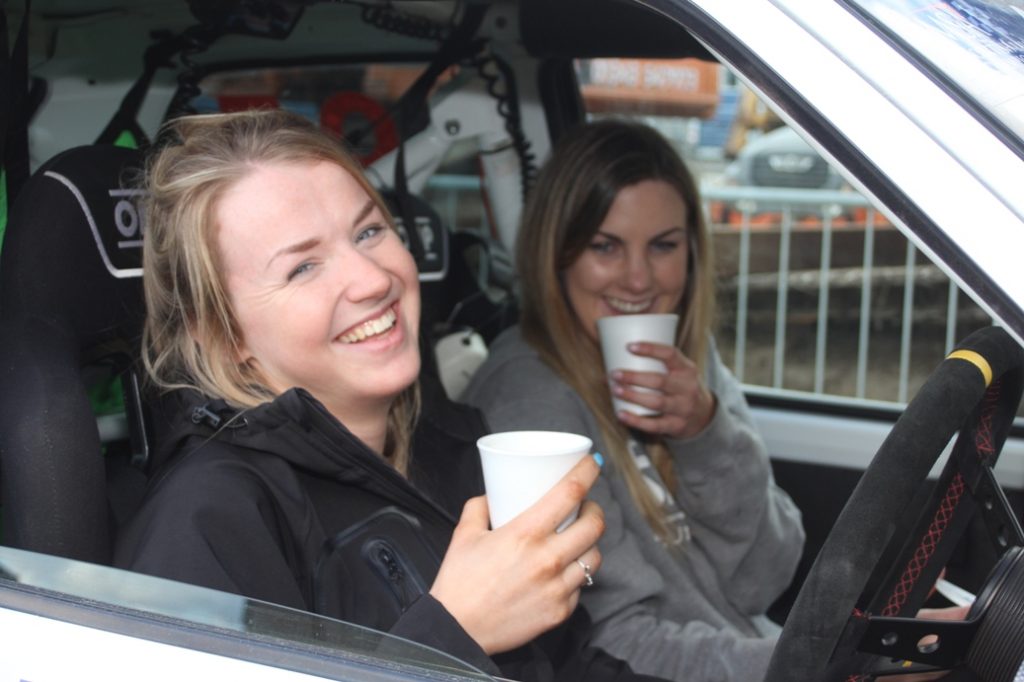 It was a good job, Marty Scott had planned a wee test ahead of the Speyside. It's two years since he was last out and the car was looking smart for the rally, but earlier in the week he had been out for a wee run or two with Matt Edwards – until the gearbox broke. Good job, eh? Otherwise he wouldn't have scored that marvellous 10th overall.
There was a nice touch in the Competitor's Roadbook at the Speyside Stages when the 63 Car Club organising team named the first and last forest stages 'Coogie' and 'Bob Shepherd' as their tribute to two very close and widely known friends who recently passed away.
And finally …
One of the MSA Club Stewards – who shall remain nameless to spare her embarrassment, but we'll call her Fiona for the purpose of this true tale – and who was on duty at the Speyside was fair miffed at the unintentionally disparaging remark made by a passing journalist. He had spotted her splendiferous new leather handbag which had the letters 'MK' mounted and encircled in gold on her bag and inquired of her if this was a souvenir of a trip to Milton Keynes, the roundabout city of the south. Well, that went down like a lead balloon didn't it? Who is this Michael Kors anyway?