McDonald & Munro Speyside Stages Rally, Saturday 21st April …
Round 3 – 2018 ARR CRaib Scottish Rally Championship …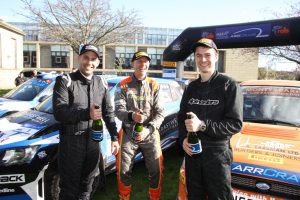 Just like winning, perfection is a target. Especially in rallying. But David Bogie and John Rowan came close on last weekend's McDonald & Munro Speyside Stages Rally. It was an emphatic and almost imperious display which resulted in Bogie's ninth win on this event. Over a minute behind in third place were CA1Sport team mates Rhys Yates and Alex Lee, but splitting the two Skoda Fabia R5s in perhaps the 'drive of the day', were Jock Armstrong and Cameron Fair in the TegSport Subaru Impreza.
With the warm Spring sunshine glittering on chrome and polished paintwork, the cars lined up for the first two stages, twice round the 600 metre perimeter road of Cooper Park in the centre of the cathedral city of Elgin. The kind of stage which elicits 'the wise' to utter such phrases as: "You can't win the rally here, but you can lose it." This time there was indeed some substance in such a saying.
Armstrong was a second slower than Bogie on the first run, but slid across the grass on the second and dropped 14 seconds to the leader crossing the finish line with a flat tyre. Equalling Armstrong on that first run were Rhys Yates, Mark McCulloch, Donnie MacDonald and John Wink. On the second run, Bogie was again fastest, but had to share that honour with Yates, McCulloch, MacDonald and Wink. No big advantages gained, but chances were lost. Garry Pearson clouted a banking damaging a damper and Andrew Gallacher lost over 20 seconds. The first round Snowman Rally winner explained: "The car stalled twice on the start line and then again mid stage, but I think we've got it sorted now."
Taking things a bit to the extreme was Bruce McCombie who reversed the Lancer over the finish line. "When I spun approaching the finish I tried to get the tail to break the timing beam," said Bruce, "but I just missed it, so had to select reverse and drive through it backwards." McCombie's misdemeanour caused another distraction as Barry Groundwater sped round the final bend: "To find Bruce facing me, but going backwards!" Simon Hay was another to approach the finish line backwards, but then perhaps he was distracted: "We clouted my brand new bumper," he exclaimed, "and I've had to tape in the indicator units!"
From there it was into the woods where the light coloured sandy surface of Teindland shimmered invitingly in the sunlight, but offered little in the way of grip! Bogie was 3 seconds quicker than Armstrong with Pearson a further 4 seconds adrift although running down the order a dozen or so places after his damper change. Yates and John Wink in the Hyundai R5 shared fourth fastest. Next up were Bruce McCombie, Freddie Milne and young Lawrence Whyte posting notice of his intentions. As for Fraser Wilson, the Lancer was parked in a ditch, a victim like so many of the 'marbly' sandy surface, but unlike many others, he was stuck fast. Marty Scott suffered a similar fate but got away with it. First time out for nearly 2 years, he said: "We spun near the finish but kept going – although we were nearly out in Cooper park – we almost landed on the Bowling Green!"
Events changed dramatically in the 7 mile Knock More test in Rosarie Forest. Pearson's Fiesta tumbled violently off the road and the stage had to be stopped while help was sought for co-driver Paula Swinscoe. Thankfully, the current generation R5 machine proved its strength although Paula was detained in hospital overnight.
Up till that point, Bogie had been quickest again, by 10 seconds from Armstrong with Whyte yet again mixing in fast company ahead of the much more experienced McCulloch, Yates and McCombie. In total 14 cars made it through the test before Notional Times had to be applied to everyone else as they were re-routed round the accident and sent on their way to SS5.
The short two and a half miler in Tauchers Wood was another Bogie benefit, but Yates was beginning to find his feet on Scottish soil, pipping Armstrong by 2 seconds for second fastest. Milne too was getting used to the Subaru, taking time out of MacDonald who tied with Whyte. Sadly, John Wink's valiant run hit a setback when he cowped the Hyundai: "I spun at a Left3 and thought nothing of it," said John, "but when I went into the next Left9, the car just stepped out and over. It was a puncture, but it was just a soft roll so there isn't too much damage!"
Already with a half minute lead as he booked into Service, Bogie was still looking for improvements: "We could do with a harder tyre, but we weren't expecting this heat today. The blocks were going soft by the end of that last one and the car was moving around a lot, but it is what it is."
Only 2 seconds clear of third placed Armstrong, Rhys Yates added: "I was a bit hesitant at first, but I'm slowly getting into it, these are mega stages." In fourth place overall at this point was Whyte, 2 seconds ahead of McCulloch, but he didn't know, nobody was telling him. The team were deliberately keeping the information from him and one well known scribe was warned under 'pain of death -or worse', to keep schtoom: "Don't you say anything, don't tell him!"
There was a flurry of activity in the fifth placed Mark McCulloch camp. Second time out in the Fiesta R5, McCulloch was relishing the challenge: "It was fine at the test day yesterday but we've got steering problems – again, same as at the Snowman," as the team set about changing the rack. There wasn't much of a flurry over at the Reay MacKay's encampment where the Impreza was sitting silent on its stands and going nowhere soon: "The gearbox is getting noisy," said Reay, "and I didn't want to risk any more expensive damage, so we're out for the day." Another going no further was John Rintoul with nothing but legs showing out from under the bonnet of the Skoda: "We've got a fuelling problem," said John, "We think it's overfuelling but it's well down on power."
Gartly Moor ranks highly as one of Scotland's best stages but no-one could match Bogie, although Armstrong was only 7 seconds slower over 5 miles. More importantly he was 4 seconds quicker than Yates who tied with Milne on the stage. The Fords of McCulloch and MacDonald were next up, but Whyte finished the test 10 seconds down on the pace.
In the next test at Balloch Wood, Armstrong was again second quickest, another 3 seconds up on Yates who admitted: "A wee mistake. I drifted wide into a ditch, and stalled it, but got away with it. It's just so hard to judge where the grip is." Behind him, McCulloch led Whyte and Gallacher who was taking a bit of time to get back up to speed in the Focus after his earlier troubles. Seventh quickest through here was Milne commenting: We came across Rhys' bumper in the middle of the road!" Michael Binnie lost time in here too, and possibly a top ten finish, when a tyre blew out and ripped a wheel sensor off, but at least it didn't damage the brake lines, although as he limped out, Scott McCombie caught him up losing a little bit of time in the process.
At second service, Steven Clark called it a day with his Evo5 explaining: "The engine went sick, so we pulled out before we did any real damage. We think it might just be a cam sensor, it seems to be running too rich."
A re-run of Gartly followed where Yates was only a second behind Armstrong and McCulloch moved back up to 4th place while Freddie Milne in the Subaru demoted Whyte a further place to sixth.
It was Bogie again in Balloch, but Yates snatched back 3 seconds from Armstrong setting up a tantalising prospect for the final stage, there were now just 3 seconds between them. Milne was maintaining his pace 4th quickest through ahead of MacDonald tying with Whyte who appeared at the finish with a worried frown. The radiator had sprung a leak: "It looks like a stone has gone through the radiator under braking for a corner and we had to stop on the road section to the final stage to fill the radiator with water and then top it up on the way to the finish. That cost us a bit of time and it was a distraction," he said.
Putting Armstrong under pressure is about as easy as controlling a tiger with a feather duster. He went into the final stage at Ordiequish 3 seconds ahead of Yates, and he was still 3 seconds in front at the end of it. Second place secured with Yates in 3rd place. Referring to his licence suspension, Armstrong commented: "I knew I was just 3 seconds in front going into the last stage, so I just got the finger out. Cammy (his co-driver) was really good, he gave me confidence coming back after my 'wee rest' and it keeps me in with a shot at the title." Yates matched Armstrong's time as did Milne, while McCulloch, who tied for 5th quickest stage time in here with Gallacher, just missed out on 4th place overall by ONE second. And who knows, he might well have challenged for the podium had it not been for that damn steering rack. Whyte dropped nearly 20 seconds on the front runners, driving with one eye on the temperature gauge, but still made it to the finish in 6th place overall. Not bad for his fourth rally, eh?
As for Bogie, he did register for the ARR Craib Scottish Championship and took maximum points but added: "That's more about supporting the championship than going for the title. I'll do the Scottish, because that's my home event, and then decide from there." One other thing worth pointing out, from 4th place to 9th was covered by less than a minute, that bodes well for the next round, eh?
Results:
1 David Bogie/John Rowan (Skoda Fabia R5) 38m 34s
2 Jock Armstrong/Cameron Fair (Subaru Impreza) +1:16s
3 Rhys Yates/Alex Lee (Fabia R5) +01.19s
4 Freddie Milne/Patrick Walsh (Impreza WRC) +02.00s
5 Mark McCulloch/Michael Hendry (Ford Fiesta R5) +02.01s
6 Lawrence Whyte/Stuart Louden (Fiesta R5) +02.18s
7 Donnie MacDonald/Andrew Falconer (Fiesta R5) +02.22s
8 Bruce McCombie/Michael Coutts (Mitsubishi Lancer Evo9) +02.43s
9 Andrew Gallacher/Jane Nicol (Ford Focus WRC) +02.59s
10 Martin Scott/Daniel Forsyth (Lancer Evo9) +03.56s
11 Scott McCombie/Mark Fisher (Mitsubishi Lancer Evo9) +03.58s
12 Barry Groundwater/Ashleigh Will (Mitsubishi Evo10) +04.15s
13 Greg McKnight/Harry Marchbank (Ford Escort Mk2) +04.18s
14 Michael Binnie/Claire Mole (Mitsubishi Lancer Evo9) +04.45s
15 Brian Watson/Caroline Will (Subaru Impreza S11) +04.51s
16 Ian Baumgart/Dave Robson (Subaru Impreza) +04.56s
17 Duncan MacDonald/Neil Ross (Ford Escort Mk2) +05.04s
18 John McClory/David Hood (Mitsubishi Lancer Evo9) +05.16s
19 Simon Hay/Calum Jaffray (Mitsubishi Lancer Evo6) +05.27s
20 Alan Dickson/Martin Forrest (Mitsubishi Lancer Evo9) +05.39s
Class Winners
Scott Peacock/Robin Neal (MG ZR)
Tom Howie/Charles MacKenzie (Talbot Sunbeam)
Ross Hughes/Richard Crozier (Citroen C2 VTS)
Fraser MacNicol/Keith Boa (Ford Escort Mk2)
Alasdair Currie/Grant MacNiven (Ford Fiesta ST)
Duncan MacDonald (Ford Escort Mk2)
Greg McKnight/Harry Marchbank (Ford Escort Mk2)
Scott/Forsyth
Armstrong/Fair
Bogie/Rowan
Speyside Stages – [Fastest Stage Times]
Speyside Classes – [1 – 4]
Speyside Classes – [5 – 8]
Speyside Classes – [9 – 11]