… A Rallying Call to Arms …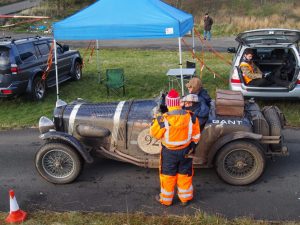 There is currently much whispering amongst the trees about the imminent demise of special stage rallying as we know it. If it happens, it won't simply be down to a matter of cost, or lack of competitors, or even the lack of knowledgeable organising teams. It might be much simpler than that. Not enough Marshals. Or to be more accurate, not enough accredited Marshals.
Unlike single venue events, such as motor racing and rallycross, the use of multi-venue events creates huge logistical problems for competition organisers. Strict rules and regulations now have to be observed when planning rally routes and engaging the appropriate number of marshals for each section. Organisers have to detail how many Marshals will be on duty throughout each stage and note their location and duties on the Safety Plan. On the day of the event, if numbers on the ground don't match the numbers on the printed plan then the MSA Safety Delegate can delay the start until the required numbers are in attendance, or cancel the stage. It's also worth noting that Safety Plans can be questioned and rejected if the MSA deem them to be inadequate.
That degree of forward planning has created quite a headache for the luckless club member who is appointed Chief Marshal and has to source the required number of volunteers, and then try to ensure that they all turn up. And if that isn't bad enough, now the pressure is on to deploy MSA trained and accredited Marshals. The trouble is there aren't yet enough of them.
We have to accept that we now live in a litigious society, so in order to protect themselves sports governing bodies (not just motor sports) and insurance companies are seeking ways to 'lessen the risk' hence the idea of registration and training.
Rallying has to accept that this will happen and on that basis must prepare for it if the sport is to survive.
Up here in the far north we had to endure the long and painful process of a Fatal Accident Inquiry last year out of which came a list of recommendations and requests. This has been incorporated into current event planning.
God forbid there should be another such happening. There will be certain sectors of public life and protest groups keen to exploit any shortcomings in the organisation and the manning of such an event.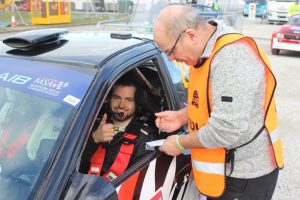 Hence the requirement for 'qualified' Marshals, it's not just a question of numbers. We need to attract, enthuse, retain and train more dedicated volunteers than ever before.
Despite assurances that it is easy to become a Marshal and training is available, it is not quite as straightforward as claimed. For instance, how does anyone outside the sport find out where their local car club is or how to contact the sport's governing body? That sounds pretty simple to us, but if someone doesn't come from a motor sporting family or have mates in a car club, that can be the first setback. Another drawback is that many car clubs don't have the frequency of social nights and events that car clubs once had, so there is little chance to socialise away from events and ask questions or get advice and guidance.
Once you find the MSA website and are directed to the section marked 'Marshals' the resultant multifarious pages of information, jargon and additional links to other sources for even more information will put off all but the most determined. It's the silly wee things like the Marshals' registration form in which it asks the intending signee to "abide by the MSA Regulations and not do anything that could damage the reputation of or have any negative effect on motor sport generally" but then doesn't send them a copy of said Rules or tell them where to find them!
Another section requires 'your club' to endorse you. Suppose you're not a member of a club, but were simply told to contact the MSA, or read the advert in a rally programme or heard an announcement over a public address system.
And god forbid if you do anything silly or against the rules, the MSA reserves the right to take disciplinary action against you – remember Jock?
As for the 'Volunteers in Motorsport' website, it is certainly well meaning and comprehensive, but if anything is designed to put you off, it must be wading through this comprehensive range of options and pages – after reading the 460 page Blue Book!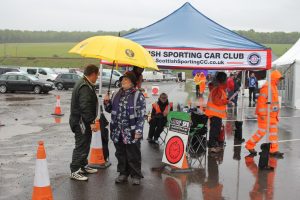 Getting started as a Marshal is like wading through treacle in a maze, and only the most determined will survive. Or maybe that's the aim, weed out the merely interested from the enthusiastically attracted.
And then there is training and progression. Training days are few and far between and involve the volunteers travelling to a location at more expense. Also, these training days have to be fitted into their already busy motor sports diaries and family commitments. That could mean another couple of days away from family duty at weekends.
Occasional Marshals are very welcome, but the regulars who turn out month after month need some reward and recognition for their efforts.
Even if you do manage to find the on-line initial training module, the MSA requires you to 'register' first, so before you even find out what you're signing up for, they want your personal details. A disquieting thought, eh?
And you wonder why the 'auld gits' refuse to sign up to the scheme – even if they do know how to operate a computer and have access to the Internet. That's a great deal of knowledge and experience that we risk losing.
The accreditation scheme as it stands contains all the information an aspiring volunteer needs. However, one wonders if those who concocted the scheme in the first place actually sat down with someone who expressed an interest and talked through the necessary steps. That might have simplified the process and provided a template for future use.
The Scottish Association of Motor Sport Clubs already has an MSA supported training scheme with a full calendar of events, but there appears to be a reluctance, or apathy, amongst clubs and individuals to sign up to it, hence the need for a concerted nation-wide push.
The MSA needs to take the lead. Although the MSA backed 'Volunteers in Motorsport' initiative is a great resource, it needs to be more pro-active. Social media is vital these days, but amateur clubs could do with a bit of guidance and support. Also, clubs and events would benefit from financial assistance to spread the message amongst spectators and bystanders.
Perhaps a simple tool would be financial assistance for free hand-outs to spectators at events which might not otherwise be able to afford a Programme. This could consist of a simple multi-fold A2 or A3 sheet with event entry list and spectator details on one side and club information and Volunteer invitation on the reverse.
The current MSA scheme provides Marshals with a worthwhile 'pack' when they sign up. Good idea. But that should only be the start. We need to make them feel they belong and encourage them to progress. Even if that means offering them a contribution towards travel costs and perhaps help with hi-viz weather proof clothing – and who knows, maybe even an allowance for midge/mosquito repellent!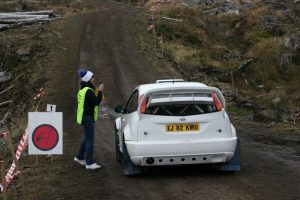 Such an extensive training/registration scheme will be costly, but what's the answer – professional Marshals?
And dare I suggest it, there is need for a professional journalist or a PR wordsmith within the MSA who could create and distribute newsworthy and entertaining material. This should be aimed primarily at organisers and marshals using email and social media to inform in a light hearted manner which would do wonders for morale and enthusiasm. We've all gotten a bit too serious and politically correct these days, and that's not helpful when trying to attract and entertain.
All of which raises the suspicion that one of these fine days the 'powers that be' will stipulate that only trained and accredited Marshals will be allowed to officiate at motor rallies. No more arm-twisting club members, family and friends just to help out and make up numbers. They'll need to be accredited and trained. That will be the day the sport eventually rolls over and points its wheels at the sky.
And it's not just the MSA's fault. Clubs and participants have been neglectful in the past, doing just enough to keep things ticking over nicely, but with little thought for the future. Now the sport is motoring hard to catch up. The current MSA registration and training scheme is more of a response to a need, than a considered course of action for the future. That will take more thought and more time. Trouble is, we're running out of the latter.
If we are to make marshalling a purposeful career choice, then we need to simplify and streamline the process of getting involved. More than that, it has to be an enjoyable and rewarding activity in its own right. Leadership and prompt action is needed, and it's needed now.