… McDonald & Munro Speyside Stages Rally, Sat 21st April …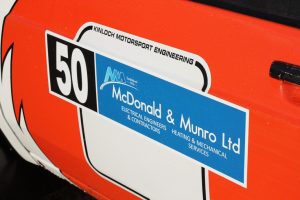 After an enforced lay-off, forest rallying resumes this weekend in the far north on Saturday's McDonald & Munro Speyside Stages Rally. What should have been Round 3 of the ARR Craib Scottish Championship now becomes Round 2 with drivers and co-drivers counting their best 5 scores from the 6 round (instead of 7) series – which means that Jock Armstrong is back in the hunt!
And as we welcome the Galloway Raider back to action we say goodbye to Quintin the Querulous
who incurred the wrath of the Motor Sports Association and who subsequently confiscated his licence. Much has already been said and written about this latest escapade, and therein lies the problem, Q did an awfy lot of the 'saying and writing' himself. That only exacerbated the MSA's reaction and the resultant National Court's draconian penalty.
Of course Q was the architect of his own downfall, but the sport will be a lot less colourful and much quieter without him.
Mind you, the National Court's decision has come in for criticism from both sides of the argument. My own misgivings concern the use of the phrase "make an example of" which was bandied about ahead of the hearing and one can't help but wonder if this influenced the outcome. From my point of view, the punishment should fit the crime. If that punishment is then increased, it implies that the resultant penalty goes beyond fair. Either a penalty is fair or unfair, you can't simply dish out punishments simply to "make an example". That opens up a whole can of worms regarding prejudice and unfairness.
Not only has Q gone, but so too has the MSA's Chief Exec, Rob Jones. There's a new man at the helm of Motorsports Council too and one who understands the need for promotion, publicity and personalities. You only need to look back on his time with a wayward, barnstorming young talent in the 1990s to realise that he knows the value of headline grabbing personalities. If that's the case then fingers crossed for an appropriate replacement for the position of MSA Chief Exec – by the way I've ruled myself out!
But back to Speyside, what an entry. Bogie is back and so too is Pearson, and Gallacher has got a brand new eye catching livery for his Focus. Rhys Yates is heading north with his Fabia R5 too and after a disappointing run in Inverness with the Fiesta, Mark McCulloch will be worth a watch as will Donnie MacDonald, and who knows what Reay MacKay could do with the Focus after an encouraging run out on the Snowman. The Lancer brigade will be headed by Bruce McCombie, Freddie Milne and Steven Clark who was on course for a good finish in February till the final stage! So there's unfinished business there.
Further down the entry list, there are a couple more names to watch out for. Having spotted Alan Dickson and Jon Burn mooching around the Service Area at the McRae Challenge last year, Dickson got himself a Lancer after which it was only a matter of time before his 'partner in crime', Jon Burn (1999 Scottish Champ) resumed his affection for trees and grush. Not so much, the Chuckle Brothers, this pair are more like the Brothers Grimm – older, but not necessarily wiser.
It will be interesting to see how the Class 6 Fiesta STs of Ally Currie and Grant MacRae get on after a troubled start to their season and the Citroen C2 mounted Scott MacBeth, David Martin and Ross Hughes against the MG ZR of Keith Riddick and Ford Puma of Neil Coalter. All have showed promise, now time for the showdown.
Oh, and one more treat, the Cafe with the home baking and in-house pie making at Huntly Mart is a must visit, just don't tell the Missus!
Programme stockists:
McDonald and Munro, Moycroft Ind Est, Elgin
Autosave Components, Greyfriars Street, Elgin
Esso Petrol Station, East Road, Elgin
Keith Motorist DIY, Mid Street, Keith
Huntly Auto Services, Steven Road, Huntly
Mart Cafe, Huntly Auction Mart, Huntly
Autosave Components, Harbour Road, Inverness
FULL ENTRY LIST:
1 DMack Tyres, Fuchs Lubricants, Speedline
– David Bogie/John Rowan (Dumfries/Cushendall) Skoda Fabia R5, Class 11
2 Jock Armstrong/Cameron Fair (Castle Douglas/Stewarton) Subaru Impreza,10
3 Pearsons Of Duns, Rallytech, Asset Alliance, Pirelli
– Garry Pearson/Paula Swinscoe (Duns/Chorley) Ford Fiesta R5,11
4 The Cobble Shop
– Andrew Gallacher/Jane Nicol (Hurlford/Edinburgh) Ford Focus WRC,11
5 Brettex Site Service
– Rhys Yates/Alex Lee (Chesterfield/??) Skoda Fabia R5, 11
6 Mac Plumbing Ltd, McCombie Builders, Scotfab
– Bruce McCombie/Michael Coutts (Banchory/Torphins) Mitsubishi Lancer EVO9, 10
7 Hardie Engineering Ltd, Holmpark Caravans
– Mark McCulloch/Michael Hendry (Dumfries/Aberlour) Ford Fiesta R5, 11
8 Culloden Car Sales
– Donnie MacDonald/Andrew Falconer (Inverness/Inverness) Ford Fiesta R5, 11
9 Helix Oil Field Services
– Freddie Milne/Patrick Walsh (Douglas/Aberystwyth) Subaru Impreza WRC,11
10 Steven Clark/Paul Gribben (Holywell/Annan) Mitsubishi Lancer EVO5, 10
11 Reay MacKay/Keir Beaton (Fort Augustus/Inverness) Ford Focus WRC, 11
12 Groundwater Lift Trucks
– Barry Groundwater/Ashleigh Will (Stonehaven/Inverurie) Mitsubishi EVO10, 10
14 Adam Purves Mitsubishi /gate 7 Group
– Michael Binnie/Claire Mole (Cornhill on Tweed/Duns) Mitsubishi Lancer EVO9, 9
15 John Wink/John Forrest (Huntly/Rothienorman) Hyundai i20 R5, 11
16 McCombie Builders
– Scott McCombie/Mark Fisher (Banchory/Workington) Mitsubishi Lancer EVO9, 10
17 Whyte Cranes
– Lawrence Whyte/Stuart Louden (New Aberdour/Glasgow) Ford Fiesta R5, 11
18 Albyn Garage Aberdeen
Simon Hay/Calum Jaffray (Aberdeen/Torphins) Mitsubishi Lancer EVO6, 9
19 Scottish Gritting
– Greg McKnight/Harry Marchbank (Thornhill/Dumfries) Ford Escort Mk2, 8
20 George Taylor Engineering
– Jon Burn/Alan Stark (Hamilton/Lenzie) Subaru Impreza WRC, 11
21 Sackmaker
– Alan Dickson/Martin Forrest (Glasgow/Aberdeen) Mitsubishi Lancer EVO9, 10
22 Ian Broll Funeral Director and Joiner, GPM
Fraser Wilson/Craig Wallace (Port William/Kirriemuir) Mitsubishi Lancer EVO9, 9
23 Ian Baumgart/Dave Robson (Hawick/Jedburgh) Subaru Impreza, 9
24 FCE Group Of Leven
– John Rintoul/Ross Hynd (Lower Largo/Dalgety Bay) Mitsubishi Lancer EVO10, 10
25 Brian Watson/Caroline Will (Stonehaven/Inverurie) Subaru Impreza S11, 11
26 Alan Scott Auto Repair
– Martin Scott/Daniel Forsyth (Banchory/Elgin) Mitsubishi Lancer EVO9, 9
27 Duncan MacDonald/Neil Ross (Portree/??) Ford Escort Mk2, 7
28 David Ross/Kyle MacKintosh (Auldearn/??) DAM Metro 4100, 10
29 Brick And Steel Construction
– John McClory/David Hood (Glasgow/Paisley) Mitsubishi Lancer EVO9, 9
30 Scott MacBeth/Emma Watson (Inverness/Inverness) Citroen C2 R2 Max, 3
31 Morris Trailers, Bonfire Recruitment
– Keith Morris/Terry Mallin (Westhill/Motherwell) Mitsubishi Lancer EVO6, 10
32 Methven Motors
– Martin Craik/Steven Brown (Perth/Fort William) Subaru Impreza, 9
33 Paul McErlean/Niall McKenna (Magherafelt/Draperstown) Ford Escort Mk2, 7
34 D C Coachworks
– Fraser MacNicol/Keith Boa (Ullapool/??) Ford Escort Mk2, 4
35 Ellya Gold/Jean Hay (Dunfermline/Dunfermline) Mitsubishi Lancer EVO6, 9
36 Neil Coalter/Hannah Cessford (Sauchen/Sauchen) Ford Puma, 3
37 Komatsu Forest, Clark Tracks, Even Forestry
– John McIlwraith/Calum MacDonald (Canonbie/Dingwall) Subaru Impreza, 9
38 FWM Ltd, Inverurie Autocentre
– Matthew Thomson/Ian Graham (Inverurie/??) Subaru Impreza GC8, 9
39 www.raceandrally.com, Langwell Designs, Signright
– Keith Riddick/Kirsty Riddick (Haugh of Urr/Castle Douglas) MG ZR, 3
40 Alasdair Currie/Grant MacNiven (Tobermory/Oban) Ford Fiesta ST, 6
41 W&M Stuart Ltd
– Willie Stuart/Peter Carstairs (Alford/St Andrews) Ford Escort Mk2, 7
42 Gordon Murray/David O'Brien (Perth/Duns) Ford Escort Mk2, 8
43 Ally Reid/Donald Urquhart (Muir of Ord/Conon Bridge) Mitsubishi Lancer EVO8, 9
44 Robert Adamson/Richard Wardle (Kilmarnock/Pickering) Skoda Fabia S2000, 10
45 80:20, P&E Burnett
– Geoff Goudie/Murray Strachan (Calliff/Port Elphinston) Subaru Impreza, 9
46 Ian Petrie/Alan Falconer (Muir of Ord/Inverness) Mitsubishi Lancer EVO4, 9
47 Alex Pirie/Frazer Skene (Keith/Tomintoul) Skoda Felicia, 1
48 Paddy Munro/Seumas MacLean (Kyle of Lochalsh/Portree) Ford Escort Mk2, 4
49 Glenburgie Cars
– Liam Wood/Lewis MacDougall (Forres/Renfrew) Ford Escort Mk2, 7
50 Racing Property Ltd, Plant Haul
– Ross Hughes/Richard Crozier (Lanark/Kinross) Citroen C2 VTS, 3
51 Ian Cattanach Car Sales
– Ian Cattanach/Lisa Cattanach (Inverness/Inverness) Talbot Sunbeam, 3
52 Robbie Beattie/David Finlay (Dundee/Blairgowrie) Peugeot 205 Gti, 2
53 Penpont Garage, GB Lubricants
– Jim Robertson/Mike Curry (Thornhill/??) Ford Escort, 4
54 Colin Baxter/John Campbell (Tain/Invergordon) Ford Escort, 4
55 David Martin/Richard Simmonds (Belford/Duns) Citroen C2, 3
56 G F Job
– Steven Wood/Mary Wood (Inverness/Inverness) Ford Fiesta, 7
57 SPH Highlands, Donald Munro Plant
– Mark Shaw/William Munro (Ardgay/??) Subaru Impreza WRX, 9
58 Tom Howie/Charles MacKenzie (North Kessock/Gairloch) Talbot Sunbeam, 2
59 Scott Sloan/David Sloan (Dumfries/Dumfries) Vauxhall Corsa, 1
60 John O'Kane/Meghan O'Kane (Kyle of Lochalsh/Kyle of Lochalsh) Ford Escort Mk2, 4
61 KNC Groundworks Ltd.
– Kevin Crawford/Claire Martin (Alford/Huntly) Mitsubishi Lancer EVO5, 9
62 Donald Brooker/Rachel Booth (Ballater/Inverbervie) Subaru Impreza, 9
63 Duncorran House, Sutherland Brothers Wick
– James Campbell/Sinclair Young (Watten/Edinburgh) Talbot Sunbeam, 2
64 Steven Fraser/Stewart Hurst (Helmsdale/Muir of Ord) Mitsubishi Lancer EVO9, 9
65 Andy Chalmers/Martin MacCabe (Peterhead/Glasgow) Subaru Impreza, 9
66 Grant MacRae/Martin Bruce (Portree/??) Ford Fiesta ST, 6
67 Neil Philip/John MacKenzie (Alves/Mosstodloch) Subaru Impreza, 9
68 ROVX Ltd, Hamilton Drilling
– Brett McKenzie/James Ralph (Elgin/??) Subaru Impreza, 10
69 Scott Peacock/Robin Neil (Castle Douglas/Haugh of Urr) MG ZR, 1
70 N B Civil Engineering Ltd.
– Steven Bellshaw/Lorn Hughes (Fortrose/Inverness) Citroen C2 VTS, 3
71 Overton Vehicle Dismantlers
– Harry Chalmers/Andrew Logan (Alford/Inverness) Subaru Impreza GC8, 9
72 L T Nicol Haulage, DSC North, Smiths Garage Contin
– Martin Crombie/Daniel Christie (Contin/Insch) Peugeot 306, 6
73 Scott MacDonald/Angus MacNeil (Dingwall/Oban) Vauxhall Nova, 2
74 H T W Services
– Colin Patterson/Gary Clark (Banchory/Alness) Ford Escort, 4
75 Charles Stewart/David Law (Huntly/??) BMW 318Ti Compact, 8
76 Scott Burness/Andrew Forbes (Inverurie/Rothienorman) Ford Fiesta ST, 6
77 Jamie Stewart/Kevin Mollison (Blair Atholl/Alyth) Peugeot 205, 2
78 Douglas Watt/Mark Grierson (Furnace/Edinburgh) Ford Escort Mk2, 4
79 R Earsman Ltd, Micks Motor Services, Joedrive
– Niall Cowan Jnr/Thomas Bruce (Dumfries/Durham) MG ZR,1
80 Chris Baillie/Allen Cowe (Portree/??) Peugeot 205, 2
81 Ian Milne/Sandy Milne (Brechin/Brechin) Ford Escort Mk2, 5
82 Andy Struthers/Alasdair McIlroy (Libberton/Jedburgh) Citroen C2 VTS, 3
83 Alltrucks, Farburn Motors,ittd
– Steven Crockett/Martin Henderson (Aberdeen/Newmacher) Peugeot 205, 1
84 Station Garage Kintore, Retro Restorations
– John Brownie/Gordon Ritchie (Kintore/Stonehaven) Opel Kadett C, 7
85 Ali MacLeod/Johnny Urquhart (Stornoway/Nairn) Ford Escort G3, 7
86 Russell Kessack/Laura Marshall (New Elgin/Ayr) Citroen C2, 3
87 Scotfab, Colin Lawson Transport, McCombie Builders
– Mike Moates/Gary McDonald (Ellon/Aberdeen) Subaru Impreza, 9
88 Pitmachie Garage
– Neil Redford/Duncan Daun (Old Rayne/Rothienorman) Honda Civic Jordan, 3
89 D S Motors
– David Cameron/Douglas Cameron (Glasgow/Glasgow) Ford Escort Mk2, 5
90 Derek Duncan/Adrian Bruce (Aberdeen/Muir of Ord) Subaru Impreza, 9
91 Graham Morrison/Steven Edward (Inverness/??) Subaru Impreza WRX, 9
92 Rhuaridh Campbell/Shaina Archibald (Glemoriston/Invermoriston) Chrysler Sunbeam, 7
93 Graeme Harris/Alan Harris (Lossiemouth/Lossiemouth) Ford Fiesta XR2i, 6
94 Drew Barker/Shona Hale (Kirkcaldy/Dunfermline) Citroen C2, 3
95 Nikki Addison/Rachel Matheson (Inverness/Beauly) Peugeot 106 Gti, 3
96 Ernie Lee/?? (Ellon/??) BMW 325i, 5
97 Ryan Ingram/Lewis Brown (Tobermory/Tobermory) Honda Civic, 3
98 Aileen Forrest/Pauline Patterson (Inverurie/Inverurie) Mitsubishi EVO 5, 9
99 MG Motors
– Graham Kelman/Mike Grant (Elgin/Elgin) Subaru Impreza, 9