… Blethering around Ingliston …
Six years ago, a bunch of automotive engineering students from Harper Adams University based in Newport in Shropshire appeared at the DCC Stages Rally at Ingliston and volunteered to Marshal. Since then, they have been regular visitors although some of the faces in the present line-up have changed as students graduate and move onwards and upwards into the professional world.
Currently there are around ten students in the Harper Adams University Motorsport Team which has progressed from an outside interest in rallying to active participation at the top level. Last year the fledgling team finished fourth in the cadet category of the British Rally Championship in a Ford Fiesta R2N and then went on to compete on Wales Rally GB.
The car was actually loaned to the students by M-Sport who initially supplied the bodyshell and rally kit. Following this successful arrangement last year, M-Sport provided an upgrade kit for the car to be converted into an R2T for this year's BRC campaign. Part of the deal included an invitation to work alongside the M-Sport Poland team to build the new engine.
No stranger to spotting beneficial opperchancities, Malcolm Wilson has ensured that members of this student team are invited to WRC events, primarily to work on private R5 teams, to experience how a professional team operates and to get practical experience of working at the highest level under extreme pressure.
Anyway, the boys turned up at Ingliston to give their new R2T a shakedown. This had originally been scheduled to take place on the Border Counties but when the forest rally was cancelled they switched to the Ingliston debut. And it's a good job they did. On the first stage a turbo boost pipe came off costing them 3 minutes and then another problem earned them a maximum on the 4th stage. Otherwise a top 12 finish was a distinct possibility.
Next outing for driver James McDiarmid and co-driver Gareth Clarke and the rest of the team is the Pirelli and hopefully the teething troubles are now sorted.
Just shows you, where there's a will, there's a way, eh?
**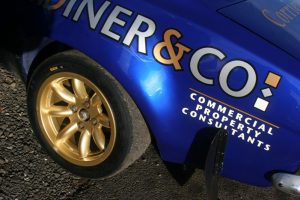 With the car just back from Densport, Alan Gardiner's Mk1 looked positively glorious just sat there in a far corner of the service park in its new rich blue paintwork and gold coloured wheels. The painstakingly applied 'signwriting' also caused one interested observer to inquire: "What exactly does a 'Commercial Property Consultant' do?" Blank looks all round, until one opinion was quietly voiced: "Feck all, and charges a lot of money for doing it." So now we know.
Colin Gemmell wasn't too dispirited with 7th o/a first time out with his new 6 spd gearbox. "Last year, first gear in the old 5 spd 'box was good for 52 mph, but this one will only do 45 mph. It's only 7 mph of a difference but it makes quite a difference getting out of the corners. It's quicker downshifting to 1st rather than trying to carry 2nd through them. I'm still learning to drive it, it's quite jerky, I need to be smoother."
It was good to see Robin Hamilton back out behind the wheel but the Metro didn't last long. It broke a driveshaft on the second test, incurred a Maximum and dropped him to 36th o/a by the finish.
An early departure on the trailer was Graeme Rintoul's old shape Ford Fiesta. Faither Jim reported: "The crank rumbled at Knockhill and ran the big ends, so it was a 'new' engine for here. It rumbled again so we've retired it to save it. We modified the sump to improve the oil flow so don't know what has gone wrong. We have an ST150 at home and a Focus ST170 engine so we need to go home and get one with it now."
At least the Rintouls had company till the breakdown crews arrived after the stage. Billy Hamilton was another to get stranded when his Opel Kadett stopped rather abruptly. Jim went over to have a chat and find out what was up. "I don't know," said Billy. Then Jim spotted some familiar looking metal fragments on the track: "You've run a big end," he suggested to Billy, to which he replied: "I can't have, I put new shells in it after Knockhill." So Jim picked one up and took it back to him: "Here's one of your new shells, " he offered helpfully. Rub it in why don't you, eh?
The Escort Mk2 of William Beattie didn't even get the chance to set a time on the first stage when the car started misfiring and spluttering half way round so pulled over and stopped. When he lifted the bonnet, flames were coming out, so he hit the fire extinguisher pretty damn quickly. "That stuff goes everywhere," he said, having flooded the interior with the infernal white stuff, but fortunately, no serious damage. It turned out the distributor had failed and burned all the leads.
Joe Cunningham didn't get much further in his Corsa. On the second stage, the engine "went bang!" No further details were offered during this brief inquiry. Also out on the second stage was Alan Wallace when the Lancer broke a driveshaft. Donald Cameron got 5 stages under his belt before electrical failure sidelined the Honda Civic, but not before he had a chance to try out his new flat-shift fitted prior to the event. On only his second event, David McIntyre was well chuffed with 28th o/a and 5th in class in his Nova.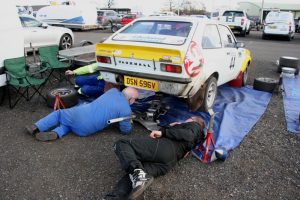 There was quite a sprachle going on underneath the rear end of Leonard Jones' Vauxhall Chevette with the three old-timers peching and grunting away trying to repair a snapped rosejoint on the back axle, before running out of time.
First time out in the ex-Pete Garrow Audi TT, Graham MacDonald ran out of fuel on the 3rd test: "I forgot it was a V6," he admitted, but charging problems meant that between each stage the battery had to be charged up to keep going. He finished 52nd – from a start number of 53. At least it's an improvement on seeding, eh? As for Peter Oag, he ran out of air. Nothing to do with tyres, the pump fell off his air-horn so he had no toot or peep at all.
Class 1 winner Martyn Douglas had a lucky escape. Like John Marshall, his driver's door flew open on the first bend of the last stage and he didn't have a hand spare to reach for it. With the door flapping for the next two corners he had the presence of mind to aim for a chicane bale which caught the door and whacked it shut. Job done. Bale OK, and door only slightly bent.
With three Maximums, last man home was Greg Stark after the Peugeot 205 snapped a driveshaft. Not to be outdone, the boys and girls managed to build one up out of three separate bits and get going again.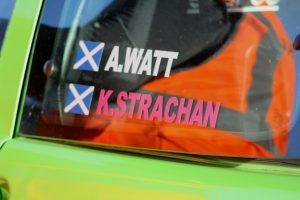 And now a confidence revealed. It would appear that Kayleigh Strachan enjoys her rallying so much that between stages when she should be concentrating on Time Cards, Clocks and Route Markers she amuses herself with the 'KS sitting down dance' whilst strapped into the Citroen Saxo's co-driver seat. And how do we know this? Her driver Allan Watt captured the evidence on his phone camera. Furthermore, it has been suggested that this extra-curricular activity is pursued while Allan is driving the stages. Maybe that's a sign he's not driving as quickly as he should! Anyway, nice moves Kayleigh.
And finally ….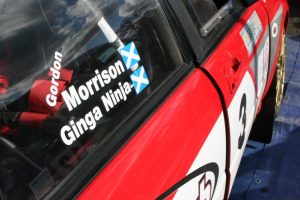 One can't help but wonder about the future wellbeing and sanity of young Cameron Fair who happens to be mixing in bad company these days. With little regard for the innocence of youth, Gordon Morrison and the boys keep winding him up, witness the co-driver's name on the car which states: "Ginga Ninja". Although thinning out on top, Montana sports a distinct fringe of ginge himself, and so it was that at the finish of the rally he proudly proclaimed the first victory for 'Team Ginge'. Aye, gaun yersels boys.
And finally, finally …
At first there was a denial, then the excuses and finally the truth. The reason behind number 15 seed Willie Paterson's late appearance on the first stage was down to a minor glitch in the service and support department. Having hired the Sheriff's Escort Mk2, after having a highly successful shot of his Lancer at Knockhill, Willie was looking forward to getting re-acquainted with rear wheel drive. Anyway, Willie jumps in, helmet on, belted up and presses the starter button. Whirrrr, Whirrr – nothing. A puzzled Brian Watson stands there scratching his napper thinking: "It's never done this before." Then the white smoke appears out of the tailpipe like a sign from the Vatican. Holy shit, it was diesel in the can. Suddenly, it was all hands to the pump to drain the tank, flush it out and pour some petrol in before Willie was finally sent on his way. And you know what, for a few fleeting seconds, Brian thought he had got away with it. No-one had noticed. Aye and the pigs were flying in formation over Edinburgh airport. Word spread like wildfire around the service park and the poor sod's life was made a misery for the rest of the day. Happy days, eh?
DCC Stages Rally – [Main Report]