… SACC / SAMSC AGM, Bridge of Allan, 20th March …
The Scottish Association of Car Clubs has been accused by many of being a 'talking shop', and rightly so. It is indeed a talking shop and all the better for it. If we don't talk to each other then how the heck do we know what is going on.
Few clubs have regular social nights these days and very few issue newsletters preferring 'social media' to do the job of spreading the word. That's fine up to a point, but there's nothing to beat a face to face debate or social catch-up. It could be argued that the best part of such meetings is the 20 minute coffee break when folk can mingle, but not last night – there was no shortbread!
There are currently 53 car clubs (plus 2 more who joined last night) in the Association although 25 of them don't run any events while there are 5 clubs who each run more than 15 events per year. It would appear from that, there are a few who are doing an awfy lot for the many. And another thing, almost half didn't bother to send club reps to the meeting. And yes, I know there could be many reasons for that. Just thought I'd mention it. Food for thought, eh – albeit without the shortbread.
Anyway, this was the AGM, but that was done and dusted in a world record breaking time of 26 minutes, then it was on to the business of the OGM (Ordinary General Meeting).
One of the first jobs was to ratify a major change to the SACC. From now on it will be called the SAMSC. It was felt that the old title of Scottish Association of Car Clubs didn't really represent what the organisation was about so the new title Scottish Association of Motor Sports Clubs is a much more accurate reflection of its purpose.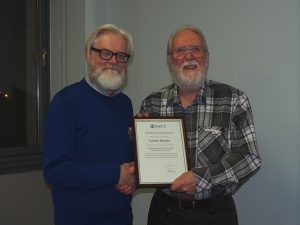 Then it was on to the election of office bearers where there was only one change. After 29 years in the job, Gerry Potter stood down as Treasurer. His years of service were marked with a deserved presentation of a framed certificate and an awfy wee box wrapped in gold paper with a ribbon, but he didn't open it. Maybe he was scared to, it looked just big enough to hold a thong!
That means Pete Weall is still in the Chair, Grahame Douglas is Vice Chair, Lock Horsburgh is Secretary and the Calendar Manager is Raymond Mann, with new 'boy' Keith Butler joining as Accounts Fiddler in Chief, sorry, Treasurer.
The boring business of asking every motor sporting discipline and championship to stand up and regale the throng with verbal reports is long gone. Written reports are submitted and circulated before each meeting and the Committee assumes they have been read by the club reps beforehand. Blank looks all round. Hell mend them.
After that it was on to the burning topics of the moment, in this case, the perennial problems of attracting, training and retaining volunteers. This is not an entirely MSA generated problem, they had to react to requests and demands made by Government following the recent FAI. On that basis the current scheme is in place and working, but there is room for improvement.
The Marshals' Registration scheme requires that volunteers sign up by filling in a form and sending off a photo, in return for which they get a personalised ID badge and some equipment. However, by filling in the form and signing it they have to agree to: "abide by the MSA Regulations and not do anything that could damage the reputation of or have any negative effect on motor sport generally.
I understand that if I do so, the MSA may take disciplinary action against me."
The trouble here is that the Marshals are not told specifically what rules by which they have to abide. Trying to find that on the MSA website ain't easy. Nor are the disciplinary action or penalties listed. Remember Jock?
Furthermore, they are signing up to the clause: "the MSA may request full details of my event attendance record and that I will be able to supply this upon request," so Big Brother is keeping an eye on them.
There's a whole section on the MSA website about Marshals, their needs and upgrade/reporting procedure. No wonder it puts so many off, especially the old hands who can't be arsed with having to sign up and send off a fotie and then seek signatures every time they turn out. However, this is progress and if the sport is to have a future then those outside the sport have to be sure that those in charge are running it safely and correctly.
https://www.msauk.org/Resource-Centre/Marshals
That means Training, and clubs and volunteers have to be aware of what is available and how to access it. At the moment, that structure is not working as well as it should and clubs will have to make a more concerted effort to keep up with needs while attracting new volunteers to the cause.
And that is a huge issue in its own right. For instance, the recent Border Counties Rally which was cancelled due to the snow has had to cancel the event for this year. Not because they couldn't find another date, but because the event calendar is so busy that there aren't enough rescue crews, paramedics and doctors, not to mention Marshals, to go round. Did you know there is an average of 3 motor sports events every weekend through the year in Scotland.
And therein lies the biggest threat to the future of our sport. Lack of volunteers. Not just Marshals, but Organisers. A look around that room last night suggested the vast majority were over 50 – and some well over! – and the rest middle-aged. Only a very few were fresh faced sprogs bursting with zeal and enthusiasm. Makes you wonder if they'll come back. No shortbread!
It just illustrates what a perilous position our sport is in. Dwindling numbers of mugs, sorry, volunteers to take on the time consuming and onerous tasks of organising events and complying with growing numbers of rules and instructions. Like Marshal numbers, this represents another serious challenge for the sport.
The new look SAMSC is also in need of a new Communications guru. The previous incumbent of the post gave up having been inundated with lack of support and general apathy all round. I know the feeling. We don't really help ourselves much, eh? Naturally I didn't volunteer, that last thing they need is an opinionated grumpy auld git.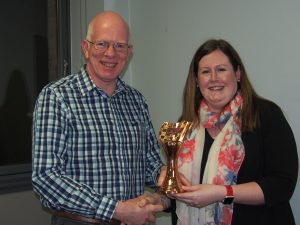 There was one more presentation. Last year East Ayrshire Car Club won third prize in the JLT MSA Club of the Year awards, behind winners Southsea Motor Club and runners-up Ballynahinch & District Motor Club. On behalf of the club Russell Fair was presented with the award by Suze Endean, MSA Development Manager, who was attending her first SAMSC meeting.
There was more during the evening, but I'll leave the final word to Sandy Denholm (Scottish Motor Racing Club), Scotland's new rep on Motor Sports Council who stood up and recommended that the previous incumbent of this post, one Bruce Lyle Esq, be awarded a medal.
Sandy reckoned that Bruce must have attended 49 or 50 MSC meetings during his 13 year stint, and having experienced his first such meeting Sandy marvelled at Bruce's forbearance, stamina and endurance! On a more positive note, Sandy was encouraged by the opening remarks of the MSC's new Chair, David Richards, and "can't wait for the next meeting". Oh, such cynicism. Anyway, David announced he wants change from the ground up, not the top down. Here's hoping, eh?
It was a long meeting. By the time we got out, the chippie in Bridge of Allan was shut. Shit. Off home and no still no shortbread, whatever is the world coming to, eh?