… DCC Stages Rally, Sat 24th March …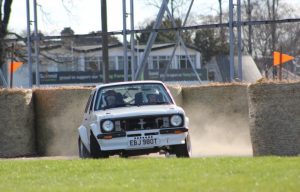 The second round of the Cobble Shop Scottish Tarmack Championship gets underway this Saturday 24th March at Ingliston with the first car away at 09.00 Hrs. There will be 8 special stages totalling approx 45 miles.
Just 3 points separate the top 7 after the first round of this year's series last month at Knockhill, but the gaps should open up a bit after this second round. At the moment, the Nova of Stevie Irwin and the Escort of Chris McCallum share equal first place with John Marshall's Subaru while Martyn Douglas is just 1 point behind those three in his unsophisticated wee VW Polo.
The Citroen C2 of MIchael Harbour is in equal third place alongside the Escort of Willie Beattie and the Subaru of Ian Paterson. However, others will be awfy keen to open up the scoring like Gordon Morrison and John Rintoul who both had unfortunate starts to their 2018 campaign and Ed Todd might spring a surprise or two now that he's got a sensible motor!
Unfortunately, since this is a closed-site facility NO spectators are allowed so unless you're marshalling, officiating, servicing or competing, please stay away.
Entry List:
1, John Marshall/Scott Crawford (Subaru Impreza) 1999cc, Class 5
3, Gordon Morrison/Harry Marchbank (Subaru Impreza) 2000, 5
4, Taylor Gibb/Jane Nicol (Mitsubishi Evo8) 1998, 5
5, John Rintoul/Ross Hynd (Ford Fiesta) 2000, 5
6, Tom Blackwood/Gordon Winning (Ford Escort Mk2) 2499, 4
7, Alan Gardiner/Robin Nicolson (Ford Escort Mk1) 2500, 4
8, Edward Todd/Jamie Andrew Hope (Ford Escort Mk1) 1998, 3
9, Colin Gemmell/Derek Keir (Ford Escort Mk2) 2499, 4
10, Tom Morris/Russel Smith (Skoda Fabia) 2500, 5
11, Stephen Thompson/Fraser Dykes (Ford Escort Mk2) 1600, 2
12, Andrew Gallacher/David Crosbie (Subaru Impreza) 1998, 5
14, Stevie Irwin/Ian Middleton (Vauxhall Nova) 1600, 2
15, Willie Paterson/Euan O'Neill (Ford, Escort Mk2) 1998, 3
16, Kenny Moore/Dick Wardle (Hillman Avenger) 2000, 3
17, Robin Hamilton/Steve McNulty (Metro 6R4) 2800, 5
18, Ross McCallum/James Ralph (MG Maestro) 1998, 3
19, Martyn Douglas/Brian Pringle (Volkswagen Polo Cup Car) 1398, 1
20, Graeme Rintoul/Jim Rintoul (Ford Fiesta) 1998, 3
21, Iain Sanderson/Kyle Dods (Ford Escort) 1998, 3
22, Kevin Paris/George Paris (Subaru Impreza) 2000, 5
23, Michael Robertson/Murray Milne (Honda Civic) 1998, 3
24, Billy Hamilton/Nikki Addison (Opel Kadett) 2000, 3
25, Joe Cunningham/Marc Fowler (Vauxhall Corsa) 1397, 1
26, Gary Laverick/Phil Kenny (Ford Puma) 1598, 2
27, Robert Marshall/Lewis MacDougall (Ford Escort Mk2) 1999, 3
28, George R Auld/Richard Stewart (Ford/Escort) 1998, 3
29, Alex Adams/Ian Parker (Ford Escort) 2100, 4
30, Michael Harbour/Ian MacDougall (Citroen C2 R2 Max) 1600, 2
31, Alan Wallace/Darren Robertson (Mitsubishi, Lancer Evo6) 1998, 5
32, Alistair Dalgliesh/David Dalgliesh (Subaru Impreza) 1994, 5
33, Richard Sutherland/Jack Sutherland (Opel Manta) 1998, 3
34, Mark Flintoft/Joshua Beer (Ford Escort Mk2) 2000, 3
35, Donald Bowness/TBC (Vauxhall Nova) 1600, 2
36, Gareth Dalgliesh/Kenneth Dalgliesh (Subaru Impreza Type R) 2000, 5
37, Willie Beattie/Steven Beattie (Ford Escort Mk2) 2000, 3
38, Ron Walker/Dean Ross (Ford Ka WRC) 1600, 2
39, Ben Wilkinson/Andrew Wilkinson (Citroen Saxo) 1598, 2
40, Donald Cameron/Martin MacCabe (Honda Civic) 1598, 2
41, John Robertson/Violet Kydd (Ford Escort) 1998, 3
42, Brian Beefy Fraser/Fiona Moir (Hillman Avenger Tiger) 1500, 2
43, Lindsay Taylor/Keith Fair (Ford Fiesta ST150) 1999, 3
44, Leonard Jones/Kyle Livingstone (Vauxhall Chevette) 1998, 3
45, Karl Knox/Sam Colman (Vauxhall Nova) 1598, 2
46, Greg Turner/Charley Sayer-Payne (Peugeot 206) 1596, 2
47, Adam Hanner/Wayne Wood (Peugeot 205 GTI) 1598, 2
48, Cameron Craig/Ewan Lees (Peugeot 205) 1360, 1
49, William Beattie/TBA (Ford Escort Mk2) 2000, 3
50, Stuart Grant/Alan Hewitson (Ford Escort) 1998, 3
51, Fraser Smith/Ally Graham (Honda Civic) 1600, 2
52, Greg Stark/Alan Stark (Peugeot 205 GTI) 1900, 3
53, Graham MacDonald/Stewart Hurst (Audi TT) 3, 4
54, Dave Cranston/TBC (Opel Astra) 1998, 3
55, Eamonn Kilmurray/Derek Cassells (Citroen C2 GT) 1589, 2
56, Peter Oag/Sinclair Young (Citroen C2 VTS) 1598, 2
57, Euan Blair/Kevin Flanagan (Talbot Sunbeam) 1598, 2
59, Iain Findlay/Ronald Bowie (Mitsubishi Evo4) 1997, 5
60, Tom Pearson/Jim Stairs (Ford Escort) 1975, 3
61, Andrew Scott/Ian Robertson (Ford Escort Mk2) 2371, 4
62, Gary McDermaid/Angus Paterson (Peugeot 106) 1587, 2
63, Roy Ness/Drew Forbes (Ford Fiesta ST150) 1998, 3
64, David McIntyre/Alan Todd (Vauxhall Nova) 1598, 2
65, Alan Falconer/Billy Falconer (Vauxhall Nova) 1380, 1
66, Robert Cumming/Bob Irvine (Vauxhall Astra) 1998, 3
67, Martin Watterston/Kenny Anderson (Subaru Impreza) 1998, 5
68, Martin Farquhar/Aiden Henderson (Peugeot 106) 1360, 1
69, Ewan Stanhope/Ian Shiells (Renault Clio) 1998, 3
70, Kyle Adam/Connor Adam (Ford Escort) 1600, 2
71, Allan Watt/Kayleigh Strachan (Citroen Saxo) 1589, 2
72, Nigel Harkness/Helen Harkness (Vauxhall Corsa) 1598, 2
73, Hugh Johnston/Ian Crosbie (Ford Escort Mk1) 1999, 3
74, James Strachan/Cathy Shergold (Citroen Saxo) 1587, 2
75, Garry Coutts/Curtis Fraser (Ford Fiesta) 1596, 2
76, Robert Wood/Alasdair Wood (Ford Fiesta) 1596, 2
77, Darren Martin/TBC (Mitsubishi Evo9) 1998, 5