… Obituary … Iain Urquhart, 1960 – 2018 …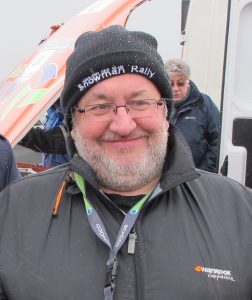 Scottish rallying has lost yet another loyal supporter and genuine enthusiast. Iain Urquhart passed away suddenly and unexpectedly last Saturday.
A stalwart of Highland Car Club, and long time behind-the-scenes grafter at the Snowman Rally, 'Coogie' became more widely known at events throughout Scotland, and even 'abroad' in England, Wales and Northern Ireland, as an MSA Steward and more recently an MSA Safety Delegate.
Coogie actually had another nickname, but it didn't last. During the 1980s, when the Scottish Rally Championship Newsletter and MullMurmurs preceded the internet and email, many folk knew him as 'Coogie the Mars Bar Kid'. This was more a reflection on the limited extent of the Weldex Rally Team's catering facilities than a personal propensity for such sweet delicacies. But if he was out in the boondocks marshalling some remote location, you knew he wouldn't starve because of his private stash. Aye ready.
Like many of the 'older generation' (he would have been just 58 next month!) he started competing in navigational rallies and autotests before a brief foray into stage rallying navigating for Iain McGilvray in the Peugeot 205 amongst others, but his main focus at the time was creating and establishing his own business, Newton Energy. His background in plumbing and heating led to the creation of this Inverness based company which specialised in renewable energy, heating, plumbing and electrical services.
Those early endeavours severely restricted his leisure time activities which centred around his family and his sport. Thereafter active participation in the sport was replaced with enthusiastic participation in Highland Car Club activities, events and management. That led in 1988 to a four year stint as Clerk of the Course for the Snowman Rally. These skills and experience were then shared with other rallies and organisers and also the Scottish Rally Championship committee.
His expertise was based not on memorising the Blue Book but on practical experience of the various duties required of a rally marshal or official. This ability was also recognised by the MSA who appointed him as a Steward, and more recently an MSA Safety Delegate, a much more onerous task.
It was Coogie's character and knowledge that made him an ideal choice for the role of Safety Delegate. He knew his stuff. He was forceful without being arrogant, neither did he shout or jump and down to emphasise a point of view, instead it was when started speaking quietly that the seriousness of his intent became apparent.
The role of Safety Delegate was difficult to fulfil. It was a brand new position and it was being imposed on clubs and events around the country against the will of many. It would take a serious diplomat to win respect while implementing the strict new rules. It needed someone of Coogie's calibre to manage such a responsibility. His reasoning, knowledge and experience earned him the respect of many while his humour endeared him to those he was advising and instructing. One of the MSA's more inspired appointments, eh?
He was a natural choice for such duty. Rally safety was always a concern and in 2006 he co-authored a report with Ulster Rally's Gary Milligan on behalf of the MSA on 'Safety Cars & Their Duties'.
Yes, he could be stern and strict – but not for long. He was opinionated too, but that was because he always believed his cause was right. And yet, if you had a counter argument, he would listen intently, and consider it carefully, before telling you that you were still wrong. That is, in the unlikely event that you were right!
This was a man who could deliver a stern ticking-off when circumstances required and then take the sting out of it with a quip or a joke – thereby making the lesson all the more memorable because of it.
There was a constant whiff of comic menace and serious frivolity lurking beneath that gruff exterior that could only be contained for so long before erupting in a splurge of laughter.
That was probably the reason he was so well liked by those whose paths he crossed and those who crossed his. Humour was the best form of attack, of engaging with others and of imparting advice, an art which he practiced to perfection.
On the other hand, he was generous with his time and advice for those starting out, the newcomers and the less experienced. He could be exasperated by the naivety and lack of preparation of some of these beginners but it never showed while he was talking to them. It was only later when amongst friends he regaled them with tales of such shortcomings.
He was great company whether indulging in serious debate or stupid banter and the jokes and tales were endless. Sadly, his untimely passing means there will now be a quiet corner in Rally HQs and car club gatherings where once the laughter radiated. Above all, rallying was/is a sport to be enjoyed although rules had to be obeyed.
The sport's loss is nothing like the loss to his wife Teri and the girls, Louise and Hazel. Our thoughts must be with them and their wider family and friends at this terrible time.