Arnold Clark Snowman Rally, Saturday 10th February 2018 …
Rd 1 (of 7) 2018 ARR Craib MSA Scottish Rally Championship …
Six stages, six different stage winners. You don't get much closer than that. The outcome of this year's Arnold Clark Snowman Rally was in doubt from the start of Stage 1 to the finish line of Stage 6.
Of course there were a number of past winners in the entry list, but also a few notable omissions. There was neither a Bogie nor a Thorburn, who both have grander plans this year, and there was no Armstrong. The public face of Scottish rallying was still serving a most unjustified ban for showing a pair of peely waally cheeks to a fellow competitor last year. Trouble was, he was facing in the opposite direction at the time!
And so it was that the opening round of this year's ARR Craib MSA Scottish Rally Championship at Inverness was won by Andrew Gallacher and Jane Nicol. It was the double Scottish Saloon Car Racing Champion's first outright victory on a forest rally, and although they were a massive 20 seconds quicker in the final stage, Quintin Milne and Sean Donnelly had to settle for second. In third place were the 2016 Snowman winners Donnie MacDonald and Andrew Falconer.
In fact, less than 2 minutes covered the whole top ten by the finish of the 44 mile event over which the 87 cars slipped, slithered and sped. Conditions ranged from hard dry perma-frosted gravel, to mud on top of ice and deep snow, and all with added ice! But on this day and in these conditions, any one of the top seeded 16 crews (at least) could have carried off the victory.
It all started at Meall Mor where the colourful cavalcade wound its way south from the High Street in Inverness. Ahead lay the frozen forested 7 mile stretch of ice encrusted gravel to the south of the city beside the A9. It was still in shadow from the slowly rising sun. Would it polish? Would it rut? Would it be better for the first through, the midfielders or the tail enders?
A last minute change of plan saw Mark McCulloch at the wheel of a Ford Fiesta R5 instead of the anticipated Mitsubishi Mirage R5 entry, but his lack of familiarity with the machine did little to faze him. He set equal fastest time over the opening test with Andrew Gallacher in the Ford Focus WRC. Only 3 seconds behind was Donnie MacDonald in his Fiesta R5 despite a spin: "I spun and stalled it," said Donnie, "then got a front nearside puncture. I had to drive off the road to try and find grip to slow it down!"
The treacherous conditions had already claimed their first victims. Quintin Milne spun the Subaru: "I was driving like an auld wifey on the ice," he said, and Shaun Sinclair's Subaru Impreza appeared at the stage finish with a wrinkled front end and two punctures. Another potential victory contender, Bruce McCombie limped out with a punctured front tyre on his Mitsubishi losing nearly half a minute. Still, he was luckier than wee brother Scott McCombie who had inadvertently parked his Mitsubishi in a ditch courtesy of a patch of ice.
Fred Milne spun and stalled the Subaru, while fresh from his stunning debut on last November's Wyedean Stages Rally where he finished 5th overall, the 18 year old Lawrence Whyte came up against the harsh realities of forest rallying when his Fiesta R5 spent over three and a half agonising minutes in an icy ditch: "It was just sheet ice," said the youngster, "it just slid straight on and into a ditch, but no damage."
The second stage at Millbuie had more chicanes than a downhill ski slalom, but 2009 Snowman winner Reay MacKay snatched fastest time in his Focus WRC by 2 seconds from MacDonald's more modern Ford while John Wink raised eyebrows with third quickest in the Hyundai. Gallacher could only manage 5th quickest behind Milne commenting: "It was a like a Knockhill single venue stage in there," he said, "the chicanes were a bit tight and I was being careful not to damage the car." Gallacher being careful? This was new, eh?
McCulloch's valiant push for glory suffered a major setback when he selected the Launch Control System at the start of the stage and was plagued with a persistent misfire all the way through which cost him over half a minute.
At least he was still in the competition. Another fancied pre-event favourite fell by the way side when Mike Faulkner slid his Mitsubishi sideways off the track on an icy bend. Little damage but well off the road. Barry Groundwater followed him off at the same bend, but managed to regain the road only to slide off, and stay off, three corners later!
Describing conditions, Fred Milne said: "My biggest moment was on a straight, it was just so slippery, then I got a puncture coming out of the Hairpin at the spectator area." Shaun Sinclair called it a day at the end of the stage when the intercooler sprung a leak, courtesy of his earlier misdemeanour.
His second fastest time of the day on Boblainy moved Gallacher into the rally lead after three stages with Milne holding second place, 20 seconds behind. McCombie was back on the pace, third quickest after his earlier puncture.
Steven Clark set the pace over the high slopes of the snowy Ben Wyvis test in his elderly Evo5, by 2 seconds from the wily MacKay: "I put on my snow tyres for this one," he said, "but it was a risk, I knew I wouldn't be able to push as hard on the stage after it or risk puncturing them." Gallacher held on to 3rd quickest from John Wink.
Having to nurse his skinny tyres on the final gravelly stretch MacKay was only 8th quickest through the penultimate Rogie test as Donnie MacDonald took his first fastest time of the day by just 2 seconds from John Wink in the Hyundai R5 who might well have been higher up the leaderboard but for a spin on the first stage of the day. Milne was third quickest on the stage from Gallacher pushing Clark back into third place overall and MacKay into fifth behind MacDonald.
Gallacher was lucky though: "I did two stupid things in there. I was going too hard into a R3 and slid right off the road and up a banking, but it kept going, and then at the Flying Finish Jane called a L1 into a R1. I jumped it thinking it was flat, cleared the L1 and landed on the R1. Lucky there were no stones!"
McCombie also heaved a sigh of relief at the end of this one: "I nearly missed the bridge which runs past the farm. It's still slippy in the shade, but you can push on when you can see." Mark McCulloch's fightback suffered another blow when he dropped 2 minutes with damaged steering although that would be fixed at final service before the last stage.
Ahead lay a reverse-run of the first stage of the day and as the survivors headed south back over the Kessock Bridge thoughts turned again to the weather. Had conditions improved as the sun rose over the forests? Nope. Not a bit of it. It could be argued it was even slippier courtesy of a couple of sleety/snow showers which had scurried through late morning.
There was now 24 seconds between first and second with Gallacher holding the advantage and 7 miles to determine the outcome. Surely a 24 second cushion was enough, wasn't it?
Or maybe not. Milne was quickest through the final Inverarnie: "That was the first stage today I felt at home with the car," said Milne, "it just proves I should have made time for a test before the rally. I took 18 seconds out of Gallacher in 7 miles." It wasn't quite enough. Milne missed out by six.
Steven Clark also lost out. Going into the final stage he was holding third place overall, but his turbo failed and MacDonald swept past to snatch the final podium placing, commenting: "That was a great event, brilliant day. The weather conditions were changing all day and so were the stage conditions."
Second fastest through the final stage was Reay MacKay pushing Clark back into fifth: "I stalled on the start line," he said, "and then the turbo failed one mile from the end and we coasted out. The car was on its limits today to be lying where we were." Indeed. A cruel game this rallying lark, eh? Reay MacKay was also left to rue what might have been. Thinking back to his snow tyre choice: "With hindsight I should have stuck with what I had!"
Rounding off the top six was surely another man to watch this year, John Wink growing rapidly in confidence with the Hyundai edging McCombie into 7th place. Top 2WD runner was Greg McKnight in the Mk2 finishing 8th ahead of a good run by John Morrison and Ross MacDonald in 'Uncle Donnie's' Lancer finishing 10th.
The result earned Gallacher his maiden rallying victory, all the more remarkable for the fact: "I didn't have any new tyres," said the rally winner, "my sponsor Tom Blackwood bought all of Shaun Sinclair's used tyres from last season – and that's what we were using today."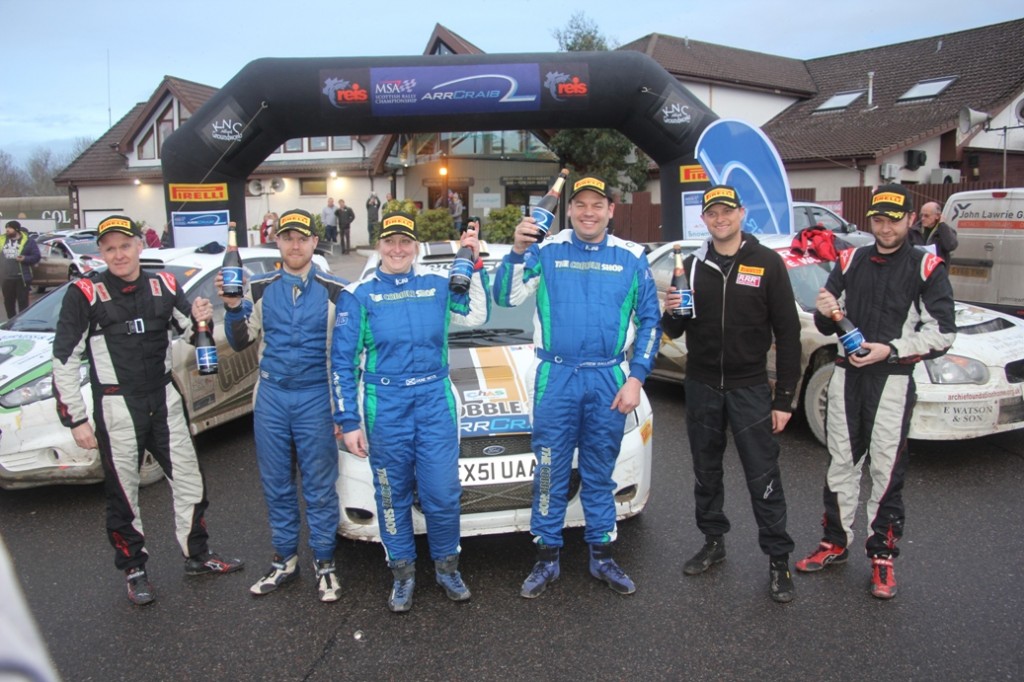 Final Results:
1, Andrew Gallacher/Jane Nicol (Ford Focus WRC) 46m 28s
2, Quintin Milne/Sean Donnelly (Subaru S11 WRC) +0:06
3, Donnie MacDonald/Andrew Falconer (Ford Fiesta R5) +0:20
4, Reay MacKay/Keir Beaton (Ford Focus WRC) +0:23
5, Steven Clark/Paul Gribben (Mitsubishi Evo 5) +0:41
6, John Wink/John Forrest (Hyundai i20 R5) +0:45
7, Bruce McCombie/Michael Coutts (Mitsubishi Evo 9) +1:03
8, Greg McKnight/Harry Marchbank (Ford Escort Mk2) +1:44
9, John Morrison/Peter Carstairs (Mitsubishi Evo 9) +1:48
10, Ross MacDonald/Matthew Johnstone (Mitsubishi Evo 9) +1:57
11, Alan Dickson/Martin Forrest (Mitsubishi Lancer Evo 9) +2:25
12, Mark McCulloch/Michael Hendry (Ford Fiesta R5) +2:34
13, Fraser Wilson/Craig Wallace (Mitsubishi Evo 9) +2:43
14, Duncan Campbell/Michael Cruickshank (Subaru Impreza) +4:00
15, Keith Morris/Terry Mallin (Mitsubishi Evo 6) +4:42
16, Paul McErlean/Niall McKenna (Ford Escort Mk2) +5:27
17, Paddy Munro/Seumas MacLean (Ford Escort Mk2) +5:45
18, Lawrence Whyte/Stuart Loudon (Ford Fiesta R5) +6:01
19, John Rintoul/Ross Hynd (Mitsubishi Evo X) +6:07
20, Ally Reid/Donald Urquhart (Mitsubishi Lancer Evo 8) +6:08
21, Finlay Retson/Tom Hynd (Ford Fiesta R2) +6:27
22, Eddie O'Donnell Jnr/Chris Lees (Ford Escort Mk1) +6:28
23, Steven Wood/Mary Wood (Ford Fiesta) +6:46
24, Fraser MacNicol/Keith Boa (Ford Escort Mk2) +6:51
25, Mark Shaw/William Munro (Subaru Impreza WRX) +7:11
26, Thomas Gray/Ricky Finlayson (Vauxhall Nova) +7:13
27, Brett McKenzie/Lauren Murray (Subaru Impreza) +7:17
28, Ross McFadzean/Laura Marshall (Subaru Impreza) +7:25
29, Robert Adamson/Richard Wardle (Skoda Fabia S2000) +7:38
30, James Campbell/Kevin McIver (Talbot Sunbeam) +8:11
Class Winners:
Class 1, 2WD up to 1450cc – Niall Cowan Jnr/Thomas Bruce (MG ZR)
Class 2, 2WD up to 1650cc 8v – James Campbell/Kevin McIver (Talbot Sunbeam)
Class 3, 2WD up to 1650cc 16v – Finlay Retson/Tom Hynd (Ford Fiesta R2)
Class 4, 2WD up to 2050cc 8v – Paddy Munro/Seumas MacLean (Ford Escort Mk2)
Class 5, Historic – Eddie O'Donnell/Chris Lees (Ford Escort Mk1)
Class 6, FWD up to 2050cc 16v – Martin Crombie/David Law (Peugeot 306)
Class 7, RWD up to 2050cc 16v – Paul McErlean/Niall McKenna (Ford Escort Mk2)
Class 8, 2WD over 2051cc – Greg McKnight/Harry Marchbank (Ford Escort Mk2)
Class 10, 4WD – Fraser Wilson/Craig Wallace (Mitsubishi Evo 9)
Class 11, 4WD GrpA – Steven Clark/Paul Gribben (Mitsubishi Evo 5)
Class 12, WRC and R5 – Andrew Gallacher/Jane Nicol (Ford Focus WRC)
Arnold Clark Snowman Rally – [Top 6 Stage Times]
[Classes 1 to 4]
[Classes 5 to 8]
[Classes 9 to 12]
Snowman Blethers