… Beatsons Building Supplies Knockhill Stages , Sunday 3rd December …
This weekend, Knockhill Race Circuit will host the third round (of 8) of the 'Motorsport News Circuit Rally Championship' on Sunday 3rd December. The Beatsons Building Supplies Knockhill Stages will be the only Scottish round of the English/Welsh based series. The Championship has already visited Oulton and Cadwell Park so it will be interesting to see what the southerners make of the far north.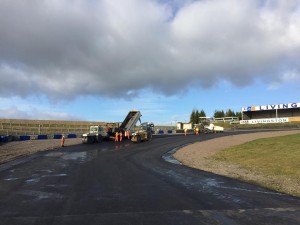 Having said that, there has been much activity over the autumn and winter months at Knockhill with a lot of heavyweight machinery on track at the circuit. Not just any heavyweight machinery, really noisy and dirty big stuff – road-making and tar laying equipment!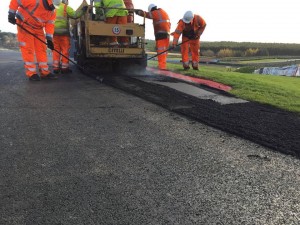 All 1.3 miles of the track has been resurfaced, with other areas regraded and smoothed out, although the famous undulations that racers love, still remain. Sunday's rally will also provide the first test for competition cars of the new Prixmat Tarmac Surface.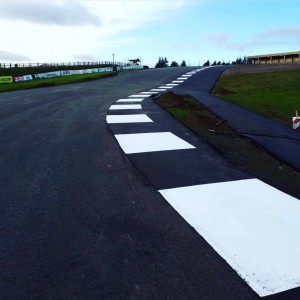 There will be a total of 8 special stages totalling approx. 35 miles on 95% sealed surface, 5% broken tarmac/gravel with the first car getting off its marks at 9.00am on Sunday morning with competitors starting at 30 second intervals. It should all be over by tea-time ready for the short or long trip home.
Not a huge entry, but there are some quick cars and even quicker drivers all geared up for the bun fight including Nigel Feeney in the MINI WRC and John Marshall in his Subaru, John Stone's 2.5 litre Fiesta and Chris West's Peugeot 306 Maxi, plus some rapid Mk2s in the hands of Ian Woodhouse and Peter Smith and our own Alan Kirkaldy and Ross Marshall. Others to look out for include Andrew Gallacher and Donnie MacDonald – which begs the question, is Knockhill wide enough for these two?
Another reason for visiting could be the chance to make up your own mind if the new MSN Circuit Rally Championship really does point the way forward for Special Stage rallying. There are some within the sport who reckon this could represent the future of rallying whilst a few believe it's the only way forward!
Anyway, if you haven't seen it and tried it, you can't form an opinion, so there.
Entry List:
1, Ian Woodhouse/Jason Leaf (Ford Escort Mk2) 2494cc, Class D1
2, Alan Kirkaldy/Cameron Fair (Ford Escort) 2499, D1
3, Nigel Feeney/Paula Swinscoe (MINI Countryman WRC) 1600, D2
4, John Stone/Shona Hale (Ford Fiesta) 2500, D2
5, Peter Smith/Graham Wild (Ford Escort) 2500, D1
6, Chris West/Keith Hounslow (Peugeot 306 Maxi Kit Car) 2300, D1
7, John Marshall/Scott Crawford (Subaru Impreza) 2000, D2
8, James Gibb/Charley Sayer-Payne (Mitsubishi Evo) 0, D2
9, Andrew Gallacher/?? (Ford Focus WRC) 1998, D2,
10, Mike Taylor/Martin Haggett (Talbot Sunbeam-Lotus)2500, D1
11, Ross Marshall/Deven Rafferty (Ford Escort) 2000, C
12, Taylor Gibb/Jane Nicol (Mitsubishi Evo) 1998, D2
14, Donnie MacDonald/TBA (Mitsubishi, Evo9) 1997, D2
15, Mark Kelly/Andy Baker (Ford Escort Mk2) 2500, D1
16, Jamie Smith/Andrew Falconer (Citroen DS3 R5) 2000, C
17, Jim Sharp/Craig Wallace (Mitsubishi Evo) 1998, D2
18, Ross Hunter/Sean Robson (Peugeot 205) 1997, C
19, Scott McMinn/TBA (Subaru Impreza) 1998, D2
20, Dane Walker/Dave Boyes (Ford Escort Mk2) 2000, C
21, Joshua Davey/Tamsyn Davey (Darrian T90) 1997, C
22, Tom Blackwood/Gordon Winning (Ford Escort Mk2) 2499, D1
23, Benjamin Smith/Steven Smith (Renault Clio 182) 1998, C
24, Ciro Carannante/Simon Coates (Porsche Cayman) 2900, D1
25, Paul Sheard/Bruce Lindsay (Mazda MX-5) 1600, B
26, Cathy Sewart/Colin Stephens (Talbot Sunbeam Lotus) 1972, C
27, Steven Hay/Steven Brown (Vauxhall Corsa) 1389, A
28, Graeme Rintoul/Jim Rintoul (Ford Fiesta) 1999, C
29, Robert Marshall/Lewis MacDougall (Ford Escort) 1999, C
30, Kieran O'Kane/Ian Blackley (Opel Ascona) 3, D1
31, Mark Annison/Ian Humphrey (Ford Puma) 1396, A
32, Andy Pecover/Kevin Blackford (Ford Focus) 1600, B,
33, Blair Thomson/TBC (Peugeot 205) 2, C
34, Kevin Mathers/Shannon Turnbull (Peugeot 205) 1905, C
35, Sam Johnson/Liam Johnson (Seat Arosa) 1390, A
36, Craig Aston/Nick Baker (Toyota Yaris) 1299, A
37, Alistair Haw/Chris Lees (Peugeot 309) 1998, C
38, Sandy Arbuthnott/Ian Arbuthnott (Ford Focus) 2000, D2
39, Ashleigh Morris/Jamie MacTavish (Ford Fiesta R200) 1596, B
40, John Carroll/Linda Thomas (Ford Escort Mark 2) 2496, D1
41, Steven Chalmers/Gordon Chalmers (Subaru Impreza) 2000, D2
42, James Clark/Paul Orchiston (Audi TT) 1800, D2
43, Alan Ross/Ian Parker (Citroen Saxo) 1598, B
44, Cameron Craig/Ewan Lees (Peugeot 205) 1360, A