… Borders Hill Rally, 18/19 Nov …
If the future of rallying is hanging on a shakey nail, there is an alternative. It's nowhere near as civilised as rallying, but it provides a multi-cylinder dose of high and low speed, mucky fun for those who participate – and it can be a lot cheaper.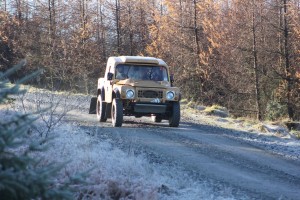 The Borders Hill Rally takes place this weekend 18/19 Nov. at the Forrest Estate, Dumfries & Galloway DG7 3XS (77/NX564861) accessible from the A713. There are two Legs with 16 Special Stages totalling some 93 miles of competitive action. Leg One is on Saturday and the shorter Leg 2 on Sunday, but Saturday's Leg includes 3 stages in the dark finishing around 7 or 8 in the evening.
The first Leg starts at 10.00 am on Saturday morning and the second Leg at 10.00 am on Sunday morning with the first car finishing around 1.30 in the afternoon.
Spectator Info is a bit sketchy, but last year there were 2 Spectator Areas and both sign-posted with Green arrows from the main access road to Forrest Estate. When you turn off the A713 follow the narrow tarmac road till you think you have taken the wrong road – and then keep going. Eventually you will come across Green arrows pointing left. Beyond that point is the Service Area and Rally HQ, and beyond that is the second Spectator Area. Parking is severely restricted due to space so be careful where you park your car. There will be an awfy lot of heavy 4×4 machinery trucking about over the weekend and they will make short work of clearing the road!
If you're doing nowt else this weekend and looking for an excuse to escape washing the car or the dishes. it's well worth a look and a listen – V8s, V6s and straight sixes plus a whole host more 4 cylinder jobs. Even the diesels sound good.
Full Entry List:
1, Benjamin James Duckworth/Mathew John Cook (Market Rasen/South Moulton) Milner LRM1, 4400cc, Class G
2, Richard Copsey/Mark Shaw (Otley/Dewsbury) Fouquet Jaguar, 2986, Class F
3, Mike Moran/Tony Coid (Warrington/Lofthouse) Evo, 2000, Class F
4, Justin Birchall/Jonny Kooja (Gisburn/Lofthouse) Freelander M3 evo, 3200, Class F
5, William Stubbs/Andy Hill (Nottingham/Nottingham) Milner R5, 5, Class G
6, Anthony Jackson/Nicky Brook (Bradford/Bradford) Warrior 306, 4200, Class G
7, Mark Jacques/Adam Nicholson (Chester/Lofthouse) Freelander LS3, 6200, Class G
8, Edd Cobley/John Tomley (Corby/Newtown) Bowler Bulldog CSP, 3000, Class G
9, Richard Kershaw/Mason Kershaw (Huddersfield/Huddersfield) Polaris RZR, 1000, Class B
10, William Ian Gregg/Colin M Brindley (Ravenshead/Worksop) Polaris RZR 1000 Turbo, 925, Class B
11, Paul Myers/Andy Foster (All Stretton/Rugeley) Tornado 100, 5000, Class E
12, Richard Wynne Williams/Matthew James Lowe (Denbigh/Lofthouse) BME, 3200, Class F
13, Toby Jefferson/Peter Widdop (Littleborough/??) GSR 206, 0, Class F
14, Richard Coleby/Iain Stratton (Kendal/??) Polaris Evans Cooled XP Turbo, 925, Class B
15, David Steven/Peter King (Bathgate/Lofthouse) Freelander 3000, Class F
16, Rob Bool/Victoria Vaughan (Ilminster /Newport) A/T Challenger, 4, Class G
17, Colin Stevenson/Douglas Scott (Kinlochewe/??) Simmbughini, 6, Class E
18, Paul Mansfield/Adrian Neaves (Hinkley/??) Bowler Wildcat 100, 3, Class H
19, Phill Bayliss/Lance Murfin (Metheringham/Market Rasen) Land Rover Defender 90, 2500, Class C
20, Mark McNeill/Derek McNeill (Ballynahinch/Ballynahinch) Landrover Tomcat 88″, 3950, Class D
21, Andy Powell/Michael Kerfoot (Hereford/??) Walker Adam Revolution, 1000, Class F
22, Chris Taylor/Colin Frost (Greyabbey/Bangor) Bowler Wildcat 100, 5, Class E
23, David Johnston/Joseph Monaghan (Comber/Glengormley) Bowler Wildcat, 2495, Class H
24, Ian Carson/Jenny Carson (Crumlin/??) Bowler Wildcat, 3900, Class D
25, Tony Rae/Ronnie MacLennan (Edinburgh/Edinburgh) Polaris RZR1000, 1, Class B
26, Ian Chiles/Gary Bull (Frome/Frome) Land Rover Tomcat 106″, 5700, Class E
27, Steve Llewellyn/Sam Llewellyn (Shepton Mallet/Shepton Mallet) Land Rover Tomcat Tornado TD5, 3, Class H
28, George Bryson/Jacqueline Bryson (Catrine/Catrine) Kirkland Proto, 3982, Class D
29, David Brose/Graeme Morrison (Fraserbrugh/Fraserburgh) Land Rover Bowler, 4, Class D
30, David Hooper/Leigh Higginson (Lydney/Lydney) Land Rover 88″, 5, Class E
31, Steve Carroll/Bill Groves (Bishop Auckland/Durham) Land Rover Freelander, 1800, Class C
32, Mark Walker/Julie Kathryn Wilkes (Blidworth/Sutton-in-Ashfield) Land Rover Tomcat, 6, Class E
33, Cameron Crow/Johnnie Drysdale (Insch/Stirling) Land Rover Tomcat, 4, Class D
34, Richard Hayward/?? (Cardiff/??) Bowler Bulldog CSP, 3000, Class F
35, Alec Fern/Darren Tansley (Staffordshire/??) 3M Challenger S3 , 1781, Class D
36, Stephen John Richards/Sharon Scott (Preston/??) Bowler Bulldog, 2400, Class H
37, Paul Chamber/ Steve Chambers (Crumlin/??) Tomcat 100, 0, Class D
38, Scott Carruthers/Cathy Bones (Portglenone/Larne) Bowler Tomcat, 4600, Class E
39, Ann McCandlish/Pauline Stevenson (Carnalbanagh/Strathcarron) Land Rover Tomcat, 4, Class D
40, Dean Sutcliffe/Rob Taylour (Hartlepool/??) Bowler Wildcat , 0, Class G
41, Thomas Bell/Noel Dancy (Dubai/London) Land Rover Defender 90 – Bowlers Defender Challenge Spec., 2,
42, Andrew Wicklow/Holly Wicklow (Glasgow/??) Bowler Bulldog, 3000, Class F
43, Billy Cruickshank/Alison Anderson (Lanark/Lanark) Land Rover 88, 2500, Class C
44, Robert Patton/William Bones (Cloughmills/Ballyboley) Land Rover Defender, 2495, Class