… Crail Stages Rally, Sat. 11th Nov. …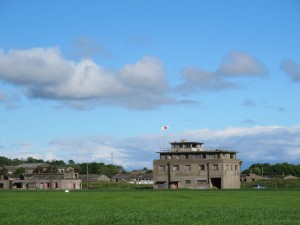 There's a sort of end of term feel to the entry list for this Saturday's Crail Stages Rally at Crail in the north east corner of Fife. There are a couple of interesting cars entered and you only have to look at Shaun Sinclair and Innes Mochrie's entries to see what I mean plus there are one or two 'new' faces appearing in 'different' cars and one or two co-drivers sitting in the drivers' chairs for this event.
Having said that there is serious purpose at stake. As the final round of the Blackwood Plant Hire Scottish Tarmack Championship there is the small question of National titles at stake
It would appear that Gareth White has already clinched the 2017 title in his Peugeot 208 as he cannot be caught and the same could be said for regualr co-driver, Harry Marchbank. Alan Kirkaldy is second in his Escort and Gordon Morrison third in his Subaru. However it would appear that third place is still up for grabs between Gordon, Ross Auld and Taylor Gibb. But then what do I know? The fiendish complexity of the points scoring system still defies me as did Algebreometry at school!
The same applies to the Co-driver's championship. Calum MacPherson and Cameron Fair are tied on points for second but Jane Nicol is only 5 points adrift of that battle, but it would take more than a pocket calculator and a week alone in a quiet room for me to work out the permutations here as well. And this despite the patient explanations by both Trish and Davie.
Marc McCubbin has already clinched Class 0 while Class 1 is up for grabs between Marcus Tinsley and Jamie Miller. Greg Turner has Class 2 sewn up while the duel for Class 3 will be fought out between Ross Auld and Ross McCallum. And despite claims of skulduggery and favouritism the Class 4 winner is already confirmed as Dunfermline Car Club's very own president Fergus Gray. Gordon Morrison and Taylor Gibb will also determine the outcome of Class 5.
So there will be much to see and savour at Crail with the first car due to hit the tarmac at 8.30am, but a word of caution to one and all. It's November, wrap up warm.
Full Entry List:
1, Shaun Sinclair/Iona Sinclair (Watson Shed Build Evo), 2000, 5
2, Nigel Feeney/TBA (Mini JCW WRC) 1600, 5
3, Ian Paterson/TBA (Subaru N10) 1995, 5
4, John Rintoul/Ross Hynd (Ford Fiesta RX) 2000, 5
5, Gordon Morrison/Calum MacPherson (Subaru Impreza) 2000, 5
6, Taylor Gibb/Jane Nicol (Mitsubishi Evo 8) 1998, 5
7, Lee Hastings/Cole Hastings (Subaru Impreza) 1994, 3
8, Colin Gemmell/Derek Keir (Ford Escort Mk2) 2499, 4
9, Jo McQuillian/Sean Donnelly (TBC) 0, 5
10, Tom Blackwood/Gordon Winning (Ford Escort) 2499, 4
11, Stuart Paterson/Allan Paterson (Subaru Impreza) 1998, 5
12, Brian Watson/Charley Sayer Payne (Mitsubishi Evo) 2000, 5
14, Jimmy Christie/Michelle Falconer (Mitsubishi Evo 9) 0, 5
15, Gareth White/Harry Marchbank (Peugeot 106 R2) 1598, 2
16, Greg Inglis/Ewan Stanhope (Citroen C2 R2 Max) 1600, 2
17, Ian Archer/Neil Ogilvie (Mitsubish Evo 9) 2000, 5
18, Kieran O'Kane/Iain Blackley (Opel Ascona 400) 3000, 4
19, Billy Hamilton/Nikki Addison (Opel Kadett) 2000, 3
20, Chris Collie/Gary McDonald (Ford Escort RS) 2000, 4
21, Ross McCallum/James Ralph (MG Maestro) 1998, 3
22, Iain Sanderson/Kyle Dodds (Ford Escort Mk2) 1998, 3
23, Graeme Rintoul/Jim Rintoul (Ford Fiesta) 1999, 3
24, Billy Cowe/Sean Douglas (Subaru Impreza) 1994, 5
25, Garry Muir/Nicola Ritchie (BMW 328ti) 2800, 4
26, Robert Marshall/Lewis MacDougall (Ford Escort) 1999, 3
27, Jamie Stewart/Kevin Mollison (Peugeot 205) 2000, 3
28, Alan Wallace/Darren Robertson (Mitsubishi Lancer Evo6) 1998, 5
29, Joe Pringle/Thomas Purvin (Vauxhall Corsa) 1600, 2
30, Alex Adams/Ian Parker (Ford Escort) 2100, 4
31, Martin Page/Emily Easton-Page (BMW MINI Cooper S) 2, 4
32, Michael Robertson/Murray Milne (Honda Civic) 2000, 3
33, Erle Strachan/Colin Smith (Mitsubishi Evo 6) 1998, 5
34, Michael Harbour/Ian MacDougall (Citroen C2R2 Max) 1600, 2
35, Fergus Gray/Kenny More (BMW 130i) 3000, 4
36, Cameron MacLean/Robert Sherry (Ford Escort Mk2) 1988, 3
37, John O'Kane/Meghan O'Kane (Subaru Legacy) 2, 5
38, Martin Murray/TBA (Ford Escort Mk2) 2000, 3
39, Donald Bowness/tbc (Vauxhall Nova) 1400, 1
40, Charles Stewart/John Wink (BMW 318 Compact) 1800, 3
41, Iain Haining/Johnnie MacKay (BMW E30) 2500, 4
42, Gavin Lloyd/Gordon Clark (Vauxhall Nova) 1400, 1
43, Gordon Milne/Graham Rieu Clarke (VW Polonda) 1598, 2
44, Colin Hay/Steven Brown (tbc) 0, 1
45, Jamie Miller/Ian McCulloch (Vauxhall Nova) 1400, 1
46, Neil McAllister/Stephen Lang (Peugeot 205) 1388, 1
47, Martyn Douglas/Brian Pringle (Volkswagen Polo GTI) 1398, 1
48, Greg Turner/TBC (Peugeot 206) 1596, 2
49, Donald Cameron/Martin MacCabe (Honda Civic Type R) 1598, 2
50, Caroline Carslaw/Tba (Subaru Impreza STI) 2000, 5
51, Lindsay Taylor/Keith Fair (Ford Fiesta) 1999, 3
52, Cameron Stout/Jamie Stout (Prodrive Impreza) 2000, 5
53, William Beattie/Steven Beattie (Ford Escort Mk2) 1998, 3
54, George Fell/Lois Fell (Ford Puma) 1600, 2
55, John Robertson/Violet Kydd (Ford Escort) 1998, 3
56, Angus MacNeil/Michael MacNeil (Peugeot 205) 1600, 2
57, Alan Stark/Greg Stark (Peugeot 205 GTI) 1900, 3
58, Eamonn Kilmurray/Derek Cassells (Suzuki Swift GTi) 1310, 1
59, Alistair Haw/Chris Lees (Peugeot 309) 1998, 3
60, Scott Burness/Jodi Devine (Ford Fiesta ST) 1998, 3
61, Innes Mochrie/Del Galbraith (Rover Lotus Metro) 1400, 1
62, Ian Logan/Carin Logan (Ford Escort) 1998, 3
63, Marcus Tinsley/Rachel Clark (Peugeot 205 Rallye) 1360, 1
64, Ross Chalmers/Steven Chalmers (Subaru Impreza) 2000, 5
65, Roy Ness/Drew Forbes (Ford Fiesta) 1998, 3
66, Hector MacInnes/Jenny O'Kane) Subaru Impreza, 2000, 5
67, Ron Walker/Dean Ross (Ford KA) 1600, 2
68, Leonard Jones/Greg Paterson (Vauxhall Chevette) 1998, 3
69, Cammy Craig/Ewan Lees (Peugeot 205) 1360, 1
70, Gareth Dalgliesh/Kenneth Dalgliesh (Subaru Impreza) 2000, 5
71, Steven Alexander/Christina Jones (Citroen Saxo VTS) 1600, 2
73, Kevin Maguire/Gemma Maguire (Skoda Fabia) 1400, 1
74, Martin Farquhar/Aiden Henderson (Peugeot 106) 1300, 1
75, Andrew Gray/Robert Wood (Peugeot 206) 1997, 3
76, Allan Watt/Craig Service (Citroen Saxo) 1587, 2
77, Phill Hill/Philip Jeffress (Toyota Celica) 1796, 3
78, Robert Cumming/Bob Irvine (Vauxhall Astra) 1998, 3
79, Martin Henderson/Steven Crockett (Peugeot 205) 1360, 1
80, Garry Coutts/Curtis Fraser (Ford Fiesta) 1596, 2
81, Kyle Adam/Gordon Adam (Ford Escort) 1600, 2
82, Colin Smith/Craig Smith (Vauxhall Astra Mk3) 1998, 3
83, Martin Watterston/Kenny Anderson (Subaru Impreza Sti) 1998, 5
84, Marc McCubbin/Andrew Blackwood (Nissan Micra) 998, 0
85, Shona Hale/Drew Barker (Citroen C2) 1600, 2
86, Katie Stimpson/Kirsten Dallas (Vauxhall Astra) 1998, 3
87, Paul Orchiston/James Clark (Audi TT) 2, 5
88, James Strachan/Kathy Shergold (Citroen Saxo) 1587, 2
89, Fraser Smith/Ally Graham (Honda Civic) 1600, 2
90, Ashleigh Will/Sean Will (Mitsubishi EVO) 0, 5
91, David McIntyre/Alan Todd (Vauxhall Nova) 1598, 2
92, Sandy Arbuthnott/Ian Arbuthnott (Ford Focus) 2000, 5