… Ford Fiesta Mk1 …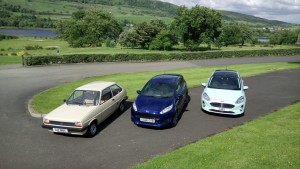 When Ford Motor Company hosted the Jim Clark Memorial Awards the other week, they did their usual trick of bringing something along for the assembled motoring journalists to enjoy. This time it was a car from their Heritage Collection. A 1981 Ford Fiesta. It was parked alongside a current Fiesta and also the yet-to-be-launched brand new Fiesta. We didn't get to drive the new car, but we did get to drive the original.
Although launched in 1976, the Mk1 which we drove was actually a 1981 model. Some cars wear their age well, some better than others, and the original Fiesta is a case in point. It wasn't just nostalgia that drove the enjoyment, 36 years on it's still a nimble and delightful wee car to drive today.
On a personal note, the principal concern that evening was that there were people in that room who were not around in 1981, let alone old enough to drive.
This was the year that the charts were dominated by Bucks Fizz, Duran Duran and Spandau Ballet. Dangermouse was on kids' TV while the big comedy attraction for their more culturally advanced parents was 'Hi de Hi'!
The Mk1 Fiesta also pre-dated mobile phones. Instead, parents thrust pre-paid telephone cards into their children's schoolbags and pockets so that they could use telephone boxes (big red things with wee square windows) telling them to keep in touch. If only they knew what was round the corner!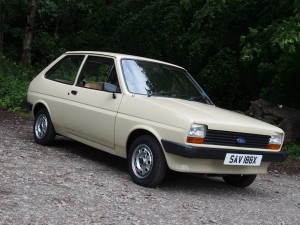 Against that backdrop it's easy to see why the Fiesta was such a big hit. This was Ford's first front wheel drive car for the British market so it didn't just look different. There was bags of room inside for four adults and a decent boot all enclosed in a smart and stylish metal wrapping.
Under the bonnet beat an 1100cc, 4 cylinder petrol engine with 52bhp on tap. Not a lot you might think but the whole thing weighed less than three quarters of a tonne. Even so, the 0 to 60 acceleration g-force wouldn't threaten a bee-hive hairdo. It took all of 15 seconds or more to gather up its bits and get going, and yet that wasn't at all bad at a time when only exotics could cover the same sprint in under 10 seconds.
Ford claimed the car could hit 90 mph. Well that was debateable. With its 4 speed gearbox the wee engine sounded awfy busy at 70, never mind 80, let alone 90. In retrospect, the only way a driver could hit 90 was with a catapult.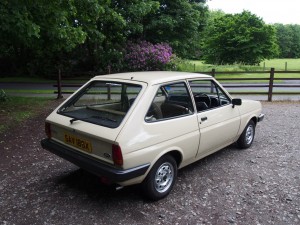 That wasn't the point, this was a compact family car that handled better than many other compact saloons of its day providing an all-round coil sprung quality of ride that put bigger, more expensive cars to shame.
The first thing that the youngsters encounter when climbing abroad was the Choke. Something that the older folks used to take for granted was greeted with suspicion and questions. Apart from the paucity of dashboard information, the next thing that reminded those of us of a certain age and the new bewildered generation was an attempt to turn the steering wheel.
No power steering. The advice here was to get the car moving and then turn the wheel. Even on its skinny wee 135/80×12 'Sava Effecta' tyres, trying to turn the wheel at rest was a full pech short of a heart attack.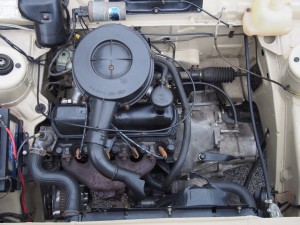 And yet, that was all part of its charm. Just a short drive was enough to familiarise myself of a bygone age. The steering was delightfully direct once on the move, the gearbox as tactile as a security bolt and the front disc/rear drum brakes made a decent job of stopping the driver getting carried away.
All round visibility was good with its big windows although there was just one o/s door mirror while the 'air-conditioning' was operated by manually winding down one/other or both door windows!
There was one other thing that reminded you of its age. The smell. Nothing to do with rot or decrepitude, you could tell this was a petrol engine without looking. On a warm day it was really quite whiffy inside. You can stick your dangly fir trees, this is the scent of preference for a petrolhead, eh?
However, the Fiesta stands out in my memory for another huge, very big reason. In 1979 two brothers, Walter and Jim entered their wee sister in the UK-wide 'Ford Find a Lady Rally Driver' competition, and Louise won it. She was a natural and campaigned a Ford Fiesta for a couple of seasons before getting her hands on an RS2000 and finished 19th on the Lombard RAC Rally in 1981, the year that this particular wee Fiesta was built.
A star was born, and it was all down to Ford, the Mk1 Fiesta and her two big brothers!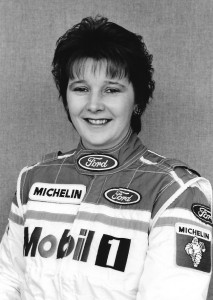 Louise Aitken-Walker was in fact Britain's first World Rally Champion winning the Ladies World title way back in 1990 long before Colin McRae and Richard Burns got their mitts on the silverware.
Louise isn't rallying any more, but her daughter Gina has taken up the cause. There is one more essential fact about Louise, she bakes exceedingly good cakes. Therefore Gina's entourage is a required stopover at any Service Area in the Scottish Rally Championship these days with Mum catering for the team.
And how do I know Louise bakes exceedingly good cakes? Someone tellt me!
1981 Ford Fiesta Mk1 – Price new: £3,674