… 2017 Jim Clark Memorial Award …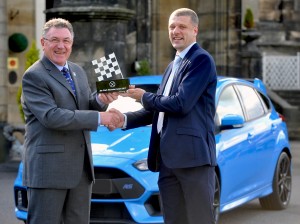 Now in its 47th year, the 2017 Jim Memorial Clark award presented annually by the Association of Scottish Motoring Writers had a new look. Sponsored once again by the Ford Motor Company the award is presented each year to a Scot in recognition of his or her contribution to motoring or achievement in motor sport. Normally this award is presented to an individual, but not this year – last weekend a whole family was honoured.
On this occasion, the chequered flag trophy bore the names of George, Dario and Marino, otherwise known as 'The Franchittis'.
Dario and Marino's success is not just down to individual skill and talent behind the wheel, coupled with superhuman levels of determination and dedication. This was a family 'job' with parents George and Marina and daughter Carla making up a formidable team.
There is no doubt that there was some initial parental influence as George Franchitti himself raced at Ingliston in the early days of the 1970s. He subsequently introduced his offspring to the sport when he took his boys, to Knockhill, and he also admitted that he took them spectating on rallies, usually the RSAC Scottish Rally as it travelled around Scotland in those days and he particularly recalls the Ae tests near Dumfries and Devilla at Kincardine.
But a life in the woods was not for the Franchitti clan, Dario was a multiple Scottish and British Junior Karting Champion and later Senior Champion from 1984 to 1988.
He then moved on to single seater car racing winning the Formula Vauxhall Junior Championship in 1991 and the Formula Vauxhall Lotus Championship in 1993. After a season in the British F3 series he was signed up by Mercedes-Benz to drive in the German Touring Car Championship and it wasn't long before America beckoned.
His career progressed with huge success in ChampCar and Indy Car racing and in 2007 on his way to the IndyCar Series Drivers Championship title he won the 91st Indianapolis 500. Only the second Scottish born driver to win it since Jim Clark in 1965.
He won the Championshp title again in 2009 and scored his second Indianapolis 500 win in 2010 and in 2012 he became only the 10th driver in the history of the race to win it three times.
And that is just a brief resume of one of the most illustrious careers in motor racing.
Meantime, 'wee' brother Marino, ten years his junior, was getting in on the act and once again, maw and paw and sis, were kept busy at weekends often supporting both boys on either side of the Atlantic on successive weekends.
Marino started in Formula Ford in the mid 1990s but got his break into Sports Cars in 2001 and has risen through the ranks driving for some of the best known teams in GT and endurance racing including Nissan, Ford and Aston Martin. Along the way he has raced some of the most exotic machinery in the world such as the Nissan DeltaWing, Porsche RS Spyder, Lola-Mazda, the Chip Ganassi Ford GT and a few Ferraris for good measure. He has raced at Nurburgring and Sebring, Spa and Daytona, and of course Le Mans where outright success has (so far) eluded him.
There is yet another member of the Franchitti family who has contributed to this world-wide success and that is the boys' sister Carla. In the early days of Dario's career it was Carla who prepared the Press Releases and distributed them and ensured that they were followed up, an essential role in any aspiring driver's career. And she's still chasing after them now!
Presenting the accolade, Stephen Park, President of the Association of Scottish Motoring Writers, said: "The Franchitti name is one which has a global association with success and professionalism, both on and off the track.
"It's extremely appropriate that both father and sons together receive the 2017 Jim Clark Memorial Award as it was George's involvement in motor racing which proved infectious for both Dario and Marino. Throughout their careers, the brothers have demonstrated ability and commitment across a large number of different race series, both at home and internationally.
"However it's also important to recognise the women in the family, namely Marina and Carla, who have consistently been at the side of George, Dario and Marino offering unstinting encouragement and support."
Collecting the award, George Franchitti said: "Jim Clark was my hero when I was a young man, he was both a world beating driver at the very top of motor racing and a gentleman. To receive this award in his name is a matter of great surprise and pride to me.
"I have been involved in motor racing throughout my life and was happy to encourage both Dario and Marino to take part and enjoy themselves. We have been so lucky that they both showed talent and were able to take advantage of some great opportunities and enjoy success around the world.
"Throughout this time, our family has always been proud of the way they have conducted themselves both on and off the track. Along with our pride in their success on the track, we've been equally pleased to hear from others that they have remained humble throughout their careers."
Dario added: "Jim Clark is my hero so it's a tremendous honour to receive the Jim Clark Award, and to do so alongside my brother and our dad makes it extra special. My earliest memories are watching my dad compete at Ingliston which started a lifelong passion for motorsport. My parents made huge sacrifices to support racing programmes for Marino and I, as did our sister Carla, so I'm delighted we can share this as a family. Thank you to the Association of Scottish Motoring Writers for the award."
And brother Marino said: "To be given this award is such an honour, I couldn't think of a way to improve on that, but receiving it with my Dad and brother makes it extra special. Our careers have always been a family effort, so I'd like to thank my wife Holly, my mum Marina and sister Carla as well for their selfless support, and sacrifice over the years. To receive an award in Jim Clark's name is incredible and I have to thank the Association of Scottish Motoring Writers for recognising our family."
The Jim Clark Memorial Award is awarded annually in memory of the twice Formula 1 World Champion who, in a Lotus 49 at the Dutch Grand Prix in 1967, gave Ford its first ever F1 victory with the new Ford-Cosworth V8 Grand Prix engine.
Previous winners of this award include motorsport legends Sir Jackie Stewart, Allan McNish, David Coulthard, Louise Aitken-Walker, Colin McRae, Andrew Cowan, John Cleland, Steve Hyslop, Niall MacKenzie and world land speed record breaker, Richard Noble OBE.
The award evening was also attended by a previous recipient of the accolade, author Eric Dymock, who has recently released an updated version of his book 'Jim Clark'. A royalty from every sale will go to the Jim Clark Trust in its bid to build a new museum dedicated to the memory of the racing legend.
Coincidentally, last weekend's celebration coincided with the 50th anniversary of the winning debut of the brand new Ford-Cosworth V8 at the Dutch Grand Prix in Zandvoort in 1967. And after raising a glass (or two) to the Franchittis, that gave us cause to raise another glass (or two) to Ford!