… Timo Makinen, 1938 -2017 …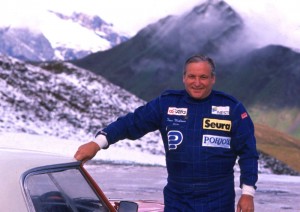 It was with great sadness that I read this week of the passing of Timo Makinen. If you don't know who he is there are already many Obituaries on the Internet, but for most rally fans, the man and his reputation need no introduction. Many of the published tributes have concentrated, quite rightly, on Timo's achievements, fearsome talent, skill and bravery behind the wheel, but I remember him for a couple of other reasons.
The first time I met him properly was on the 1975 RSAC Scottish Rally based at Aviemore. He was driving for Ford at that time and was part of the works effort on that event. Ever since I had seen him at the wheel of an Austin Healey 3000 on the 1965 RAC Rally GB, I was in awe of the man and his talent. He was a star then, and a bigger star when I met him 10 years later at the Scottish Rally.
He was pestering my boss, one Gordon McIntosh Esq, the Publicity & Promotions Manager for White Horse Distillers (who incidentally sponsored the White Horse Whisky Rally Team of Gavin Waugh and Peter Handy), to take him to visit a Scottish whisky distillery. To get rid of him, the Boss handed me the keys to his company car, a Ford Consul GT, a great barge of a thing with soft suspension and a 3 litre straight six, and told me to take him to Craigellachie.
White Horse actually controlled three distilleries at that time so I won't say where I took him nor shall I reveal the name of the distillery manager – in case there are any repercussions from these revelations!
But off we set, this big and burly figure and a very impressionable, awestruck young PR Assistant. He was completely charming and by the time we got to the car I was chatting away and revealed that I owned an Austin Healey 3000. That piqued his interest right away and off we set.
The drive round the centre at Aviemore was uneventful, then serenely down on to the A9 and headed north towards Speyside, but at the 30mph de-limit sign on the outskirts of Aviemore, the big chap slapped the dashboard and shouted: "Go, Go, Go!" so we went.
And went we did. All the while he was telling me: "Don't brake, don't brake – NOW brake. Turn. Go, go, go." And I had to endure 35 miles of that. Wonderful. In the mirror I could see blue smoke, but wasn't sure whether it was from the exhaust or the rear tyres. When we arrived at the village of Craigellachie we turned off the main road and headed to the distillery where we were met by the manager. We all trotted off leaving a very relieved Consul parked up with the sound of the ticking of the hot metal receding as we went inside.
Timo was greatly interested in the tour and even more interested in the tasting afterwards. Somehow he managed to charm the manager into giving him a couple of bottles of white spirit from the still. A thoroughly illegal act carried out away from the prying eyes of the Customs man. In fact we made Timo an honorary Scot that day and re-christened him Timothy McKinnon.
We left the distillery with Timo looking like John Wayne. A lemonade bottle sticking out of each jacket pocket, like a bad-ass Sheriff looking for a gunfight. The Consul got even more stick on the way back.
Now I should add, that raw white spirit can be up to around 140 degrees proof when it comes off the still into the spirit safe. Prior to decanting into the screw topped lemonade bottles it had been watered down to a 'safer' 120 degrees proof (retail spirit is 70 degrees proof!) but even then, the liquid is a colourless, odourless and virtually tasteless spirit but has a kick like a bad tempered hairy coo.
We got back to the Post House Hotel in Aviemore in time for Major Bob Tennant-Reid's drinks reception ahead of the great and the good going into dinner. This was a black tie and long dress affair for members and wives of the RSAC on the evening before the rally. Naturally, being an honoured guest, Timo was at the party – complete with lemonade bottles. He then proceeded to go round the guests topping up their orange juices and sundry alcoholic drinks with his rather potent 'lemonade' chatting away like the utterly charming rascal that he could be.
It wasn't long before the polite, genteel chatter increased in volume, and became a bit more noisy and giggly, with the RSAC secretary and Rally CofC, Major Bob, wondering what was going on. My Boss had twigged something was up too and grabbed me: "Do you know what's going on?" I said: "I'm afraid I think I do," and I grassed up my new best friend.
The Boss looked me straight in the eye, face to face just inches apart, and quietly but rather firmly said: "Get him out of here. NOW." Easier said than done, Timo was having a grand time. Anyhow, with the promise of me being on expenses I got him out of there and we went to the Pot Still bar. Bad move, but at least it stopped the upstairs reception from descending into complete anarchy.
On my return to the office in Glasgow after the rally I got a right dressing down from the Boss, but the Assistant Publicity Manager, Walter Laidlaw, had a quiet word with me afterwards and told me that he and the Boss had had a great laugh at Timo's exploits, and at my embarrassment, but never to let on that he had told me.
A close escape.
I met Timo again later that year at the Border Rally in October in which he was entered for testing purposes ahead of the RAC the following month and we shared a dram and had a bit of a giggle again. The following day he won the rally, but by only 8 seconds from my first ever 'proper' rally hero, Drew Gallacher. Two huge characters, with scary reputations and appetites, and yet, two utterly charming, kind, considerate and very generous rascals.
Timo was an absolute gem and could charm the knickers off a bocker glory. Whenever we met subsequently he would shake hands and have a word. He was the original 'Flying Finn' but that nickname had nothing to do with drink, it was his ferocious speed in rally and race cars that generated the origin of the phrase. I could never claim that he was a close friend, but those memories will last forever. I'll raise a glass to an 'auld acquaintance' tonight.