… Speyside News & Blethers …
Scots Abroad …
On the same weekend that the forest stagers were blasting through Moray, some of our lot had headed south to the Midlands for the Horiba D'Isis Rally at the MIRA motoring research establishment. The attraction was 60 miles of high speed tarmac, or as the English would say, asphalt . Anyway, Gary and Gordon Adam won the event outright in their Mk2 while Murray Grierson debuted his new ex-David Hardie Subaru and finished 12th with son Mark on the Notes. Not so lucky were Tom Morris and Colin Harkness who failed to finish in the Metro 6R4. Martin Hodgson was 2nd behind Gary in his Mk2 from Chris Ransley in his BMW M3.
Across the water there was local interest on the Monaghan Stages Rally In Ireland on the 23rd April, a round of the Triton National Rally Championship. Considering the quality of the entry and the machinery, Lee Hastings and Alistair Wyllie finished an excellent 15th o/a in their Subaru Impreza, while David Hardie with Thomas Hayes were 20th in their Subaru. Three Ford Fiesta WRCs filled the first three places led by Sam Moffett from Donagh Kelly and Declan Boyle.
**
In a previous News round-up I mentioned that Ian Forgan was taking part in the 5km off-road 'MacTuff Kids' race at Knockhill on Sunday 16 April with his 11 year old son Kyle. Well, he didn't. Not because he chickened out, but because Kyle had other plans. It seems that Kyle is pretty competitive in other fields. Like Polocrosse, for instance. And yes, I had to ask too. Simply put, Polocrosse is just Lacrosse on horseback. Think Polo with a stick which has a net on the end rather than a club and you've got it. Anyway, Kyle has been selected to join the Scottish Polocrosse team and had been invited to join the team for his first practice session with them on the Sunday. Naturally Ian was disappointingly gutted to miss out on the physically demanding, power-sapping cold, wet and slimy horrors of the race. Aye, right.
Paddy Munro turned up at Elgin with his new engine in his Mk2, the one he was supposed to have at the Snowman till it developed a fault and had to be swapped back to the old unit hours before the rally. Anyway, the new 1800 X-Flow replaces the old 1600 X-Flow and was picked up at 4pm on the Friday before Scrutineering commenced that evening. His plan was to run it in during the rally. He finished second in class behind Fraser MacNicol.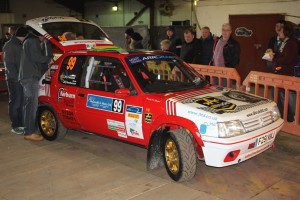 One of the best presented cars wheeled through Scrutineering in Elgin wasn't a four wheel drive supercar or a rejuvenated and modernised Mk2. Nope it was the number 99 seed, the Peugeot 205 (of indeterminate age) of Steven Crockett and Martin Henderson. The car has done 7 events since it was built and prepped in 2015 and it's a credit to the boys. Over the Winter the car was freshened up ready for the new season and it looks a treat. It not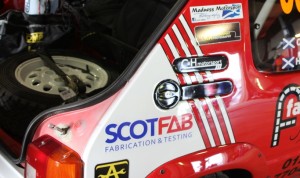 only looks good, it goes well too. They finished second in the 1450cc class. The trouble is, perfection is a tough target. One eagle eyed observer noticed that one part of the car had been overlooked, the inside edges of the rear bodywork where the tailgate shuts over it. "I know," said Steven, "we keep forgetting that bit, but we'll have it done for the Grampian!" It just proves you don't need money in this game to make an impression, that 205 spoke volumes for its owner.
Speaking of well prepared cars and last minute readiness, Mike Grant falls into neither category, but there he was at Elgin with the Subaru. "I haven't touched the car since it broke last year," he said, so no surprise there, "but a week ago I dragged it out of the corner to repair it only to find the engine was gubbed. I remember thinking, running the engine when the car was upside down wasn't good," recalled said automotive engineer! Anyway, he set to, rebuilt the engine and entered his local event. The engine was fine – but the gearbox broke on the second stage. The word 'exasperated' did not enter his vocabulary, but that kind of succinctly sums up what was uttered at the time.
Steven Smith re-appeared at Elgin with the Duratec engined Mk2 after lengthy re-engineering work. "It's the same cylinder head, but it has a new cylinder block – one without a hole in it," said Steven, "I've dry-sumped it as well so hopefully that should cure the problems." Well, it did, but only up to a point, the electrics failed on the rally and he didn't finish. Pass the Kleenex boys.
I was intrigued by the names 'Emma' and 'Maggie' painted on the front bumper of Scott MacBeth's new Citroen, so I asked. Emma is Scott's fiancee (they're getting married next year) and Maggie is his dog. However, I am worried about young Scott. He's got more pics on his phone of his dog than his fiancee!
I had to laugh at Mark McCulloch: "I'm freezing," he said at Scrutineering on the Friday night, "I'm just back from a holiday in South Africa. It was never below 20 degrees out there and that was during the night. I set the air-conditioning in my room to 18 degrees and everyone over there was wondering why it was so cold in my room, till I explained that it wasn't cold – that was what I set my central heating at, back home, in Scotland!" Puzzled looks all round.
Hamish Kinloch was in unfamiliar territory with the Mk2 at Elgin: "The last time I was in the woods was 1997 on the McRae Stages with the Toyota," said Hamish, "but I got a text from Calum 'George' Buchanan wishing me well and giving me a driving tip – follow the Buchanan line – take the arrows out!"
I missed the Arbuthnott boys out of the main report (cos they were late entries running at 106 – Ed.) but they appeared at Scrutineering with the Subaru flat-four engined Ford Focus and it sounded good. The car had needed new pistons since it's last appearance and they had taken time to find. Sadly it didn't last long, the engine failed, but surprisingly Sandy wasn't too unhappy: "When the engine blew we coasted past Mike Grant, so I beat him for once!"
Dale Robertson had his first taste of R5 motoring at Elgin when he appeared in the Buckley Fiesta. It was his first time in LHD and first time with a seq 'box, so the former Mitsubishi driver found things really quite different to what he was used to: "We did 20 miles at the test before the rally," said Dale, "and I started off driving it like the Evo, but it's nothing like the Evo. I kept slipping the clutch at hairpins, but you don't do that. You just bang it down the gearbox and it goes. I was left foot braking as well, the first time I've ever done that. It's so easy in this. But the biggest problem is finding the braking points. I was braking way too early and then having to speed up again to reach the corners." Dale was setting top ten times till he slid off on the penultimate stage, but we might yet see him again in the car going by the size of the grin.
There was a bit of fun ahead of the Rally start in the holding-area. Mike Stuart had a seat in Hamish Kinloch's Mk2: "My bum was on the floor, I couldn't see over the dash and my feet couldn't reach the pedals." So Mike invited Hamish to try his Mk2. Well, the big chap got in and managed to get back out again, but driving the thing would have presented quite a challenge with his knees either side of the steering wheel and his head (without crash hat) denting the roof. I told Hamish I didn't take any pics. I lied. Hamish finished in 57th place: "On the first corner of the first stage I ran wide into a ditch. What a start."
Greg McKnight was off the pace in Elgin. That was down to man-flu. Naturally the menfolk sympathised with him, but he has a lady co-driver. Did he get any sympathy there? No chance. Laura just told him to get his act together and get on with it. I'm with Greg on this one. Women just don't understand the physically sapping and mentally debilitating effects of man-flu. It really is a helluva lot worse than common 'flu.
Despite being on a diet, Brian Watson had bought a bag of Galaxy chocolate counters and stashed them in his pick-up: "It's my wee treat for the drive home on Sunday," he said. During the course of the morning stages, he received a picture message on his phone. It was from Wayne Sisson in his pick-up. He had sent Brian a picture of his hand holding a large handful of Galaxy chocolate counters, with the caption, 'Guess what I found'. One can only imagine the profanity that henceforth ensued.
And finally …
Good news and not so good news. When Caroline Carslaw's Subaru slithered off the road on the penultimate stage there was virtually no damage to the car, but the steering wheel kicked back giving Caroline a sore wrist. This necessitated a trip to Dr Gray's Hospital in Elgin after the rally where a fractured wrist was diagnosed and it was duly lathered up in plaster. Her sympathetic and enterprising faither then decided that since the car was in good nick he would drive it on the Pirelli the following weekend. That didn't go so well either. for the second time in two weeks the car ended up in a ditch. Apart from a run out last year in Caroline's Fiesta this was Donald's first time on gravel in 15 years. There was little damage apart from a tattered front spoiler. What was worse was that he would have to face the music on his return home.
He'd better be able to duck double quick, a thump on the napper with a stookie can be bloody sore.
Speyside Rally [Main Report]
Speyside [Stage Times]
Speyside [Class Roundup]