… Knockhill Chatterings …
Ross Hunter finished just outside the top ten in his Peugeot 205 but he was as entertaining as ever. The team had softened the car up due to the cold and wet conditions which made the car roll alarmingly in the corners., but it seemed to work. He started the day on second hand tyres then at the lunch halt he did a swap from front to back and carried on. They did have one problem with a worn n/s front bush which was allowing the wheel to push back under braking and wiggle backwards and forwards under acceleration but apparently: "It was too bluidy cauld to bother fixing it!"
Nigel Feeney appeared with a new car at Knockhill: "It's seven years since I last drove a Left Hand Drive car," said Nigel, "and it wasn't till the fourth stage that I had a smile on my face." Apparently he sourced the Evo10 R4 abroad and then had it refettled by Wayne Sissons over here during the Winter months. "It's a huge difference from the Subaru," added Nigel, "and feels easier to drive – at the moment."
Ian Paterson's Subaru looked quite different at Knockhill after a Winter rebuild and diet, the car, not Ian. It was still blue but the graphics made it look different. Anyway, the car has been upgraded and lightened: "It's110 kgs lighter than last year, " said Ian, "we bashed a door last year and when we took the trim off the inside we found that it still had the stereo speakers and wiring in it! In fact the new electronic dash and wiring loom is 28 kgs lighter than the old electrics so it should make a difference this year."
Jim Sharp has forsaken Subarus and Mitsubishis and appeared at Knockhill with a 1600cc Suzuki Swift. Apparently he just fancied something different and a bit of fun, plus it's a lot cheaper!
Over the Winter Gareth White had stripped the Peugeot 208 back to a bare shell for a full rebuild: "It's a different car now," he said, "and Knockhill was a good shakedown." However, he did have some unflattering opinions on the mechanical and bolt-tightening abilities of the French guys who originally built the car. In fact it might be advisable to keep Gareth away from the government's talks on Brexit. The French might seal up their end of the Tunnel if they heard him talking.
Some folk need a check list before they go rallying, or maybe it has more to do with old age. John Kean finished 37th overall and 7th in class in his Peugeot 205 at Knockhill but dropped a chunk of time on the early stages: "I set off this morning with new wheels and tyres – and forgot to check the tyre pressures. It was all over the place, it was 40 psi all round." Dohhh!
Gordon Milne's latest project is worth look next time you see it as the Volkswagen Polo has a 1600cc Honda engine in it: "It's the only non-turbo I could find that would fit," he said. Despite teething problems he finished 43rd and 9th in class.
George Ross failed to finish Knockhill retiring his Escort on the penultimate stage, but came away having learned something to his advantage: "Andrew Wood 'conned' me into buying Hoosier tyres," he said, "but it's the best thing I've ever done. They were great."
Greg Turner retired his Peugeot 206 with accelerator issues. "There seems to be some sort of power delay when pressing the accelerator and getting a response from the engine," he explained, before clarifying, "it's like turbo lag – but we don't have a turbo!"
Young Johnnie MacKay had a change of scenery at Knockhill. Instead of sitting in the driving seat of his 1 litre Micra, the 14-17 year old Junior series contender was in the co-driver's seat. Not only that he was sitting beside experienced co-driver Michael Cruickshank who had swapped roles for the day. The duo finished 35th overall and 3rd in class despite bursting the radiator on a trackside tractor tyre, but Johnnie was saying that he will have a new car for this year's series, a Harry Hockly built Toyota Aygo. His first outing in the new machine will be at Ingliston in April. Meanwhile, Johnnie's Dad, John, was having his first taste of rally driving in another 1 litre Micra in which he finished 42nd overall and 7th in class.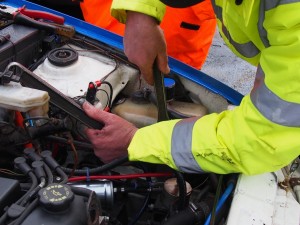 Graeme Rintoul had a problem with his Fiesta when the blow-back oil pipe came off the catch tank but co-driver Jim Rintoul was up to the challenge. Not for him a multi-drawered Snap-On toolbox cabinet with shiny sockets and ratchets, ring spanners and pliers. Nope. He had two huge adjustables and a hammer in his toolbox. It looked more like a torturer's bag of tricks than a mechanic's toolbox and more suited to making threats that making repairs. Whatever, it worked, and the nuts were duly tightened and the oil contained. Maybe we should have sent him over to sort out Carin's Peugeot … see next story …
Carin Logan had a miserable day at Knockhill. The wee Peugeot 106 was behaving rather badly. The thing started up and drove round the paddock and down to the stage start like a well behaved wee beastie. Then when it got on to the track, it spat out the dummy and lapsed on to three cylinders, hampering Carin's progress around the track. Faither 'Ginge' tried everything to get the thing to run properly and it just as stubbornly defied all efforts. They changed the plugs, the wiring and the ECU. Even plugging in the diagnostics computer failed to spot anything untoward, and each time the car was fired up and sent off to do battle with the tarmac it behaved perfectly – till it got out of sight then refused to join the rally party. This prompted one bystander to offer the explanation that perhaps the temperamental device was a getaway car in a past life and hates the Polis. Carin of course, is the Polis!
Apparently if I use the word 'Twwaatt' and spell it this way, certain folks within his circle of family and friends will immediately know who is being talked about. Anyway, this wise old sage had a theory about the outcome of the rally, i.e. Newby versus Kirkaldy. It was based on the direction each stage was being run, more specifically the use of the hill gravelly/concrete section followed by the tarmac circuit laps and vice versa. I won't reveal this sage's real name, but Alan reckoned that the RWD Escort was at a disadvantage when the hill section was used first as it didn't allow time for the tyres to get properly warmed up whereas a couple of laps of the circuit would get tyres up to operating temperature before the hill section where they would provide much better grip. That theory seem to be supported by the times with both drivers eaksy-peaksy most of the day, Newby faster on the hill and Kirkaldy faster on the circuit. Wondering if Mr Paterson was tugging my wire I asked both Arron and Alan if there was any merit in his theory and both reckoned there might be some truth in it after all. See, you learn something new every day.
And finally ….
Rallying can be dangerous, we all know that, but other pursuits can be dangerous too. Like cooking. Just ask Joe Pringle. He was competing in his Vauxhall Corsa at the weekend but with bandaged left hand. He was regaling anyone who would listen with his tales of bravery and heroism because he wouldn't let the injury stop him competing. Mind you his claims of burning his hand on the turbocharger may have fooled some folk, but not all. The Corsa doesn't have a turbo. Nope, if truth be told, the cause of Joe's injury was rather more domestic than dramatic. After cooking his bacon and sausages for breakfast, he was pouring the fat out of the frying pan into a tin can when it splattered and splashed his left hand. Still, he has to be applauded for his environmental concerns because a lot of folk would just have tipped the fat into a rubbish bin, but Joe wanted to dispose of it properly. Anyway, the duty Doc was called over and he dressed the injury telling Joe to change the dressing regularly during the week, and he classed it as a 'minor injury'. Joe said it was nothing of the sort, he was much too old to be a minor!