… Champ Decider …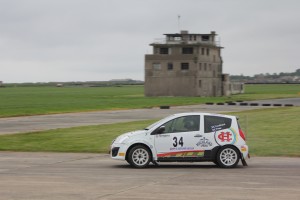 The final round of the 2016 Blackwood Plant Hire Scottish Tarmack Rally Championship takes place this Saturday at Crail when Glenrothes MSC host the Kingdom Stages. They've got a full entry of 100 cars and crews who will contest 6 Special Stages the first of which will get underway at 08.30 hrs.
The entry is not just quantity, there's quality aplenty and any pre-event predictions will have to resort to black magic to work out the computations. Apparently, any one of 6 or 7 drivers could lift the title, and I say 'apparently' cos I haven't got the foggiest idea how to work out the points.
In this championship, points are awarded on a class based system with the best 6 scores from 9 counting, but there is a bonus of 2 points just for starting an event and if a class is not full then less points are awarded.
I will take the championship organisers' word that this is a fair and equitable system as it gives everyone a fair chance whether campaigning a 1400 Nova or ex works World car, but since I failed maths and algebra at school and can't use a slide rule, nor do I have access to Harry Potter's homework Spell Book, I haven't the faintest idea how to work this out. I would have more chance of finding out who Santa Claus really is than guessing who will be Scottish Tarmack Champion this weekend. So if you want to find out who wins, turn up at Crail or read the final report here!
Anyway, here is the championship leaderboard:
STRC Top Ten:
1, Kenneth Moore (Hillman Avenger) 2000cc, Class 3, 113 pts
2, John Marshall (Subaru Impreza) 2000cc, 5, 109 pts
3, Sean Robson (Citroen C2R2 MAX) 1592cc, 2, 104 pts
4, Steven Hay (Vauxhall Corsa) 1389cc, 1, 101 pts
5, Stuart Walker (Skoda Fabia) 1997cc, 3, 99 pts
6, Neil Thompson (Vauxhall Corsa Kit Car) 1598cc, 2, 97 pts
7, Gareth White (Peugeot 208 R2) 1598cc, 2, 96 pts
8, Stephen Thompson (Ford Escort) 1800cc, 3, 95 pts
9, Alan Wallace (Mitsubishi Evo 6) 1998cc, 5, 92 pts
10, Gary Adam (Ford Escort Mk2) 2500cc, 4, 85 pts
Full Kingdom Stages Entry List:
2, Arron Newby/Gary Tomlinson (Subaru Impreza) 1998cc, Class 5
3, Alistair Inglis/Colin Inglis (Lotus Exige) 2188, 4
4, John Marshall/Scott Crawford (Subaru Impreza) 2000, 5
5, Gary Adam/Connor Adam (Ford Escort Mk2) 2500, 4
6, Alan Kirkaldy/Peter Carstairs (Ford Escort) 2500, 4
7, Donnie MacDonald/Rebecca MacDonald (Mitsubishi Lancer Evo9) 2000, 5
8, John Paterson/Craig Wallace (Ford Escort Mk2) 2500, 4
9, Nigel Feeney/Carolyn Graves (Subaru Impreza) 1998, 5
11, Alan Gardiner/Alan Todd (Ford Escort Mk1) 2500, 4
12, Colin Gemmell/Derek Keir (Subaru Impreza) 1998, 5
13, Ian Forgan/Kathryn Forgan (Subaru Impreza) 2000, 5
14, Ian Paterson/Heather Grisedale (Subaru N10) 1995, 5
15, Ross Marshall/Barry McKenna (Ford Escort) 2000, 3
16, Stuart Walker/Lewis Brown (Skoda S2000) 1950, 3
17, Steven Clark/Andrew McGregor (Mitsubishi EVO 5) 2000, 5
18, Stephen Thompson/David Crosbie (Ford Escort Mk2) 1800, 3
19, Russell Mann/Dan Forsyth (Mitsubishi Lancer EVO9) 2000, 5
20, Ian Archer/Serena Archer (Mitsubishi Evo9) 2000, 5
21, Kenny Moore/Dick Wardle (Hillman Avenger) 1998, 3
22, Stuart Paterson/Allan Paterson (Subaru Impreza) 1998, 5
23, Chris McCallum/Peter McCallum (Ford Escort Mk 2) 1998, 3
24, Iain Sanderson/Kyle Dodds (Ford Escort) 1998, 3
25, Neil Thompson/Niall Frost (Vauxhall Corsa Kit Car) 1600, 2
26, Euan MacKay/Rory Fraser (TBA) 0, 2
27, Sean Robson/Ben Diamond (Citroen C2R2 MAX ) 1598, 2
28, Gareth White/Harry Marchbank (Peugeot 208 R2 Vti) 1598, 2
29, Billy Laidlaw/Ian Crosbie (Peugeot 208 R2 VTI) 1598, 2
30, Graeme Schoneville/Scott Erskine (Honda Civic) 2000, 3
31, Iain Grubb/Jane Nicol (Peugeot 106) 1390, 1
32, Greg Inglis/Martin Forrest (Citroen C2 R2 MAX) 1600, 2
33, Roy Millar/Gary Voss (Vauxhall Astra) 1998, 3
34, Brian Watson/TBA (Mitsubishi Evo) 2000, 5
35, Derek Connell/Stuart McBride (Subaru Impreza) 1998, 5
36, Gordon Morrison/Derek Drynon (Subaru Impreza) 2000, 5
37, Graeme Rintoul/Jim Rintoul (Ford Fiesta) 1998, 3
38, Alan Wallace/Darren Robertson (Mitsubishi Lancer Evo 6) 1998, 5
39, Robert Marshall/Lewis MacDougall (Ford Escort Mk2) 1999, 3
40, Richard Sutherland/Jack Sutherland (Opel Manta) 1996, 3
41, Alex Adams/TBC (Ford Escort) 2100, 4
42, Des Campbell/Neil Clark (Peugeot 206) 1600, 2
43, Ross Carbry/Angus Lawrie (Vauxhall Corsa) 1400, 1
44, Donald Bowness/Ian Parker (Vauxhall Nova) 1600, 1
45, Scott McMinn/Amy McCubbin (Subaru Impreza) 1998, 5
46, Fergus Gray/James McDiarmid (BMW 130i) 2996, 4
47, Stuart Grant/Ian Fraser (Ford Escort Mk2) 2000, 3
49, George Ross Auld/Keith Fair (Ford Escort) 1998, 3
50, Michael Harbour/Ian MacDougall (Citroen, C2 R2 Max) 1600, 2
51, Ellya Gold/Jean Hay (Mitsubishi Evo 6) 1997, 5
52, Geoffrey Gallagher/Lee Gallagher (Mitsubishi Evo 8) 1998, 5
53, Lindsay Taylor/David Murie (Ford Fiesta ST150) 1999, 3
54, Gavin Lloyd/Gordon Clark (Vauxhall Nova) 1598, 2
55, Joe Pringle/Thomas Purvin (Vauxhall Corsa) 1600, 2
56, Adrian Stewart/Richard Simmonds (Peugeot 205 GTI) 1580, 2
57, Martin Murray/Peter Weall (Ford Escort Mk2) 2000, 3
58, Tom Middlemiss/Richard Stewart (TBC) 0, 5
59, Jamie Stewart/Simon Bailey (Peugeot 205 GTI) 1600, 2
60, Jamie Miller/Calum MacPherson (Vauxhall Nova) 1400, 1
61, John O'Kane/Meghan O'Kane (Ford Escort Mk2) 2000, 3
62, Greg Turner/Charley Sayer-Payne (Peugeot 206) 1596, 2
63, Ross McCallum/James Ralph (MG Maestro) 1998, 3
64, Drew Barker/Shona Hale (Vauxhall Corsa) 1389, 1
65, Colin Hay/Steven Brown (Vauxhall Corsa) 1389, 1
66, Colin Patterson/Gary Clark (Ford Escort) 2000, 3
67, Kevin Stout/Lynn Stout (Prodrive Impreza) 2000, 5
68, John Robertson/Violet Kydd (Ford Escort) 1998, 3
69, John Paterson/Scott Paterson (Vauxhall Corsa Kit Car) 1598, 2
70, Beefy Fraser/Fiona Moir (Hillman Avenger Tiger) 1600, 2
71, Kevin Burns/David Findlay (Mitsubishi Evo 3) 2000, 5
72, Iain Findlay/Ronnie Bowie (Vauxhall Astra) 1998, 3
73, Luke McLaren/Phil Kenny (Ford Fiesta ST) 1999, 3
74, Caroline Carslaw/TBA (Subaru Impreza STi) 1998, 5
75, Dave Cranston/Kelly Howe (Opel Astra) 1998, 3
76, Bob Irvine/Robert Cumming (Vauxhall Astra) 1994, 3
77, Stuart Millar/Alex Burns (Vauxhall Astra) 1998, 3
78, Gordon McElrath/Colin Smith (Vauxhall Chevette) 1998, 3
79, Ian Shiells/Nicola Ritchie (BMW 318 Compact) 2793, 4
80, Craig MacIvor/Allan Smith (Mitsubishi Lancer Evo 8) 2000, 5
81, James Campbell/Kevin MacIver (Peugeot 106 S16) 1600, 2
82, Eamonn Kilmurray/Derek Cassells (Suzuki Swift GTi) 1316, 1
83, Martyn Douglas/Brian Pringle (Subaru Impreza) 2000, 3
84, George Fell/Lois Fell (Ford Puma) 1600, 2
86, David McLoughlin/Graham Robertson (Peugeot 205) 1600, 2
87, Mike Connon/Euan Mitchell (Honda Civic) 2000, 3
88, Archie MacCallum/Robin Nicolson (Vauxhall Corsa) 1400, 1
89, Roy Ness/Drew Forbes (Ford Fiesta ST150) 1998, 3
90, Gary McDermaid/Douglas Orr (Peugeot 106) 1578, 2
91, Philip Jeffress/Kenny More (Peugeot 206) 1997, 3
92, Derek Masterton/TBA (Vauxhall Corsa) 1998, 3
93, Gavin Gray/Colin MacKay (Citroen ZX Mi16) 1905, 3
94, Kevin Paris/George Paris (Subaru Impreza) 2000, 5
95, Paul Watson/Graham Rieu-Clarke (Audi TT) 1798, 5
96, Katie Stimpson/Alan Cowan (Vauxhall Astra) 1998, 3
97, Alan Stark/Greg Stark (Peugeot 205 GTi) 1600, 2
98, Andrew Gray/Robert Wood (Peugeot 206) 1997, 3
99, Garry Coutts/Mark Connon (Ford Fiesta) 1596, 2
100, Allan Watt/James Strachan (Peugeot 106) 1592, 2
101, Iain Wilson/Keith Riddick (Subaru Impreza) 2000, 5
102, Stuart Baillie/Ross Hynd (Mitsubishi Evo 3) 1997, 5
103, Joe McQuillan/Sean Donnelly (Mitsubishi EVO9) 1995, 5