… Mull Rally – Leg 3 …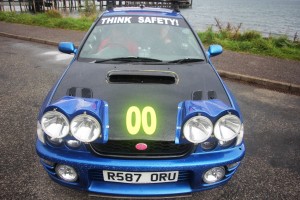 It was almost dry for the start of the final Leg with MacCrone's lead having been reduced to 36 seconds, and still 50 miles to go, but there was no sign of Jonathan Mounsey. Lying fifth after the afternoon run, the Mitsubishi failed to show up for the re-start. Nobody is quite sure why. Perhaps Darren Moon had an answer when he observed: "It's like starting another rally tonight – and we've already done two." And that wise old sage, Brian 'The Sheriff' Watson made another observation: "You know, just one bad moment can put you off for the rest of the stage. That's the challenge. Getting back on it."
There was no need to tell the top two that of course. Duffy continued to pull back a few seconds each stage, but MacCrone had a major piece of good fortune. Although a driveshaft broke on the penultimate stage, it was near the end and he was able to reach service and repairs in Craignure before the final push.
Not so lucky were David Bogie and Lewis Gallagher. Gallagher's gallant run came to a cruel end when the fuel pump overheated while he sat in the queue waiting to start the Scridain test and that was him. Adding insult to injury, when the unit had cooled down, the engine fired up and he drove home. Bogie's disappearance was rather more dramatic. He had been experiencing wiper motor problems and on the Loch Tuath stretch, he slid straight on at a Left 1 which followed a Left 2. No damage, but the Escort sunk to its rear axle in peat.
"There was a patch of shiny tar on the turn-in," said David, "the front wheels gripped ok and the car turned-in, but when the rear wheels hit it, they were gone. The tail instantly slid out and we ended up, back first in a ditch. No damage, but stuck. There's not a mark on the car." However, David's pace made onlookers have a serious re-think. This was his first time contesting Mull and in a RWD car, so it just showed what a good driver can on his own Notes up against the locals. On that basis, there's hope for all non-islanders yet. You have to go back to 2002 when a non-islander last won this event, and that was Daniel Harper in Evo6 with Neil MacKinnon 2nd and Calum Duffy 3rd.
Shaun Sinclair was much more fortunate. The Lancer's rear diff broke as he approached the end of the penultimate test and was able to clatter his way into service and have it replaced.
Not so lucky was Brian Pringle in the Subaru: "We were just approaching Ulva school on the first stage of the night when all of a sudden there were no gears and lots of noise."
What's worse than going off a mile into the first stage of any rally? Surely going off with a mile to go in the last stage. That's what happened to Brian Watson: "I went off at Christmas Tree corner. It was left 2 over crest, but it tightened. I had the choice of trying to make it and maybe rolling or go straight off and save the car. At 100mph, I chose straight off. I was tired. There was a long delay at the start of the stage and I should have settled for 19th overall but there was only 10 seconds between me and 18th."
There was bigger drama on the final stage when 11th placed Doug Weir and Linda Brown crashed out of the running and the stage had to be stopped to extract the crew. This caused quite a delay and once the safety of the crew had been assured the organisers and especially the marshals worked heroically to ensure that the stage was not cancelled. For some folk it would have been too easy just to cancel the stage, so full marks to the team for that one. Even some of the later crews who were waiting for up to 2 hours on a cauld, dreich night appreciated their efforts.
Which left the simple matter of winning to be decided between two drivers. Duffy had reduced MacCrone's advantage to 18 seconds by the start of the final stage – which was 15 miles long.
As things turned out, it was too big an ask: "I gave it a go," said Duffy, "but I cooked the tyres half way through." Nevertheless he had cut the winner's margin to 10 seconds at the finish.
Relief and satisfaction were tempered with raw emotion at the finish line in Ledaig car park in Tobermory as MacCrone sat in the car for long moments with his head in his hands. The marshals and spectators stood back respectfully as the hot metal ticked and cooled. A year on from the tragic accident which claimed the life of friend and co-driver Andrew Mort this was an exceptionally poignant experience for MacCrone. A comforting hand on his arm from co-driver Stuart Loudon steadied the crew before John selected first gear and pulled the car forward to line up beside the Duffy Skoda. As John stepped out of the car, Calum and Iain were there to embrace him. Rivals for sure, but the men from Dervaig are friends first and foremost.
It wasn't only a fair sporting result, it was the right result, especially after what had happened 12 months ago. "This one's for 'Morty'," said MacCrone.
Results after 18 (of 18) stages:
1, John MacCrone/Stuart Louden (Ford Fiesta R5) 2h 19m 32s
2, Calum Duffy/Iain Duffy (Skoda Fabia) 2h 19m 42s
3, Derek McGeehan/Arthur Kierans (Mini WRC) 2h 28m 25s
4, Shaun Sinclair/Neil Shanks (Mitsubishi Lancer Evo10) 2h 31m 04s
5, Matt Tarbutt/Joff Haigh (Subaru Impreza) 2h 34m 23s
6, Alan Gardiner/Jane Nicol (Ford Escort Mk1) 2h 39m 12s
7, Donnie MacDonald.Ashleigh Will (Mitsubishi Lancer Evo9) 2h 39m 17s
8, Chris Haigh/Sally Peacock (Ford Escort Mk1) 2h 39m 20s
9, John Rintoul/Ross Hynd (Hyundai Accent WRC) 2h 39m 23s
10, John Cressey/Martin Cressey (BMW MINI) 2h 39m 35s
Class A: James Hall/Caroline Lodge (Proton Compact)
Class B: Fergus Barlow/Alasdair MacCrone (Ford Fiesta R2)
Class C: Chris Haigh/Sally Peacock (Ford Escort Mk1)
Class D: John MacCrone/Stuart Loudon (Ford Fiesta R5)
Leg 1 – Report
Leg 2 – Report
Class roundup – Report
News & Gossip – Murmurs