… Galloway Hills News & Blethers …
There was one worrying incident during the Galloway Hills Rally when three competitors all spotted what looked like a Marshal with a bib and who was carrying a yellow flag. They all slowed up expecting some additional warning or incident around the next corner. There wasn't, it was most puzzling. All three were later awarded Notional times, but the identity of the culprit remains a mystery. Needless to say he/she was not a genuine Rally Official and real rally followers should be on the look-out for such eedjits – and have a word!
He doesn't make it easy for himself, does he? But just weeks after dropping a man-hole cover on his toes and injuring his shoulder falling off a mountain bike weeks before that, Jock Armstrong was in the wars again ahead of his home event. He came off his bike (again!) and took the skin off his upper right thigh. he didn't break anything this time but it was tender and painful. His sister Barbara was extremely sympathetic (as usual!) telling him: "You're not 20 any more," before realising he wasn't paying the slightest bit of interest, "It's like talking to a brick wall!"
Makes you wonder if there is anything in this 'Holy Socks' business, but Jock and Paula had new socks courtesy of their long time rally team supporter. For this event Holy Socks had come up with a pair for Jock incorporating wheels in the design while Paula's had little angels. Before the rally they each swapped a sock so they both had a wheel on one foot and an angel on the other. Lucky socks? Perhaps things might have turned out differently had Garry and Robbie been wearing Holy Socks too. Whatever, what was really nice to see was both Garry and Robbie waiting at the rally finish in Castle Douglas for Jock and Paula to finish the rally and claim the championship title, and were amongst the first to congratulate the victors. A credit to the sport. Nice one, you two!
Mike Faulkner has his entry in for the Rally Wales National event: "Got to go for three, eh?" he quipped, having won the Rally Wales National event for the past two years. Trouble is, it's budget dependent and he's not quite there yet.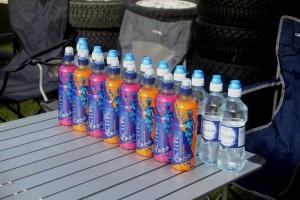 Third placed Mark McCulloch's times in the morning were slow compared to his afternoon pace after the service crew almost force-fed him energy drinks at service: "I didn't get to bed till 2.30 am last night," said Mark, "just after scrutineering the car developed a misfire and it took us till then to fix it after finding dirt in one of the injectors. Then I was up again at 6.30 am to get ready for the rally. The team have been forcing energy drink down me all morning."
First time out in a Subaru Impreza WRC, ex-works Volkswagen Golf driver and Northern Ireland Rally Champion (in 2000) Robin Phillips heaved a big sigh of relief at the rally finish when he and his daughter Laura finished in 33rd place overall. "I'm just so pleased we're back here in one piece," said Robin, "Laura is getting married to Joe (Brown) next Friday back home in County Down. We couldn't afford to miss that!"
Having moved up from a Peugeot 205 to a Ford Fiesta ST, Luke McLaren is still adjusting to more power and better handling and so he took himself off for a weekend to Wales the week before the Galloway Hills. And where did he go? He went to David Higgins' Rally School. Did it help? "We'll see tomorrow," said Luke at pre-event signing-on, "I took my own car down and David suggested softening it up a bit, but didn't change anything else. He was really good with advice too. We did 6 runs at the test day today practicing what I was taught." A class win shows he's on the right track.
An interested spectator in Galloway was 18 year old Ally Currie. He'll be 19 on the weekend of this year's Mull Rally which he first contested after an awfy struggle to get his licence in time for his 2014 debut event. Remember, he went to the Isle of Man to sit his test at 16 then got his BARS test just before Mull (and passed) and debuted his self-built Peugeot on the rally. Sadly he's had to withdraw his entry, his left arm is in a sling: "I had an accident at work last week," he said, "I cut the tendons in my left hand and it's to be strapped up for 3 months. I've had to pull my entry for both the Manx and Mull. I'm just seeck!" Mind you, John MacCrone put a smile on his face when he took him for a birl at the test day stage in the R5. Nice one J Mac.
Speaking of injuries, Donald Peacock (Snr) who is supposed to be more intelligent than Scott Peacock (Jnr) was hirpling about before the rally and was reluctant to offer up any explanation. Eventually it came out, in dribs and drabs, and only after a certain 'Motorsport News' reporter admitted that he too was suffering having fallen at home earlier in the week. Thereafter the twa auld codgers were spotted in Ryan's Cafe comparing and bemoaning injuries and the fussing and tutting that wives make! Apparently he fell off the back of a lorry at work while MN's finest missed all the stairs on his patio running to answer the phone and stretched his length on the tarmac driveway. Trouble was it was a big lorry, and Donald was up a ladder at the time – and it slipped. "I've chipped a bone in my left elbow," he explained, "I can get first and 2nd gear OK, 3rd and 4th are a struggle, but Scott (co-driver) has to push it into 5th for me!" Adding: "It was my own stupid fault, if I had seen one of my staff doing it, I'd have given them an awfy row."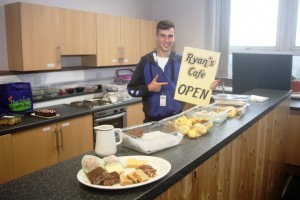 If you don't know what or where Ryan's Cafe is, it appears for one day only at rally time in Castle Douglas. Ex rally driver Ryan Weston is the genial host and he dispenses teas and coffees and home baking. Whilst warm and wet, the teas and coffees are hard to tell apart, but when it's cauld and miserable outside, any hot drink is welcome. Anyway, the highlight of the cafe is the home baking with the local car club's wives and girlfriends donating a huge and feastly variety of cakes and tray bakes for competitors at signing-on. And there's one other attraction, it's all free. Lovely biscuits!
Thomas Gray appeared at service minus a driver's door mirror, but innocently claimed: "I didn't hit anything." However, his co-driver Dave Robson volunteered the view that there was 'green forensic evidence' in the shattered mirror stump to suggest otherwise.
Last month, Bill Davidson was credited with Quote of the Month at the end of the Grampian Stages when he said: "Rallying? I'd be cheaper being an alcoholic." Well, he's done it again. Having thoroughly enjoyed himself, he arrived at the finish in Galloway, seventh in class, and came up with: "Ah'll stay oot o' the auld folks home a wee while yet."
Iain MacIver was asked what young Craig was up to now that he has graduated from the 14-17 year old Junior Rally introductory series. He actually competed in a couple of events in a Ford Fiesta ST till his Dad noticed that there was paint on his crash hat and asked: "Where did that come from?" Craig admitted his head was rubbing on the roof and roll-cage of the car. The car has now been sold and future rally plans are under review. Iain added: "We really had no choice. He's 6ft 7in now. Just too big for the car, so it had to go." It's a concern that will face many parents as a visit to Kames at the weekend for the Junior Rally series confirmed, some of those sprightly young 14 year old weans who first got their hands on a 1 litre rally car have turned into strapping young men. I blame the pies in the Kames cafe.
And finally …
Speaking of Kames, the Clerk of the Course for the two day event was sporting a brand new one-piece waterproof suit on Saturday. It was fair teeming all day, and blustery with it, so ideal conditions to try out its claimed waterproof credentials. Late in the afternoon with the puddles spreading and the rain unrelenting, Gavin (we'll call him that to save his blushes) was heard to mutter: "I can feel wetness inside, running down my leg – I hope it's just sweat!"
**