… usedcarparts.co.uk Solway Coast Rally, Saturday 6th August …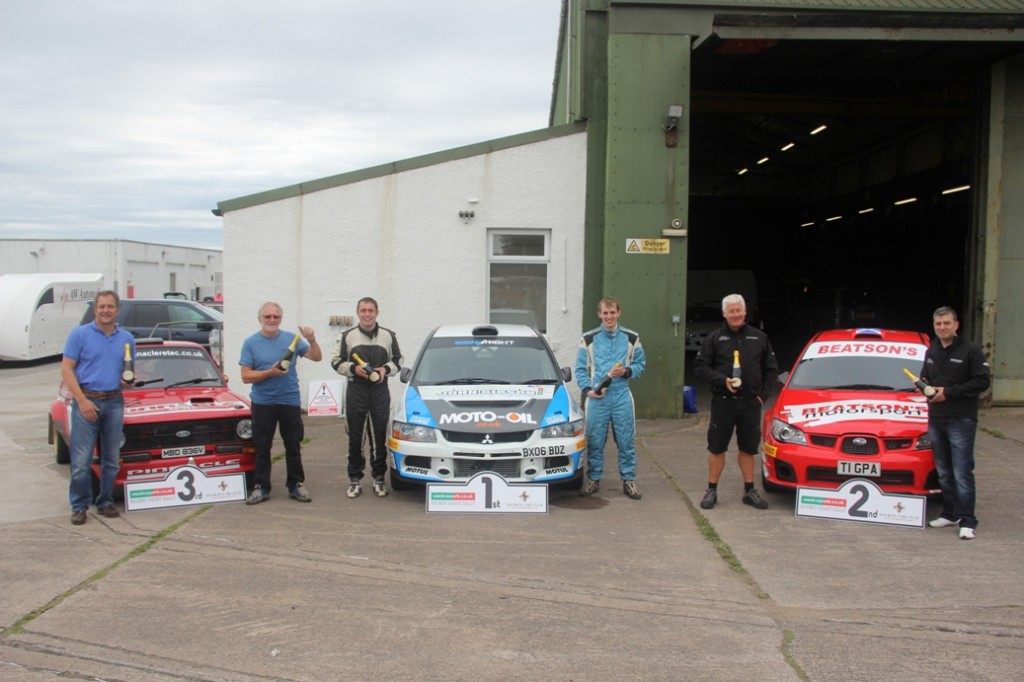 It was a case of 'Catch me if you can' at last weekend's 'usedcarparts.co.uk Solway Coast Rally', as Mark McCulloch and Michael Hendry made it look easy, with Mark scoring his fourth successive victory on this event in four years. Their winning margin of nearly 2 minutes didn't reflect the hectic pace that the top four set right from the start, but luck was with Mark for a change, and not with his rivals. Their troubles enabled John Marshall and Scott Crawford to snatch the runner-up spot from Gary and Gordon Adam.
Naturally there was a wee bit of skill involved in Mark's performance as well, but instead of the usual harsh luck, he did have a wee bit of good luck, when the Mitsubishi skelped a big bale mid way through the opening stage of the day. There was no damage and minimal time loss and he was still 5 seconds quicker than the Subaru of David Hardie co-driven as usual by Mark's Dad, John McCulloch. Initially, it looked as though Lee Hastings was up for the fight, equalling McCulloch's time in the first stage, but he was destined to strike trouble later.
Third quickest were Greg McKnight and Ian Paterson sharing a time just one second slower than Hardie's, but Ian reckoned he could have been quicker: "Mark hit a chicane bale and moved it, then I hit it further, so it's his fault," he smiled. Joking apart, the blue Subaru had a sore nose but no mechanical breakages. Less fortunate was Gary Adam, the Escort spinning off into a field costing him around 20 seconds or so, but no damage. It was Adam's first visit here and just confirmed to him that this place can bite, so a more cautious approach was required till he became a bit more familiar with the tricky terrain. It was to be a troubled event for Colin Gemmell too: "A turbo pipe blew off just after the stage start and I was able to pull over at the first Radio point and fix it, and get back out of the stage," said Colin.
It was straight into SS2 for the crews with McCulloch again hitting the front from Hardie and Hastings who were equal second quickest, 2 seconds ahead of McKnight, with Paterson a wee bit cautious till the car was fully checked over at first service, but still fourth quickest. Jim Sharp's Subaru was next to disappear from the fray: "No warning, it just started running on three cylinders," said Jim, "and I've just put a new turbo on it so I didn't want to risk it, and pulled over and retired."
Sadly, Lee Hastings' bid to do well on his local event ended with a clunk and a clatter from the Subaru's rear end. "I was just turning into the Ranges off the public road when it broke," said Lee, "a driveshaft broke and also took out the diff." That ensured McCulloch was quickest again on SS3, but so was Greg McKnight, equalling the leader's time, with Hardie 3 seconds slower and Ian Paterson back on full pace fourth quickest. Nigel Feeney's quick pace took a knock in here too: "I landed sideways over a jump and a rear tyre blew" said Nigel dropping 20 seconds on the leader's time.
Hardie fought back in the fourth test but could still only manage second quickest, although he narrowed the time difference to McCulloch to just 2 seconds this time. McKnight was again generating nods of approval from the more worthy (?) spectating die-hards with his third quickest time. Remember, this was only his second run out in a 4WD machine and his first time on tarmac with it. Paterson was still there as the crews entered second service with just 27 seconds covering the top four times.
Almost un-noticed by this four way fight was the duel for fifth place. After four stages, Stephen Thomson had a 3 second advantage over John Marshall, but he was lucky. "I just felt the car go 'dull' at the start of the stage," said Stephen, "and noticed the alternator light flickering, then a wire broke just as I was approaching the Finish." Lucky boy, eh?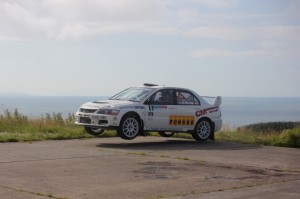 After the half way halt it all went wrong for McCulloch's pursuers. He was fastest over the fifth test from Paterson and Marshall. "That was a BIG spin," said David Hardie, recounting his 19 second stage time differential to the leader while young McKnight suffered a more heart breaking stoppage in his Mitsubishi: "A driveshaft just went bang on the start line," said a rueful Greg. Meanwhile Gary Adam in his Mk2 was closing the gap on Thompson's fifth placed 2 litre Mk2 and Nigel Feeney was fancying part of that action too. Rounding off the top six was Richard Dickson. First time out this year the old Subaru was making an impact on the top ten. This stage also accounted for Colin Gemmell. After his earlier turbo problem, he hit something in the grass verge and broke the front suspension.
McCulloch was out on his own on the sixth test when Ian Paterson struck trouble: "I hit a hole – and stuff broke," recounted Ian. The Subaru had struck a pot-hole on the inside of a left hander, and the jolt had broken the bottom suspension arm. Then came Hardie's turn, exiting the stage with a broken manifold. Marshall was second quickest from Dickson and Feeney ahead of Gary Adam. McCulloch may have been looking secure, but it was all to play for behind him.
In the penultimate test, four drivers beat the 7 minute barrier with McCulloch at the front. Feeney was second, with Marshall and Adam tying on third fastest, ahead of Dickson just 3 seconds over the minute, and then Murray Grierson popped in a quickie just 2 seconds down on Dickson's time. The Fiesta driver had been building up pace as he gained confidence in the new car proving that there might be snow on the roof, but the fire is still blazing down below.
No Hardie. This time it was more serious, the diff had gone and the Subaru was out.
Into the final stage and all McCulloch needed was a steady run: "With David gone, I just needed a clean run," said Mark, "I just took it canny." That was still enough for fastest time ahead of Marshall and Adam still scrapping away like a pair of prize bulls over a hot coo. This time it was Marshall who was lucky: "I finished the last stage with no clutch at all," said John, "we had to push it into position for the finish photographs." Feeney was quick too, just holding off Dickson by a second on that last stage with Thompson sixth quickest.
That meant McCulloch led the top six home comprising Marshall, Adam, Feeney, Dickson and Thompson. Steve Retchless was seventh despite his new car. "I got beat by a couple of youngsters last year," said Steve, "so I bought this (see News roundup), on the basis that the older you get, the more power you need!"
Grierson was happy enough with eighth and pleased with progress in the new car: "It's still not right, but I'm getting there," he said. Jim McDowall was ninth and Brian Watson made the top ten. McDowall might have done better had it not been for a diff failure earlier in the day: "That was fun, it was handling like a Mk2 Escort," said Jim. As for Watson, he was last seen arguing with James Gibb over the price of loaned parts and the transport of rally tyres to the venue – either that or they were just working up to settling it over a dram – or two. As if an excuse was needed!
Keith Riddick scored the 1400 class win in his MG with Stuart McBride taking second place by one second from Stephen Hay who had fought back from a driveshaft failure on the second stage. Gareth White was top 1600 in his Peugeot 208 ahead of Michael Harbour's Honda Civic while an exuberant drive in the yellow Avenger earned Alan Clark third in class.
In Sunday's Junior Rally, the visiting Irish drivers of Josh McErlean and Peter Bennett topped the 29 car entry with Ewan Tindall and Harry Chalmers upholding Scottish honour with third and fourth place. Early leader Finlay Retson broke a CWP and then Zak Hughes who took up the lead broke a driveshaft.
And that was the 36th Solway Coast Rally sponsored for the 36th time by the same company, DA Autoparts and now usedcarparts.co.uk. Thanks Richard, what a belter of a competition.
usedcarparts.co.uk Solway Coast Rally
Final Results:
1, Mark McCulloch/Michael Hendry (Mitsubishi Lancer Evo IX) 46m 36s
2, John Marshall/Scott Crawford (Subaru Impreza) +1:54
3, Gary Adam/Gordon Adam (Ford Escort Mk2) +2:23
4, Nigel Feeney/Abi Louden (Subaru Impreza) +2:28
5, Richard Dickson/Roger Alcorn (Subaru Impreza) +2:37
6, Stephen Thompson/David Crosbie (Ford Escort Mk2) +2:45
7, Steve Retchless/Iain Tullie (Ford Escort Mk2) +3:12
8, Murray Grierson/Mark Grierson (Ford Fiesta S2400) +3:15
9, Jim McDowall/Jamie McDowall (Subaru Impreza) 3:26
10, Brian Watson/Caroline Will (Mitsubishi EVO) +4:05
11, David Newall/Craig Wallace (Ford Escort Mk 2) +4:23
12, Stuart Paterson/Allan Paterson (Subaru Impreza) +4:29
13, Gareth White/Harry Marchbank (Peugeot 208 R2 Vti) +4:36
14, Robert Adamson/Jane Nicol (Ford Escort Mk2) +4:42
15, Derek Blyth/Nick Colman (Subaru Impreza) +5:53
16, Graham Bruce/Cameron Fair (Mitsubishi Evo IV) +6:05
17, Kenny Moore/Richard Wardle (Hillman Avenger) +6:07
18, Hamish Grant/Stewart Hurst (Ford Escort Mk2) +6:20
19, Keith Riddick/Mairi Riddick (MG ZR) +6:32
20, Robert Marshall/Lewis MacDougall (Ford Escort Mk2) +6:36
21, Scott McMinn/Ross Carbry (Subaru Impreza) +6:47
22, Michael Harbour/Thomas Mullen (Honda Civic) +6:49
23, Andrew Varley/Tony Bilham (Ford Escort Cosworth) +7:01
24, Alan Wallace/Darren Robertson (Mitsubishi Evo 6) +7:04
25, Willie Nelson/Craig Nelson (Subaru Impreza) +7:31
26, Richard Stewart/Carin Logan ( VW Polo S2000) +7:36
27, Iain Wilson/Mark Fisher (Subaru Impreza) +8:01
28, Stuart McBride/Daniel Hurst (Vauxhall Nova) +8:25
29, Steven Hay/Steven Brown (Vauxhall Corsa) +8:26
30, Stevie Hope/Louise Hope (Ford Escort Mk ) +8:39
Class 1: Keith Riddick/Mairi Riddick (MG ZR) 53m 08s
Class 2: Gareth White/Harry Marchbank (Peugeot 208 R2 Vti) 51m 12s
Class 3: Stephen Thompson/David Crosbie (Ford Escort Mk2) 49m 21s
Class 4: Mark McCulloch/Michael Hendry (Mitsubishi Lancer Evo IX) 46m 36s
usedcarparts.co.uk Solway Coast Junior Rally
Final Results:
1, Josh McErlean/Tommy McErlean (Peugeot 107) 52:14
2, Peter Bennett/Andrew Bushe (Skoda Citigo) +00:11
3, Ewan Tindall/Paul Hudson (Citroen C1) +01:37
4, Harry Chalmers/Steven Brown (VW UP!) +01:55
5, Tommi Meadows/Gareth Hooper (Nissan Micra) +02:27
6, Jude MacDonald/Michael Cruickshank (Nissan Micra) +02:52
7, Johnnie Mackay/Gordon Reid (Nissan Micra) +04:19
8, Gethin Sharp/Heather Merrison (Toyota Yaris) +04:32
9, Alex Holliday/Joe Taylor (Nissan Micra) +04:41
10, Josh Hislop/Ellya Gold (Peugeot 107) +05:12
Round up of information from the Classes: [Classes Roundup]
For all the news and gossip from Solway: [News & Blethers]
**