… Rally Future II …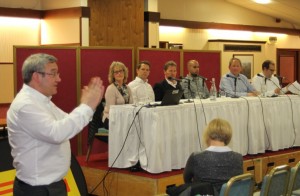 Ahead of last weekend's Pirelli Rally at Carlisle, the Association of North Eastern Car Clubs (ANECC) hosted the latest in a series of Rally Future seminars that the MSA is conducting around the country. Around 100 folk turned up, but I couldn't help feeling a bit sorry for special guests Malcolm Wilson and David Bogie. If they thought they were turning up for a night of frivolity and fun they were in for a disappointment. There wasn't much to giggle about during this presentation.
This was not a night for entertainment, this was the MSA bringing events, organisers, clubs and volunteers up to date with a report on progress being made under the new compulsory rally regulations introduced at the end of last year.
Ronnie Sandham, ANECC Rallies Committee delegate, introduced the panel comprising chairman Andrew Wheatley (Business Development Manager at M-Sport), Sue Sanders (Motorsport Safety & Training Manager), Alan Page (Training Executive), Nicky Moffitt (Vice-Chairman of MSA Council and inaugural Safety Delegate) and the newly appointed Director of Development, Jonathan Day, the former Cycle Sport Manager at British Cycling, who apparently made a timely departure from cycling ahead of its latest drugs, cheating and sexism row – my description not his! Malcolm Wilson and David Bogie completed the panel line-up.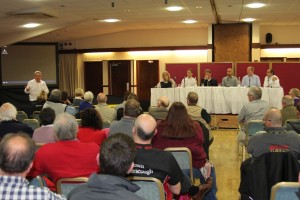 Sue Sanders got the show underway with an overview of where the sport was, where it had reached now and where it was going. She also reminded the gathering what instigated such radical change, the fatal accident to a rally spectator three years ago and three further fatalities to two media personnel and a friend who was travelling with them two years ago on another stage rally. That was when the Scottish Government stepped in with the MESR (Motor Sport Event Safety Review) now called Rally Future. The problems were further highlighted with a couple of video films including some scary bits which emphasised why we were all here.
She reported that great progress had been made in achieving the 29 recommendations required by the MESR, but that the sport was still in an interim phase and more work needed to be done. In June last year, the MSA published a support document on stage safety requirements, updated in January of this year, which all clubs must use. The roles and responsibilities of safety cars, including zero cars and sweeper cars, have also been updated as of January this year.
This will be supplemented/superseded by an addendum, based on experience so far and additional issues which have had to be resolved, and will be issued shortly. This process will be ongoing and organisers can expect further updates and 'addendums' as and when required.
Typical of such addendums is new advice to spectators who happen to be at the scene of an incident or accident. In the initial Government report, there was a requirement that spectators should not assist rally crews if a car had gone off or rolled as this might put them in danger. That request has been modified to allow such outside assistance as long as care is exercised and a 'spotter' is tasked to warn of advancing cars and to signal a warning to oncoming cars. Hopefully such common sense will continue to be exercised and the Rally Guide amended.
The previous weekend, the MSA had conducted a 'safety car workshop' for 55 delegates as part of their ongoing commitment to training senior rally officials and reminded event organisers that the MSA will provide a grant of up to 80% for the cost of new safety signage and safety/barrier tape.
However, Government and the MSA are very well pleased and greatly encouraged with the response and enthusiasm of the clubs and volunteers throughout the country so far. Sue also praised the Forestry Commission for their positive and helpful attitude to event organisers, such as making clearings for spectators to improve viewing and providing pathways for access.
Nicky Moffitt, who was tasked with defining the role of Safety Delegate and worked with the Scottish car clubs last year, reported that 11 Safety Delegates had been appointed and were now working with organising teams in England and Wales. This is another role that has not been completely defined, the role of the Safety delegate will also evolve to meet the needs of the sport and events.
It was also confirmed that there is no right of appeal against a Safety Delegate's decision, but Nicky hoped that compromises could always be reached between what the SD wanted and the organising team had planned. As long as the SD is involved in event planning from the start then any problem areas can be identified and a appropriate action taken beforehand. Prior to each event, the SD will need to have a run around the route with a senior official and then run ahead of the event on the day of the rally, about 20 minutes in front of the first car, to ensure that all officials and marshals are in place, radio and medic crews sited safely and spectators gathered in appropriate locations. "We realise that this means everyone will need to be in position a bit earlier than in the past," said Nicky, "we don't really want to have to stop for a chat, just check that everyone is in place and ensure that the running of the rally is not delayed."
"We are aware that 'dynamic decisions' may have to be made on the day depending on circumstances," said Nicky, adding, "so far this year, no stages have had to be cancelled."
Nicky was also at pains to point out that the matter of 'standardisation' is being addressed to ensure that all SDs work towards a common standard so that senior rally officials know what to expect and what is acceptable. "The appointment of an SD requires a change of culture and we all have to adapt and adopt," added Nicky, and then paid tribute to the sport's "exceptional volunteers" and urged them all to take the on-line training.
Last year was very difficult, but Nicky was full of praise for all the clubs and teams he worked with: "There is a wealth of talented people out there and working with them has been an enriching experience for me. It was a privilege and an honour to work with this rich vein of knowledge and experience and we all learned from the process. That is what is being implemented across the UK now. This work will continue, for several years."
Jonathan Day added: "The sport requires a cultural shift. Starting is always the hardest part but things will adapt and evolve. That's why these sessions and forums are essential – to report on work done so far and to listen and consult with organisers. We will take this information back and review what's in place. Training and communications need to improve and we are working on that too. Spectators also have a collective responsibility. They have chosen to be there, and we have to manage that a bit better."
Part of Jonathan's role is training officials and marshals along with Alan Page: "On-line training is a good start, but it has its limitations, although it does allow the MSA to track and monitor progress and provide direct access to those interested."
This was a point taken up by Alan Page who admitted that: "Not everyone can access on-line training, so we are moving on to Phase 2 to broaden access. For instance, club nights could be used whereby someone brings along a laptop or three and gets a group to do it as a club session. Phase 3 is to turn the on-line training into a Powerpoint presentation for 'old style' talk sessions."
He added: "We do recognise that there will be an attrition rate for those who simply refuse to go down this registration route (he meant the grumpy auld gits and the stick-in-the-muds – but was too polite to say so – Ed). The best place to learn is still on-event, perhaps with a mentor. On-line training is good but only as a starting point."
He also revealed that since the launch of the on-line Marshal's Accreditation scheme in January, 3643 people have engaged with it. Of that, 1300 are new marshals to the MSA (including some Media personnel and competitors) compared with a total of just over 2000 who were registered with the MSA last year.
When asked how many Marshals they hoped to recruit, Alan was reluctant to put a number on it, but when pressed said: "5000 would be good, although more would be better, but 5000 would allow me to get a full night's sleep!"
The discussion was then thrown open to the floor and a number of points were raised including the issue of promotion. It was suggested that other sports make a better job of selling themselves to the public and informing interested parties where to get help. The example of car clubs putting up their own banners at events and stages on which they marshalled was a good way of generating local interest but that the MSA was failing to promote the sport more generally. Perhaps they could produce a range of "MSAUK.org" banners so that people can be directed to find further information. The creation of spectator areas at events would therefore provide an ideal place for these banners. Marshals could also be issued with small business card sized (as opposed to leaflets) cards containing details of where to get more information which could be given to any spectator expressing an interest in finding out more about the sport.
This has always been a problem with rallying and car clubs. The sport doesn't have established centres like motor racers have circuits and very few clubs have their own permanent office so there is nowhere obvious the public can go to find out more information, unlike footballers, golfers, swimmers, bowlers or athletes, or in fact most other sports and activities. That means rallying has to work twice as hard to attract interest.
Of more concern to some of the delegates was the issue of personal responsibility and insurance, given the public's growing appetite for pursuing legal action if things go wrong. The panel were at pains to ensure that all officials are covered by their event insurance scheme and that they would vigorously defend their volunteer officials. If they have wrongly advised a spectator, but with the best of intentions, they are protected and covered if something goes wrong. If First Aid is attempted then the courts will recognise that people want to help and not just stand by and do nothing for fear of redress by families and relatives, but should act within their level of training, i.e first aiders shouldn't attempt open heart surgery.
It was also suggested that competitors should receive some basic first aid instruction as they are often the first people on the scene of an accident. Mull last year proved the value of such training as the organisers had included that in the competitors' briefing.
The question of 'Media access' was also raised, but this could fill an article on its own. Suffice to say the scheme the MSA has come up with is far from ideal, but this too is under review so hopefully outstanding issues can be resolved.
This turmoil and increased workload arose out of a number of serious accidents which resulted in injury and fatality to spectators, and perhaps also, out of a degree of complacency which had crept in to the sport. Many of us have grown up with the sport and what was acceptable in the past is no longer acceptable now.
So perhaps the final words should be left to those who know the risks best of all as Andrew turned to the 'star' guests, Malcolm and David for comment and insight.
With his concentration on WRC matters Malcolm was quite unaware of the full extent of the changes being inflicted on British rallying and was rather surprised at what now needs to be done by volunteer teams willing to stage modern day stage rallies. He did agree however that the sport needs to evolve and adapt given the progression of technological change and increasing sophistication of modern day rally cars.
He said many things have changed since his early days of competition, especially in the car side. "Going back to 70s and 80s, we used standard cars which had been modified, rather than cars which are now purpose built," he said, "we didn't have trick suspension and lots of grip, so when accidents happened they happened more progressively, but with the technology in current cars with improved traction and tyres,, you have so much more grip that when you do lose it, you lose it suddenly, so the accident happens much quicker."
"This has been an eye-opener to me tonight, what is happening here, although the WRC has been doing it too. Micehlle Mouton has been appointed the Safety Delegate checking routes and spectator safety, and driver and crew safety. Crews are a lot happier now that Michelle is working with their interests and spectator interests at heart."
From a driving point of view David Bogie admitted: "I'm a passenger at least 5 times on each rally." This was said with a hint of humour but the point was made, that spectators and officials cannot always guarantee that the driver they are watching is in total control at all times! "There are always spectators who stand in silly places and all drivers have to be aware of that." At the prompting of Andrew Wheatley who asked if drivers speed up when they see a crowd, David smiled again: "Yes, it happens. Some drivers do try a wee bit harder when they see people standing," adding that, "today's spectators can be tomorrow's officials, marshals and competitors and so they have to encouraged and looked after, while trying to keep them safe."
Put it this way. If we don't get it right, Rally Future might well have to be re-named – Rally, What Future?
**