… DCC Stages … News & Blethers …
Jamie Smith's Ford Fiesta attracted a lot of attention at Ingliston. Not just the quality of the build but because of the Nissan 3 litre V6 under the bonnet. The car had been scheduled to appear at the Knockhill Stages earlier in the year but the oil pump failed and the engine poked a rod through the block. A new engine was installed and the equipe turned up at Ingliston only to have the power steering belt strip all its teeth off, leaving it smooth as a baby's bum. An absolute shame – it sounded minted till it was switched off.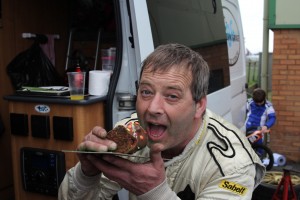 Tradition. Apparently it's a tradition in the Paterson household that when anyone has a birthday, they celebrate with a caterpillar cake. One would think this is for the wean's benefit. Not necessarily so. The adults participate wholeheartedly too. It was Ian's birthday at Ingliston and the remains of the caterpillar cake were there to see. But why a caterpillar cake? You can't put a lot of candles on it!
An inside story. Neil Thompson's power steering pump failed in the Corsa and he was having to heave the thing around the 'track of many corners' at Ingliston. For anyone who doubted a typical 'driver's excuse' co-driver Allan Cowan was able to confirm the problem: "I knew there was something wrong – I could hear the heavy breathing over the intercom."
Lucky white heather corner. Kenny Moore who runs the awfy smart Vauxhall engined two door Avenger GT is always on the look-out for spares and just happened across a mint Hillman Avenger driver's door recently which was purchased and duly put into stock. At Ingliston he had a bit of an argument with a bale and bent the door – the co-driver's door! "Just my luck," he muttered.
Peter Fleming posted an early retirement at Ingliston, retiring the Escort on the first stage with an alternator problem. "We've swapped the Toyota engine for a Bill Falconer built Vauxhall 1600," said Peter, "but in the rush to get ready we just put the Toyota alternator on it to save time, and it chucked the belt off. So it needs a Vauxhall alternator!" Even so, Peter was dead chuffed with the new engine: "With the flat-shift and sequential 'box it felt great. We had it in fifth on the back straight, 100 mph up there. It's the best it's ever been." At least somebody was happy despite the non-finish.
Young Craig MacIvor was looking down in the dumps at Ingliston. Having travelled all the way from Inverness, he didn't even make the rally start. The 1400cc Nissan Micra was in fine fettle as it passed though Scrutineering then on the drive down the hill to the service area the diff failed: "We thought it was just a driveshaft so we changed that," said Craig, "and only then discovered it was the diff. That's the second gearbox in two events!" Maw and Paw have been there before and just shook their heads. That's rallying.
Robbie Daly was a spectator at Ingliston following his 'off' on the Border Counties. The Peugeot 106 driver was contesting his first forest event and the car slid off on the second stage pushing the chassis leg back, so repairs are underway. His excuse? "I ran out of talent." He's in good company then, eh?
Tony Fleming was giving the family Peugeot 205 an airing at Ingliston with Chloe Fleming riding shotgun. That meant Chloe's Dad and Tony's younger brother, Grant, was on hand to man the spanners and dish out advice. When the starter motor failed at the end of SS6, the team tried to push start it – quite a few times, and with no result. The car stuttered and burped but wouldn't fire up. As a self proclaimed motor engineer, Grant was in the driving seat during this push-start business and after the first few futile attempts, a voice from the open driver's window of the car meekly asked: "Do you have to turn the ignition on to get it to start?" This from a man who runs an automotive service centre with 5 ramps. Dohhhh!
This weekend, there is a Juniors Test Day at Kames (Sat. 16th) and amongst those taking part is Alice Paterson – or perhaps not. She passed her ARDS test in February and is scheduled to make her rally debut in the Ecosse Junior series in her newly completed Peugeot 107 next month. There is just one wee hiccup on the horizon. Her Dad Stuart announced: "She'll no' be there unless she tidies her bedroom!" Alice retorted it was tidy and Stuart harrumphed at that. I asked her Dad what his room was like when he was her age. He said: "That was different, there were three of us sharing the same room." Shifting quickly from a position of defence and sensing an opportunity for attack, Alice took up the argument and gave vent to her opinion. Bright kid. Thinking discretion was the better part of valour I back pedalled outa there – but I'm still on Alice's side.
And finally …
As mentioned in the Class roundup, Susan Shanks drove her first stage rally for 12 years and finished 4th in class but the wee Peugeot was sporting a dented rear end. Spotting the damage and sensing a story I approached notebook and pen in hand. Bad move. She was already in verbal top gear as she jumped out of the car. Apparently another competitor had outbraked himself and bumped her rear end, her car's rear end that is, and she was not happy. Now, I have heard mechanics who have skinned their knuckles on engine blocks, dropped cars off trolley jacks on their toes and burnt their brand new ovies on hot exhausts curse and swear in pain and frustration. But nothing like this. I thought the awning over the Shanks Peugeot was blue till I realised it was the air. Boy, could she give lessons. And then I thought, yes she could, she's a teacher at Elgin High School. Pity the poor school wean who innocently asked how her rally weekend went. Perhaps it's a good job she's a Chemistry teacher and not an English language teacher, because what I heard at Ingliston wasn't English!
Main Rally report and Results here: Report
Class Roundup here: Classes