… Annabelle Tennant, 1957 – 2016 …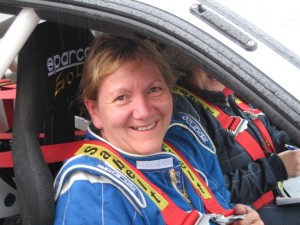 Another sad loss for Scottish motor sport this week when Annabelle Tennant lost her long and hard fight with cancer. She was only 59.
Better known as 'the Gravel Granny' Annabelle launched her competition career in the mid 80s competing in autotests, autocross and navigational rallies culminating in becoming the only woman to win Highland Car Club's Overall Championship in 1988. She also clinched her class in The North East Scotland Road Rally Championship two years running.
In 1991 she switched to forest rallying, first with a Mini and then the following year in a Rover Metro. She was pretty much a press-on driver and by mid 1996 the Metro shell was well past its sell by date having bounced off, and into, and over various bits of Scotland and England, and even Wales, in the previous three seasons.
In advance of this a Peugeot 205 GTI had been acquired with the 1996 Tour of Mull scheduled for the car's debut. The job of prepping the car fell to husband Dave, as always, which was built and maintained in the family business, Bitz Motorsport at Nairn. On her fist visit to Mull, Annabelle finished 77th overall and 1st in class, not bad for her first visit to such a unique event and in an entry of 150 cars! And who knows she might have done better had she not punctured a tyre.
1997 was a busy year for the small team from the far north as they contested the 7 round Mintex National series in such far flung places as South Wales and the Isle of Man as well as events closer to home like the Granite City Rally and Yorkshire based Trackrod Rally. Annabelle won her class in the series, a feat she repeated the following year.
Annabelle took a step back after that competing occasionally, but also giving back to the sport she loved. She and her husband Dave were the instigators of the first rally event at Milltown and she remained Secretary of the Meeting for all the rallies that were run at the Lossiemouth venue.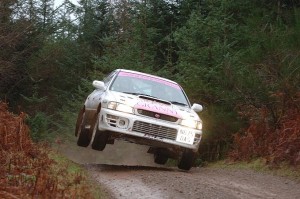 Much time was taken up with helping Dave and their son Kris establish the growing family business and yet she turned out to Marshal and help on local events whenever she could, an example to us all, but there was another ploy afoot. Dave and Kris were building a Subaru Impreza to celebrate her 50th birthday. The car was finished in time for the last forest event of the season in 1996, the Galloway Hills Rally. Seeded at car 84, she finished 33rd overall, first time out in a 4WD car and on her first forest event for 5 years.
She wasn't one to pull punches or observe the niceties of political correctness. If something had to be said, she said it, regardless of whom she was addressing. On that Galloway Hills Rally she twice caught the car in front of her, so on the next road section she overtook it, in order to run in front of it on the next stage. While sitting in the stage start queue putting on her helmet, the 'offending' car re-took its position ahead of her. At this point, co-driving husband Dave was dispatched to 'have a word'.
He politely asked the driver to pull over and let Annabelle through, pointing out that the driver who had just caught him on the previous two stages was not only female, but also a Granny. Even if the driver didn't think it was funny, his co-driver did, and so did the two lady Marshals who were standing by within earshot. The ultimate threat was Dave would go back to his seat and Annabelle would get her helmet off, get out of the Subaru and come and have words with him – personally!
It wasn't a threat, just some heart warming, health-preserving advice.
Another highlight was the Colin McRae Forest Stages Rally in 2007. She and her co-driver Gail Hyslop (another Granny!) finished in 71st place after a spate of punctures in the Subaru, but this was an event she dearly wanted to support, as all of Scottish motor sport did. Following the tragic death of Colin McRae the previous month, the family urged the organisers that the rally must run, and Scottish motor sport rallied to that cause, as did Bitz Motorsport.
That was Annabelle. Wife, mother, grandmother, rally driver and motor sports fan. We'll all her miss her, but not nearly as much as her family and close friends. Our thoughts must be with them at this trying time.
The funeral service will take at Inverness Crematorium , Kilvean Rd, Inverness, Inverness-shire IV3 8JN on Monday 4th April at 12 noon.
**