… Obituary … Drew Murray … March 13, 1943 – March 11, 2016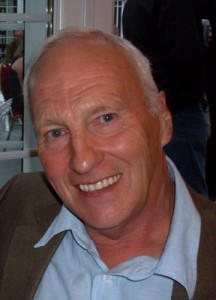 Scottish motor sport lost another popular character on Friday 11th March when Drew Murray passed away, two days before his 73rd birthday, after a long and arduous fight with cancer. Drew was an absolute gem of a man who loved life, his family, his work and his sport. He was a motor cycle scrambler and road racer, rallycrosser and rally driver, sprinter and hillclimber and latterly a race car constructor.
He was one of those blokes, that if he saw something broken he wanted to fix it, if something was bent then he had to straighten it and if something snapped he would weld it. If he wasn't in the garage working on trucks, restoring his motor cycles or building his race car then he would be in front of the TV with a beer and pizza watching motorsport, even F1. And if he wasn't doing any of those things this hugely sociable man would be out for a curry, or something more genteel, with family and friends.
Drew Murray probably inherited his love of all things mechanical and mobile from his Dad, Jack who had the Fina Filling Station and Garage in Blackwood. Drew and a young Jim McRae used to tear about the fields behind the garage on old motor bikes until the neighbours kicked up a stooshie.
Jack moved into the haulage business when he sold the garage and took over a yard in Auchenheath by which time Drew was racing in scrambles (motocross) in the 1960s and 70s. Whereas Jim stuck to scrambles, Drew moved into road racing where he had more success on track than he did on the loose. The friendship with Jim McRae became more entrenched when Drew met his wife-to-be, Liz who had been at school in Larkhall with Jim's wife-to-be Margaret, so when Jim took up rallying, Drew wasn't far behind.
He bought a Ford Escort Mk1 in 1978 and then built his own transporter. This was based on a cut down Ford Transit with extended chassis and added beaver tail and 'the equipe' headed to Inverness for the 1979 Snowman Rally. This was a bitterly cold event with snow on the ground so Drew had thoughtfully installed a gas heater in the cab of the transporter – before warning everyone to be careful as there were four jerry cans of fuel beside it.
He also found time to build a go-kart for his two boys Iain and Gordon. Not for him a shop purchased professional machine, but a home-made frame running on dung barrow wheels with a motorcycle engine. This enterprise was curtailed rather abruptly when the Police called at the house after receiving a complaint from a bus driver that something had passed his bus, on the road, at night, in the dark, although the Police were never able to identify the machine or the driver! However, the question should be asked, out of all the households in Blackwood, what prompted the Police to visit the Murray household following this incident? No doubt it was a well trodden path by this time.
The Escort was followed by a Vauxhall Chevette in 1980, which was initially tested on the public Lanark Road between Blackwood and Auchenheath using the tried and tested method of blocking off the Blackwood end with an eight wheeled lorry and the same at the Auchenheath cross roads. This episode was recorded for posterity by auld Jack with his cine camera. Or it would have been had he remembered to put film in it!
Drew drove the car at the Strathclyde Park Hillclimb and also rallycrossed it, before 'trading up' to an Escort Mk2. It wasn't quick enough and having looked at the price of performance parts came up with a typical Murray solution to the problem. He installed a 3.5 litre Rover V8 engine in the car. When it worked it was quick, but when it didn't work it was back to the garage.
His best result in the early 1980's came on the 1983 Tour of Mull Rally where he and Jim Johnston finished 14th overall in this highly specialised event. On the Forth Electrical Stages Rally in Argyll that same year he scored his best forest result, when he and Jim finished 19th overall. To put that into perspective, John Allan was 18th, Mike Riddick was 20th and Chris Wagner was 21st, so he was quite handy when things were working as they should.
Things didn't always work as they should though, as organisers at the Baldoon Stages Rally recalled when he almost burned down the airfield. Drew had doubled entered the Escort with Iain for a 'family day out' but the hard pressed V8 was leaking oil on to the manifold. This caught alight whilst the car was running at full chat down the main runway, and with flames billowing out underneath, it set fire to the grass, and nearly cooked the Murrays too.
Motorsport took a back seat when Drew moved out of the haulage business and established Canderrig Services in the late 1990s, a truck repair and servicing centre with MOT station, but the tinkering never stopped. He had a number of ongoing two-wheeled restoration projects in the new garage, and then took up sprinting and hillclimbing with a 1300cc Suzuki Hayabusa engined Fisher Fury in the Modified Sports Car classes in 2008, 2009, 2010 and 2011. During this time he also started designing and building his own race car.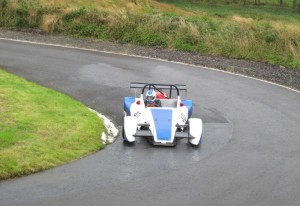 With the help and advice of Graham Millar of Rotor Racing, Drew constructed his own space frame chassis, installed another 1300cc Suzuki motorcycle engine and clad the beast in his own manufactured bodywork panels and mouldings. The finished machine was a true credit to his craftsmanship and engineering skills. He won both the Scottish Hillclimb Sports Libre and Scottish Sprint Sports Libre Championships in 2014. Not bad for a 70 year old!
He last raced his DMS 1 sports libre car at Forrestburn in August 2014 when his cancer was in a period of remission, but it came back with a vengeance last year.
Family holidays were also of great importance to him and he always had a hankering for a motorhome. Not to buy of course, but to build his own. Naturally he took a while to think things through. He started his project based on a Ford Transit chassis in the late 90s but it was while he was on holiday in Banff in Canada in 2000 that he spotted a Winnebago parked outside a Trading Post.
With Jim Brown on lookout duty and their wives Liz and Anne taking nothing to do with it, Drew crawled underneath. At which point the owner appeared and spotting two feet sticking out from under his swanky motorhome, he boomed out: "Can I help you?" The voice from underneath responded: "No, you're fine thanks, I was just taking a look at your Dormobile." Just another case of, you can take the man out of Blackwood, but you can't take Blackwood out of the man!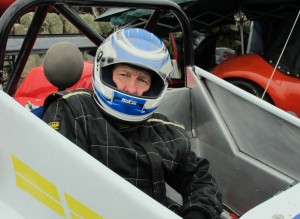 Drew was old school when it came to money. He rarely bought anything new, he was more likely to build what he needed from scratch. And even when he was unwell latterly he continued to work on fabricating his own covered car transporter for his DMS 1 race car – a project that will never now be finished.
He will be sadly and sorely missed by his wife Liz, his daughter Lynne, and the boys, Iain and Gordon, the grandchildren and by all his family, wider circle of friends and fellow Coltness Car Club and East Ayrshire Car Club members.
Funeral arrangements: Tuesday 22nd March at 13.00 Hrs – Daldowie Crematorium, 17 Hamilton Rd, Uddingston, Glasgow G71 7RU
**