… Knockhill Stages …
This event should have been re-named the Grant Construction Knock Stages Rally – there was no 'hill'! Standing on the circuit startline both the Hairpin and Duffus were hidden from view by thick mist while Knock Hill itself was virtually hidden behind a wet grey blanket all day.
That ensured the estimation and spotting of braking points added to the day's challenges. Also, it was wet. Very wet. Needless to say it was cauld. Very cauld. And yet there were smiles and handshakes. It was a case of 'Happy New Years' and clasping of cold hands all round with folk just happy to hear rally cars on the move even if they couldn't see them through the murk at times!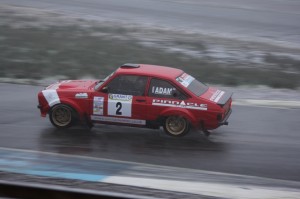 Given the conditions it was a surprise, nay, a shock, to note that the winners and runners-up were both driving Ford Escort Mk2 machines. In wet, streaming conditions which should have favoured the all wheel drive brigade it was the rear drivers that came through to win. And so it was, that Gary and Gordon Adam won this first round of the 2016 Blackwood Plant Scottish Tarmack Rally Championship, and you know what, even Gordon broke into a smile at the finish!
Their 41 second advantage over the second placed crew of Alan Kirkaldy and Garry Muir might give the impression that it was easy, but it most certainly wasn't. Stuart Walker and Julie McGuire were never far away and finished third while Ross Hunter and James Gibb were in the fight till the closing stages.
In fact over the first two stages, the fastest driver was Stuart Walker. "I was just too cautious," said Gary, "running first car on the road and unsure of grip levels, but there was more grip than I thought." Thereafter Walker's initial 17 second lead started disappearing as Adam speeded up. The speed differential was obvious on the acceleration out of corners. Where the Skoda was a match for the Escort on braking and cornering, the 2 litre lump couldn't match the grunt of the 2.5s on the straights.
Adam tried different tyres in the afternoon before switching back to his soft Michelin wets, a ploy spotted by Kirkaldy who fitted soft wets to his Escort and then proceeded to catch and pass Walker and over the final two tests closed the gap on the leader. Just not enough.
This was far from a three way fight because for most of the day the cheeky wee Peugeot of Ross Hunter was harrying the bigger and more sophisticated weaponry ahead of him. He was lying third for most of the day until a rear puncture on the final stage cruelly robbed him of a podium finish. Even more surprising was the fact that he had to contend with leaking front brake calipers. But who needs brakes when all you've got is a 2 litre 205, eh?
It was the same for James Gibb in the Fiesta. With confidence rising every time he comes out in the car, James was only 4 seconds behind Hunter at the half way point. He was a threat until the penultimate test when he too punctured a tyre and dropped out of the top ten.
The battle for fourth place was perhaps the closest all day with Ian Paterson just pipping Iain Wilson on the final stage to claim the place by ONE second. Paterson got off to slow start as he adjusted to his new full-face helmet and HANS device allowing Wilson to get ahead, but once he got used to them his pace picked up and he started to reel in his rival. There was little between the two Subarus over the closing stages with Charlie Shaw making it three Subarus in a row taking sixth place. He was far from disappointed though: "After last season I came here for a finish. I had lots of niggly wee problems on every event last year and it was good to just get a clean run, at last!"
Gareth White finished 7th in his Citroen DS3 but had a big spin on the sixth stage: "I was just trying too hard!" he said, "but didn't hit anything." Alistair Inglis was 8th in his Lotus but expectations weren't high when he arrived at the circuit: "I just can't get heat into the tyres. The car's too light, but I knew that would happen." He did have a more concerning problem though: "It keeps wanting to stall. Any time I slow right down for a junction or chicane it tries to cut out."
Sean Robson was ninth in his Citroen C2 which he birled round the circuit like a demented frisbee. On the first two stages bets were being taken on whether he would come into the hairpin tail first, or nose first. But he sobered up a bit after that having found there was more grip than he initially thought. Rounding off the top ten was Stephen Thompson in the Escort. No heroics, just keeping it straight – well, most of the time!
Angus Lawrie took the 1400 class in his Corsa but the poor wee soul was complaining: "I need to go to the gym! I've got a new diff and it's so stiff that after just three corners, into, round and out of the chicane I was knackered!" And it was said with such feeling. Steven Hay was second in class in his Corsa but at the end of stage 6 he had to lift off. The exhaust had split at the manifold and the heat was threatening to set the wiring on fire behind the dash! Michael Robertson was third in his Peugeot 106 and Ross Carbry wasn't, his Corsa sliding off sliding off on the first stage and beaching itself out in a gravel trap. No damage, just stuck on its floorpan. Stewart Dodds was another non finisher when the Nova's flywheel detached itself from the crankshaft – at speed!
Sean Robson took the 1600cc Class 2 award with Neil Thompson's Corsa second but only after the boys had changed rear stub axle, which had been bent against a kerb! Greg Inglis was third in his Citroen Saxo while Nick Rintoul's Skoda was sidelined with coil failure and Steven Paterson was out too. No damage, but had slid off and bellied out the Corsa's floorpan in the claggy, wet grass.
Results:
1, Gary Adam/Gordon Adam (Ford Escort Mk2) 49m 32s
2, Alan Kirkaldy/Garry Muir (Ford Escort Mk2) 50m 13s
3, Stuart Walker/Julie McGuire (Skoda Fabia) 50m 18s
4, Ian Paterson/Alan Paterson (Subaru Impreza) 51m 11ss
5, Iain Wilson/David Kirkpatrick (Subaru Impreza) 51m 12s
6, Charles Shaw/Lindsay Shaw (Subaru Impreza) 51m 22s
7, Gareth White/Harry Marchbank (Citroen DS3 R3T) 51m 26s
8, Alistair Inglis/Colin Inglis (Lotus Exige) 51m 27s
9, Sean Robson/Heather Grisedale (Citroen C2R2 Max) 51m 36s
10, Stephen Thompson/David Crosbie (Ford Escort Mk2) 52m 05s
Class 1, Angus Lawrie/Heather Grisedale (Vauxhall Corsa) 54m 05s
Class 2, Sean Robson/Heather Grisedale (Citroen C2R2 Max) 51m 36s
Class 3, Stephen Thompson/David Crosbie (Ford Escort Mk2) 52m 05s
Class 4, Gary Adam/Gordon Adam (Ford Escort Mk2) 49m 32s
Class 5, Stuart Walker/Julie McGuire (Skoda Fabia) 50m 18s
Full results at:
ScotResults
http://www.scotresults.co.uk/grant2016final.html
**