… Obituary: Robin Henry Christie, 1943 – 2015 …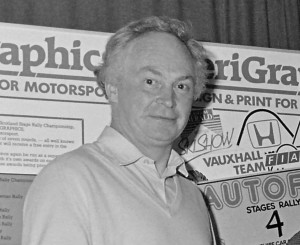 Not so much a personality as a character, the sport has lost another much loved figure this morning with the news that Robin Christie passed away after a short illness.
I first came across this restless and relentless individual in the mid 1970s, with my earliest recollection of him aboard a Morris 1800 co-driven by Iain Robinson. He was entered in the 1976 Bowmaker Autumn Stages and I was with a certain Mr Cleland. I don't remember how well he fared (I don't even recall how we did!) but he ended the season with 34th place overall in the Scotsman Scottish Rally Championship standings that year. Not bad for a newcomer given the fact that he was rallying a BMC product up against the growing dominance of Ford and its Escorts.
The 1800, or Land Crab as they were then known, gave way to a Vauxhall Magnum for the 1977 and '78 seasons before a Chevette 2300 was acquired for 1979. Having gone through a variety of co-drivers including Jim McDowall and Eric Stewart the Chevette's arrival coincided with the acquisition of Roy Campbell to fill the left hand seat.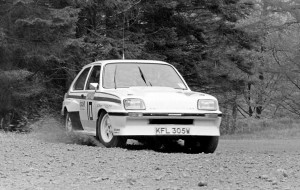 The new team turned out to be quite successful almost winning the Challenger's Championship in 1980. They just lost out to Wilson Girvan and Dougie Riach – when they rolled the Chevette on the Arbroath Stages Rally that year.
That result pitched Robin in to the main Championship where he finished third overall in 1982 behind Ken Wood and Wilson Girvan, but ahead of Dougie Riach! In 1983 'Ramblin' Robin' finished 5th overall in the Championship at a time when the competition was pretty fierce between himself, 'Wild Wilson' Girvan, 'Dastardly Dougie' Riach and 'Uncle Bruce' Lyle.
Those were his best years, before turning his attention more towards business. Sadly, he never won a major rally outright. He went rallying primarily for fun, but that didn't mean he wasn't competitive and was a regular top six contender.
For someone who looked a bit ungainly outside the car, he was a veritable devil behind the wheel, and not just in the stages. Typical of the man, his uncompromising attacking style was evident on the 1980 Snowman Rally. He had earlier been slowed with water in the fuel and then the petrol pump jammed. This was fixed using much Galloway-Irish vernacular and a variety of flailing blunt instruments. Then came Stage 12. He was at full chat when he encountered a 'lost' bus full of mountaineers coming towards him on the stage. Did he stop? Did he lift? Did he heck. He took to the ditch, at full chat and with mud flying in all directions shot past windows full of open mouthed, white faces pressed up against the glass.
This same approach to driving was repeated on the public road. To put it politely, he never had time to drive slowly. How he managed to retain his licence will never be known, but quite often, the Traffic Polis took one look at whatever he was driving and decided that such a device could not travel at such a speed. That was certainly the reason on one occasion when he was running (ever so slightly) late to a meeting and was clocked on the Biggar/Edinburgh road in a Volvo estate at well over three figures. The Polis took one look at the reading, shook their heads, and waved him on.
And that was just one tale of many as he continued to pack twice as much into life as any normal human being. Even when he stopped competing there was rarely a Machars Car Club event or Scottish Rally where he wasn't setting up stages, doing clear-up, running course car or marshalling. Machars recognised this huge effort by making him Honorary President of the club.
Somehow he also found time to run the 2000 acre Dourie Farming Company family business at Port William and combined that with duties as an Officer in the National Farmers Union, and was a Member of the Scottish Agricultural Wages Board and former NFU Scotland milk committee chairman. Needless to say, these posts were tackled with the same gusto as his rallying exploits including vociferous participation in the infamous 'Battle of St Andrews' in 2003 when top politicians on either side of the Scottish independence debate turned the NFU AGM into a battleground for farmers' votes.
He was also involved in the notorious 1997 Beef War when the ports of Stranraer and Cairnryan were blockaded by farmers protesting against cheap beef imports. Always interested in 'politics' I daresay the powers that be in Edinburgh will be entirely relieved that he confined his interests and activities to agricultural matters. Holyrood would not have been able to cope.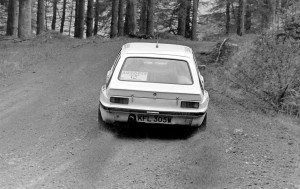 Oh yes. His nickname. Ramblin' Robin. It was hard to reconcile the laidback, long winded, raconteur outside the car to the dervish which drove it, but this hugely sociable, welcoming man was the very opposite of the feverish presence behind the wheel. That character also became apparent when shown a dancefloor. If his driving was flamboyant and energetic, his dancing was a sight to behold. Not so much the 'Strictly' ballroom or 'Dads' Dancing' approach, as the offspring of a demented combine harvester and a windmill in a tornado.
Given his nature it will come as no surprise that he was still trying to organise things last month. Shortly after being told on the 24th of November that nothing more could be done, he told 'Big Roy' Campbell that he had already advised Ian Broll (the local undertaker – and rally fan) that he was to be cremated in Ayr and as no car had ever passed him on the 'Girvan bends' he had better pull the finger out while driving the hearse, because he did not want to lose his record on his last trip!
Aye, we'll never see his like again.
To his wife Rose, sons Rory and Gregor, daughters Kim and Judy, brothers Ian and Peter, his wider family and huge circle of friends, our heartfelt sympathies go out to all of them.
**