… Kingdom Stages Rally, 14 Nov …
Hyundai Wins …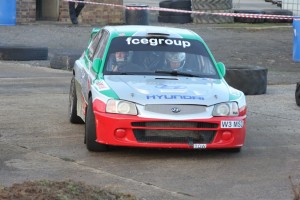 At least Hyundai got something out of its visit to Britain for Wales Rally GB. A Hyundai Accent WRC won the Kingdom Stages at Crail. It might not have been a current WRC machine, and it might not have made up for losing out to Citroen and DS in Wales, but it did please John Rintoul and Ross Hynd. It was John's second victory in the car at this event while second overall for the second year running were Bruce Edwards and Jim Smith in the Darrian. The difference this time was that the difference was bigger. John won by 10 seconds last year and by 14 seconds this year!
Gary Adam wasn't far behind, but he had his hands full fending off John Paterson, never mind catching Brucie.
And another thing. The weather in Fife was much better than the weather in Wales. It was bitterly cold with a wind that could have cut girders, but it was dry, although conditions were still pretty slippery over the first two of the day's six stages.
Those conditions gave Rintoul an early advantage over Edwards' rear wheel drive Darrian and he opened up a 32 second lead which proved crucial. As it dried out, Edwards got quicker and was faster over the next four stages, but not by enough to snatch victory.
Gary Adam was initially in the fight for second place until Edwards got wound up to snatch the position after three stages leaving Gary to fend off the effervescent John Paterson. Both Escort drivers were pretty well matched. Too well matched at one point when there was a metallic kiss at the Merge in SS2 where Gary's Escort finished the test with an Escort shaped dunt on the driver's door, while John's car had a matching Escort shaped dunt in the passenger door. Fortunately it was a good natured argument for the same line and both drivers had a laugh about it later.
I don't know what Shaun Sinclair was smoking, but it wasn't just tyres. He was hurling the Subaru WRC around like an autotest car. Not the fastest approach to cornering but certainly spectacular at times and perhaps if he had been a bit tidier he could have snatched away fourth place from John Paterson. They finished ONE second apart.
Barry Renwick rounded off the top six in his Proton Millington with Alistair Inglis losing out on the second and third stages with gearbox problems in his Lotus Exige.
Alan Kirkaldy was eighth but lucky to make it to the end of SS4 when the Escort started misfiring. Back at service the team fund a broken union in the fuel line, but it was awfy deep down in the engine bay and they struggled to reach it. Still, they did manage, with a few skint knuckles to prove it accompanied by the usual variety of sweary words emanating from under the bonnet when the spanner slipped!
Once again, the Nigel Feeney/Colin Gemmel rivalry livened up proceedings and the two finished 3 seconds apart in ninth and tenth places overall with Gemmel making some noise by the finish – he had a burst exhaust manifold.
There was another fierce duel for 11th and 12th between Barry McKenna and Ross Marshall, the Northern Irishman beating Marshall by 4 seconds on the final stage to claim 11th place overall and the Class win by 3 seconds at close of play!
Having his first run out in his Subaru since the Summer Crail, Bob Grant finished 13th ahead of David Newall in his Mk2. Ian Paterson was lucky enough to finish 15th because he could so easily have been out on the second stage. "I was all set up to go the wrong way at the Merge, then just realised at the very last second it was the wrong way," said Ian, who had the quick presence of mind to deliberately spin the car like something out of the Dukes of Hazzard and get it back on track.
Reay MacKay was 16th i8n his Mk2 with The Sheriff in the co-driver's seat! If they were ever to produce an in-car video, it still won't make the cut for the 9pm national broadcast TV., This will be a film for private viewing only I should think. Firs time out in a new Mk2, Quintin Milne was just 12 seconds behind MacKay at the finish but there were a couple of problems to sort out on the day: "There was a fault in the pedal box on the first and second stages," said Q, "when I pressed the clutch, the brake pedal went down too. We sorted that then I had a big spin at the Flying Finish on SS2 and an even bigger spin on SS34 going off backwards."
Rounding off the top 20 were Sean Will and Ross MacDonald in Lancers and Ian Forgan in the Ka.
Chris Collie was posting top six times till his Lancer's propshaft broke and Donnie MacDonald hit a large bale marker and burst his Lancer's radiator on the first stage. Andrew Gallacher retired the Escort Cosworth with an electrical fault: "It was cutting out intermittently and going again but it was getting worse with each stage so we retired the car before doing any serious damage to the engine." Stuart Walker debuted his new Skoda Fabia S2000: "It's just the same spec as the old car," said Stuart, "but a clip broke on the radiator hose and we couldn't fix it." James Gibb retired on the first stage when the oil pressure disappeared on the AG Fiesta.
Neil Thompson scored the 1600 class win in his Corsa Kit Car despite the steering wheel coming loose on the first stage. He was lucky again on the 4th test when he hit a concrete hole and took a chunk out of the front n/s tyre but it didn't lose any air. Euan MacKay was second in the Peugeot 106 and Nick Rintoul third in Skoda Fabia. Sean Robson retired his new Citroen C2 with alternator failure but was quite encouraged by its performance.
An effervescent Ross Carbry taking the 1400 win in his Corsa hurling the wee car around like a peerie (ask your parents!) with a subdued Steven Hay second in his own Corsa. Derek Connell had a huge spin in his Corsa on the opening test after which I didn't see him. So no idea what happened!
Kingdom Stages Top Ten:
1, John Rintoul/Ross Hynd (Hyundai Accent WRC) 58 mins 41 secs
2, Bruce Edwards/Jim Smith (Darrian T9 GTR) 58:55
3, Gary Adam/Gordon Adam (Ford Escort) 59:10
4, John Paterson/Craig Wallace (Ford Escort) 59:45
5, Shaun Sinclair/Sarah Sinclair (Subaru Impreza) 59:46
6, Barry Renwick/Steve Dargan (Proton Millington) 59:56
7, Alistair Inglis/Colin Inglis (Lotus Exige) 60:22
8, Alan Kirkaldy/Garry Muir (Ford Escort Mk2) 60:29
9, Nigel Feeney/Shona Hale (Subaru Impreza) 60:34
10, Colin Gemmel/Derek Keir (Subaru Impreza) 60:37
**