… Usedcarparts.co.uk Solway Coast Rally, 8/9 August 2015 …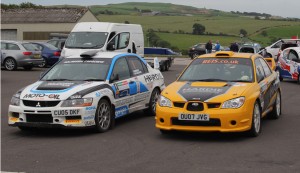 Mark McCulloch and Mairi Riddick won an epic duel with local rivals David Hardie and John McCulloch after an evenly matched battle on this year's 'usedcarparts.co.uk Solway Coast Rally'. McCulloch got off to the best start of the day snatching a 6 second lead on the first stage, but by SS5, Hardie had closed the gap, and the twosome were dead level going into SS6.
McCulloch took 5 seconds out of Hardie on that one before the Subaru driver snatched 2 back going into the final 8th stage of the day. That left the leading Mitsubishi driver with a 3 second buffer over the British Asphalt Championship front runner. No pressure, eh?
Ahead lay 6 miles of tortuous tarmac and concrete winding over the hills and pock-marked plains of Dundrennan. You'd think an old hand like David would be able to rise above such human failings as nerves and last minute tension, and be cool, calm and controlled. And so it looked. He pulled the Subaru up to the Start line and readied himself for that final blast over the ranges.
"I was running first on the road and Mark was a few cars back," said David, "so I was sitting on the Start line of the final stage just waiting for the Course Cars to clear and then the clock started to count down, 5, 4, 3, 2, 1 – I hit the throttle, the revs shot up, the engine roared – and the car stood still. I had forgotten to put it in gear."
A couple of overshoots didn't help either: "Running in the opposite direction, the scattered gravel from the previous runs was in the wrong places. That's not an excuse but with my fluffed start it didn't help!"
McCulloch was next on stage: "I hit a bale in SS7. In fact I had been off the road four times in the previous 3 stages and it all came down to this. I had no idea what David was doing but I just had to go for it. I thought I'd blown it when I slid straight off at a tightening junction, but it was an easy reverse back although I had lost seconds. It was slippy in places too so I had no idea of how we had finished when we ran into the Final Control."
As it turned out, Mark had been 3 seconds quicker than David and victory was his, by 6 seconds, after 42 miles of flat-out driving.
On his first run on sealed surfaces with the Fiesta R5, Rory Young scored third place overall despite a spin on the first stage: "Then we spun on the second stage too, but it was all about learning to drive the car on tarmac as we're planning to do an event in France next month."
Nigel Feeney was on the case over the first two stages, but spun on SS3 and 4 and dropped to 6th place in the Subaru before "getting a grip" and was back on the pace in the second half.
Greg McKnight scored a superb fifth overall and was top 2WD finisher when Gary Adam pulled off the road in SS6 and parked up losing third place overall.
1989 and '90 Solway Coast winner (in a Talbot Sunbeam) Richard Dickson rounded off the top six in his Subaru. An excellent result considering this was his first run out since this event last year and despite his familiarity with the ranges: "We were on some stretches of road today that I've never seen before."
Lee "I just wanted to finish today" Hastings achieved his desire with an uneventful outing in the Subaru finishing 7th ahead of Steve Retchless in his Mk2. A spin on the first stage cost him 30 seconds, but a trail of blue smoke was nothing more than hot oil dripping on the exhaust and that was quickly sorted.
One of the luckiest drivers of the day was Ian Paterson who nearly lost 9th place when the Subaru ran out of petrol as it exited the last stage. Brother Stuart sped back to service to get some fuel to save the day. Rounding off the top ten was Iain Wilson in his Subaru.
Stuart Baillie's rally challenge ended with the Subaru's nose in a ditch and its rear wheels in the air, James Ford snapped a wishbone on his Subaru's suspension and Colin Gemmell cracked his Subaru's gearbox casing. Stuart Walker damaged the Skoda's transmission and Jim McDowall's Subaru headbutted a large bale. Chris Ford went off in the second stage but got it back out before incurring a maximum although he missed the next two stages making repairs then hit a wall and tree in the final stage. "I'm still learning it," he said of his new Subaru.
At the finish Mark McCulloch heaved a big sigh of relief when he heard the final times: "That's my third in a row," said the twice Solway Coast winner, "and it's been the hardest one yet."
If the fight for overall honours close, it was fiercer still in Class 1 where victory was decided by the margin of just 3 seconds. Steven Hay dropped half a minute on the first stage when his fuel pump failed and once changed at service proceeded to make up time on class leader Ross Carbry. Hay took time out of Carby over the next 3 tests before Carbry snatched back 7 seconds on the sixth, but Stephen wasn't to be denied and was faster over SS7 to take the lead by a solitary second with one stage to go.
Both Corsas were like twa terriers chasing rats over the final stage, but only one was destined to be the big cheese. It was Stephen by 3 seconds at the finish: "Ross has been driving well all year but I didn't give up. We had no intercom on the first two stages but it was a fault with Steven (Brown's) helmet so we swapped helmets. I could hear him but he couldn't hear me. Sorted."
"I blew it on the second last stage," said Ross, "I spun and hit the nose on a banking. The bonnet and grille were crumpled but there was no mechanical damage, although I dropped 17 seconds to Stephen, and that was it."
Stewart Dodds was third in his Nova ahead of Drew Barker's Nova and Pat Messer in his Peugeot 205. Derek Connell failed to make it out of the first stage when the Corsa's Gearbox broke and Graeme Sherry was another retirement going home after the second stage, but his ability to curse and swear in French is fast improving: "The Clio's a great handling wee car but I'm having trouble trying to get it to run right. It's had a complete new wiring loom and ECU since last time out, and it's still not *#$@?* right. I think I'll build another Peugeot 205!"
Compared to the other fights, Peter Stewart's Class 2 win looked a wee bit more comfortable with a 69 second gap over second placed John Marshall. Despite this being his first outing since this event last year and competing with an absolute novice co-driver, Paula McGuire (a journalist with 'The National newspaper – see News roundup for more), Peter was soon on the pace after Paula had settled in on the first two stages. Peter also discovered Paula had another valuable asset – she's a lot lighter than regular co-driver Phil Shortt!
There was little between John Marshall in the Escort Mk2 and Alex Curran until the sixth stage when the Corsa had a "wee slide on the gravel" compounded by another on the last stage: "It was a slippy R7 near the end," said Alex, "and we slid right on up a banking. I'm happy enough though, this is only my second tarmac event since I did the Solway 3 years ago."
Class leader after three stages, Murray Coulthard went out on the fourth when the Citroen jammed in third gear on the approach to a chicane. As Murray tried to find a gear, the lever snapped and there was no hope of stopping the Citroen sliding off and down a steep banking. Michael Farmer was another class finisher and filled in his reason for non-finishing on his 'Damage Declaration' report as "The engine won't rev." True as that may be that's not quite the full story. The reason the Focus "wouldn't rev" was, the engine had seized solid! Nice one Michael.
Usedcarparts.co.uk Solway Coast Rally Results:
1, Mark McCulloch/Mairi Riddick (Mitsubishi Lancer Evo9) 47m 15s
2, David Hardie/John McCulloch (Subaru Impreza) 47m 21s
3, Rory Young/Allan Cathers (Ford Fiesta R5) 48m 38s
4, Nigel Feeney/Phil Sandham (Subaru Impreza) 49m 38s
5, Greg McKnight/Liam Harkness (Ford Escort Mk2), 50m 05s
6, Richard Dickson/Roger Alcorn (Subaru Impreza) 50m 19s
7, Lee Hastings/Julie McGuire (Subaru Impreza) 50m 20s
8, Steve Retchless/John Richardson (Ford Escort Mk2) 50m 47s
9, Ian Paterson/Helen Brown (Subaru Impreza) 50m 50s
10, Iain Wilson/Keith Riddick (Subaru Impreza) 50m 52s
Class 1
1, Steven Hay/Steven Brown (Vauxhall Corsa) 55m 29s
2, Ross Carbry/Kyle Livingstone (Vauxhall Corsa) 55m 32s
3, Stewart Dodds/Scott White (Vauxhall Nova) 56m 31s
Class 2
1, Peter Stewart/Paula McGuire (Ford Fiesta R2) 52m 45s
2, John Marshall/Scott Crawford (Ford Escort Mk2) 53m 54s
3, Alex Curran/Heather Grisedale (Vauxhall Corsa) 54m 34s
Class 3
1, Greg McKnight/Liam Harkness (Ford Escort Mk2) 50m 05s
2, Steve Retchless/John Richardson (Ford Escort Mk2 RS2000) 50m 47s
3, Stephen Thompson/David Crosbie (Ford Escort Mk2) 51m 13s
Class 4
1, Nigel Feeney/Phil Sandham (Subaru Impreza) 49m 38s
2, Richard Dickson/Roger Alcorn (Subaru Impreza) 50m 19s
3, Lee Hastings/Julie McGuire (Subaru Impreza) 50m 20s
( Full Results at: www.scotresults.co.uk )
**