… The Bunnet Bulletin … A couple of weeks back, I sent out a six question survey to the email addresses of 320 folks and rally fans that I know, thanks to 'SurveyMonkey' for the free trial. I got over 90 responses which is regarded by those who know better than me as an excellent response to a survey. That's almost a 30% return, which is pretty damn good, as most folks are lucky if they get a 10% return. Thus encouraged I am moving on to the next stage.
The plan is to produce and distribute (by email only) a weekly digest of rallying news and interesting motoring snippets. This will not replace the current website mag (for longer more detailed articles and reports) or the Blog and Facebook presence (primarily for on-event reporting) but will complement this current service.
Design will be kept simple, it won't have pages, just a list of newsy items on a scroll-down format so folks can catch up on the move as well as at their desks.
It will be published each Tuesday, or maybe Wednesday (I haven't decided yet). It is not designed to replace or be in competition with any other weekly newspaper or magazine, and will contain content of primary interest to Scottish readers.
The questions asked were as follows:
1, Would you like to receive a weekly email National Newsletter?
2, Would you be prepared to pay £10 for an annual subscription?
3, Would you be prepared to pay more than £10 for an annual subscription?
4, Is current Scottish rally reporting adequate?
5, Is current WRC reporting adequate?
6, Would you like reports on 2016 British Championship?
90% of those who replied said 'Yes' to Questions 1 & 2 and only 45% said 'Yes' to Q3. Half of you are happy with the current level of Scottish rally reporting while three quarters are happy with the level of WRC reporting and 90% of you want reports on the 2016 BRC.
As for my final question:
7, If you want to expand any of your answers or add any other suggestions/ideas, please do so:
Well, I should have known better, everyone's got an idea and an opinion, but there was some good stuff amongst the comments.
As for the cost, I thought about this carefully before pitching it at 10 quid for a year, that equates to 20p per weekly Bulletin, and only you guys can measure the worth. The income is needed to invest in new software and to upgrade current stuff. And if enough is raised, then other journalists/writers can be commissioned to cover the events I can't reach. It's one thing for me to write for nothing, but I couldn't ask a fellow professional to do it.
Anyway, that's the plan. If there is enough positive support then I am willing to try it for a year and see how things go. For sure, the Bulletin will evolve quite a bit over this initial trial period, but the aim is to keep it short and simple, and if anyone has stuff to advertise for sale, maybe that could be a valuable additional feature?
Note: Please do not respond to the above questionnaire, it's done, finished, over, completed, assessed – and now on to the next stage.
To give you an idea of what a weekly Bulletin might look like I have prepared a sample version based on current news and events to show what it might be like. This sample is shown below, so see what you think.
Needless to say, any email addresses stored under this scheme will be kept private and not be sold to anyone else.
S A M P L E B U L L E T I N below:
Bunnet Bulletin
Tuesday 21 July, 2015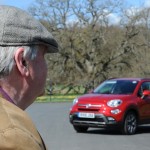 2015 Scottish Rally Championship
Following the RSAC Scottish Rally, Bruce McCombie tops the Driver Points Tables with two rounds to go. Following the cancellation (postponement?) of the Merrick Stages Rally for this year, competitors will count their best 6 scores from the 7 round ARR Craib championship.
Bruce and Ian Baumgart are the only two of the top ten drivers who have scored on all 5 rounds so far whereas all the others have dropped at least one round, although David Bogie faces an uphill struggle if he is to clinch a sixth title. He has scored on only three rounds so far.
Next round is the McDonald and Munro Speyside Stages on 1st August.
Top Ten Drivers:
1, Bruce McCombie, 129 Points
2, Jock Armstrong, 114
3, Mike Faulkner, 109
4, Shaun Sinclair, 94
5, David Bogie, 90
6, Ian Baumgart, 82
7, Donnie MacDonald, 77
8, John Wink, 76
9, Barry Groundwater, 72
10, Mark McCulloch, 72
Jim Clark Rally 2016
Although the 2016 BRC dates have already been announced, the inclusion of the Jim Clark Rally might have come as a surprise to some folk. Despite the fact that there is an Act of Parliament in place for the annual running of this closed-road event it still requires Scottish Borders Council to 'sign it off' on an annual basis. Given the ongoing investigation into last year's accidents, it was understandable that this was not forthcoming this year and there were doubts about next year. However it would appear that any misgivings have been addressed and it will go ahead. That's down to the support of the local MP and MSP, local Councillors and Business groups, not to mention the tourist industry. Next year's event is scheduled to run on 3/4th June.
2015 Scottish Tarmack Rally Championship
After 90 minutes of on-stage driving, the winner's margin on the Mach1 Stages Rally was ONE second. Given the activities that took place on the Friday evening, and to a lesser extent on the Saturday evening, the Mach1 is in danger of becoming almost as much of a social event as Mull and almost on a par with the two-day Solway Coast. Maybe this is the 'new' rallying if the anti-multi-venue brigade get their way.
Full report from Mach1 Stages now published in the on-line mag:
http://jaggybunnet.co.uk/2015/07/19-jul-inglis-wins-mach1/
2015 REIS MSA Asphalt Rally Championship
Following the third round of the British Asphalt Championship, the ALMC Stages Rally in Eire, David Hardie and John McCulloch are holding second place in the championship standings at this half way point of the six round series.
The rally was won by Mark Straker in a Darrian from Steve Wood in his Subaru but third placed Simon Mauger scored top REIS/MSA points ahead of Simon Chapman and David Hardie following the retirement of Damian Cole whose Focus WRC hit a chicane and burst its radiator and Steve Simpson retired his Subaru when an oil pipe came off the car's gearbox.
By the way, Tristan Pye finished 8th overall (getting some practice in ahead of Mull?) and Alex Laffey was 32nd with Billy Cowe 36th.
Next round is the Tyneside Stages on the 2nd of August (the day after the Speyside!) just over the Border at Otterburn.
Provisional championship standings:
1, Simon Mauger, 86 Points
2, David Hardie, 73
3, David White, 63
4, Alex Laffey, 62
5, Damian Cole, 56
6, David Tinn, 50
(( Staying vigilant – There was an accident on the Saturday afternoon of the rally when a rally car left the road. Three spectators and one competitor were injured. Initial medical reports indicate that the injuries, though serious, are not immediately life threatening.))
WRC News
Four-time World Rally Champion Tommi Mãkinen has been appointed Team Principal for Toyota Gazoo Racing's World Rally Championship campaign. The 51-year-old Finn will lead the team as it prepares the Yaris WRC for its competition debut in 2017. Akio Toyoda, Toyota President, will serve as team chairman.
Tommi Mãkinen won 24 WRC rallies during his 18-year driving career, including four consecutive drivers' titles between 1996 and 1999 when Andrew Cowan was running the Mitsubishi World Rally Team. He went on to drive for Subaru with further success in 2002 and retired from the championship in 2003.
ERC News
Reigning Russian and Estonia rally champion, Alexey Lukyanuk won the auto24 Rally Estonia at the weekend, round six of the FIA European Rally Championship, in his Mitsubishi Lancer Evolution X.
ERC leader Craig Breen and co-driver Scott Martin had been as low as 9th after SS2, but climbed back to fourth by the end of leg one. During the fightback the Waterford driver survived a flat-out "tank-slapper" on one of the fastest sections of SS7 in his Peugeot Rally Academy 208 T16. He was closing in on third position, when his car's engine began to lose oil pressure on SS14 – and retired at the end of the stage.
General Rally News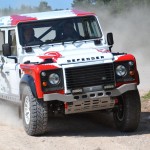 At the AWDC Allisport Hill Rally last weekend (18/19 July) at Walters Arena, there was a new addition to the ranks of the Land Rover Challenge. This one-make production-based series for Land Rover Defender 90 vehicles is already proving popular amongst the hill rally folks but typical of competition drivers the world over they all want more power.
That issue looks likely to be addressed next year with the introduction of a new Class 2 vehicle being developed by Bowler which will have a 3 litre supercharged V6 in a Defender Double Cab 110 chassis. The new engine is expected to produce around 400hp and put down its power through an 8-speed automatic transmission. Apparently it can hit 60mph in under 6 seconds from rest.
Hill rallying anyone?
On the Road
Ford is developing new 'Intelligent Lighting' technologies that will enable drivers to more easily identify potential hazards, including pedestrians, cyclists and animals. This 'Camera-Based Advanced Front Lighting System' can widen the beam at junctions and roundabouts to better illuminate hazards that are not in the direction of travel. New Spot Lighting technology helps draw the driver's attention to pedestrians, cyclists and even large animals in the vehicle's path or even just off the road.
The new system builds upon Ford's Adaptive Front Lighting System and Traffic Sign Recognition systems and also uses GPS information to better illuminate bends and dips on a chosen route. Where GPS information is not available the technology uses a forward-facing video camera mounted in the rear-view mirror base to detect lane markings and predict the road's curvature, using the information to illuminate the area more effectively.
In a further evolutionary step, the is able camera to store the information in the navigation system. When next the driver uses the same road again, the headlights adapt to the course of the road automatically to better light the way.
So what's this got to do with rallying? Well, it might just take some of the guesswork out of the Friday night and Saturday night loops on the Beatson's Mull Rally. Makes you wonder how it will cope with dry stane dykes and telegraph poles just off the 'racing line'. Just a thought.
**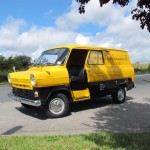 This week marks the 50th anniversary of the Ford Transit van. Over the years, Transit has developed into an LCV range with the compact Courier, mid sized Connect, standard panel van Custom and the 'proper' Transit.
To celebrate this half century Ford commissioned the Centre for Economics and Business Research to look into the value of vans to professional trades and industry in general. The report shows that van-dependent businesses contributed a total of £415 billion to the major economies of France, Germany, and Britain in 2014 – including £120 billion to the UK economy, an increase of 16 per cent compared with 2010 and an amount approaching the overall economy of Switzerland.
There are over 30 million cars in the UK and over half a million trucks, with around 4 million vans on our roads. Here's another interesting statistic. Almost everything we eat and wear, work with or use, has spent some time in the back of a van, either as raw materials or finished goods. And where would rallying be without vans? Happy birthday Transit.
Anyone fancy a Transit Tribute feature in the mag?
**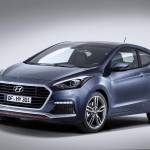 Hyundai has made no bones about it, but the company is only in the WRC to enhance the brand. They also reckon its cheaper, more effective and more exciting for its customers than going WTCC.
To that end a 'hot' roadgoing i20 is being planned, but to get the ball rolling they have produced a new top-of-the-range i30 Turbo model. Powered by a 186 PS, 1.6-litre turbocharged engine, the New i30 Turbo has sports suspension, 18-inch wheels and more direct steering. Acceleration to 62mph is accomplished in 8 seconds and top speed is 136mph.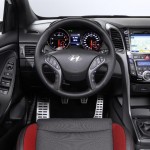 There will also be an exclusive range of paint finishes including a new 'Jet Black' finish plus new radiator grille, front and rear bumper with red detailing, new front LED design and twin exhausts. The interior gets sports front seats, sports instrument cluster and contrasting red details on the steering wheel, gear knob and door trims.
Don't expect it to rival the VW Golf GTI or Ford's Focus ST, but it's a start and if Hyundai can make the brand more appealing to the 'hot hatch' brigade then maybe we'll get even more exciting performance cars in the future.
What's On
July 25/26
BTRDA/MSA/Irish tarmac autotest at Heathhall, Dumfries.
The ideal and cheapest way into motorsport. Teaches car control and precision, compulsory for all forms of motor sport. Ideal for youngsters and beginners. Venue behind Dumfries and Galloway Aviation Museum at Heathhall (which is also worth a look if you like quaint rather than expansive).
July 25/26
Sprint at Kames. A round of the Scottish Sprint Championship and the Scottish Speed Championship so expect a good entry of racing cars, modified cars and production machinery.
July 24/26
One of those for the 'bucket list', the Silverstone Classic Meeting. I know it's far away but you won't need a Passport – yet!
August 1
McDonald & Munro Speyside Stages. Entry List and Spect Info on the website next week.
August 2
Kames Classic Car Show at Muirkirk. Lots of static exhibits and car parades.
August 2
Tyneside Stages Rally at Otterburn. Yes, it's in Englandshire but it's also a round of the Scottish Tarmack Championship.
**